Mendeleev Tour took place in Dubna
News, 28 April 2023
On 28 April, 15 best students of the Mendeleev University of Chemical Technology of Russia visited Dubna to make a tour of the NICA Megascience Project and the science city. The tour was organized within the new Russian popular science tourism project "Mendeleev Tour".
Scientists and specialists of the Laboratory of High Energy Physics JINR told students about the heaviest record-breaking magnet designed for the legendary Synchrophasotron Accelerator. The students learned about the tasks of the NICA Megascience Project and its accelerator complex. They also visited the hall of the MPD Detector and the factory of superconducting magnets. In addition, they had a guided tour of the JINR Museum of History of Science and Technology.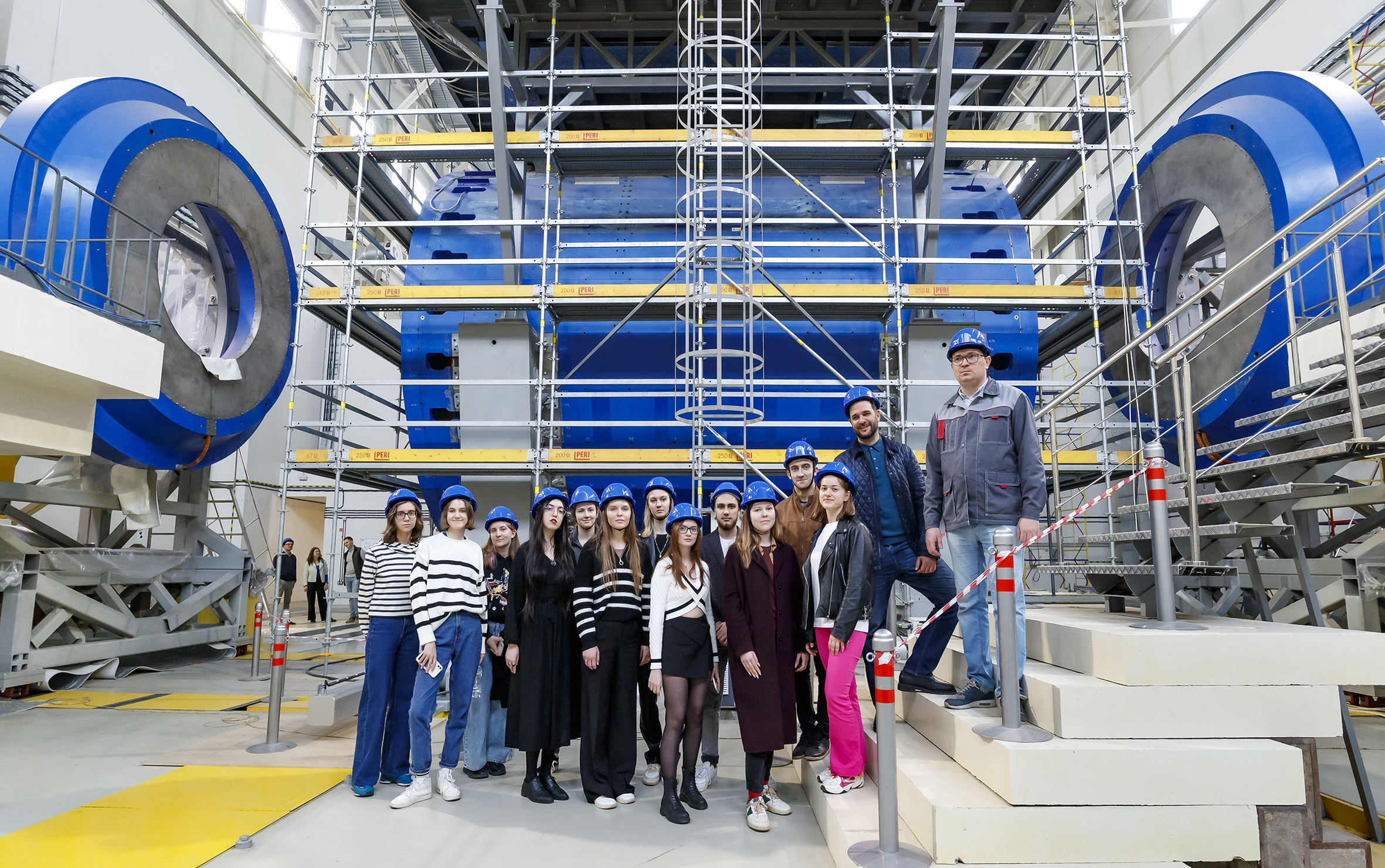 The project is designed for schoolchildren, students, and young scientists. Nevertheless, people of different ages can join it. "It is very important that today schoolchildren and students can get acquainted with achievements of scientists, see what science is capable of in Russia with their own eyes. Most importantly, they begin to realise that they themselves can become participants in this scientific world, discoverers, write their names in history. It is one of the tasks of the Mendeleev Tour project – to show young people that being a scientist is prestigious and exciting," First Deputy Chairman of the Russian State Duma Committee on Science and Higher Education Alexander Mazhuga, who joined the Dubna tour project, highlighted.
The Mendeleev Tour project was presented in December 2022 at the Young Scientists Congress held in Sochi, in which representatives of the Joint Institute took part. At that time, it was also suggested to make Dubna one of the first stops on the map of scientific tourism. In total, the Mendeleev Tour will cover eight cities of the Moscow and Kaluga Regions such as Chernogolovka, Dubna, Korolev, Obninsk, Protvino, Zelenograd, Zhukovsky, and Zvenigorod. Tourists have the opportunity to choose a route option they like: a trip to each city, a tour of several cities or a visit to science cities on a particular theme such as chemistry, atomic energy, aircraft construction, space. The first route of the Mendeleev Tour passed through the Korolev science city, in which interested students managed to visit the Mission Control Centre.