Musical gift to the Institute
Culture, 25 March 2022
On 24 March, a musical evening "Happy Birthday, our beloved Institute!" dedicated to the JINR Foundation Day for JINR employees and their family members was held in the JINR Universal Public Library. One more event of the JINR Women's Committee turned out to be bright, life affirming, full of much more people than organizers expected.
The Committee organized the concert together with the Dubna Children's Music School. Like the Joint Institute, the school was opened on 26 March 1956. Symbolically, the first classes of the school were held in the Administrative Building of the Institute.
"Today, we are here to celebrate the birthday of our Institute in the family circle, because all of us are a big international family of JINR," Chairman of the JINR Women's Committee Elena Badawy opened the musical and congratulatory evening with such warm words. "We are different: different generations (children and adults), different nationalities, and different occupations. But our love to the Institute unites all of us, and music does the same."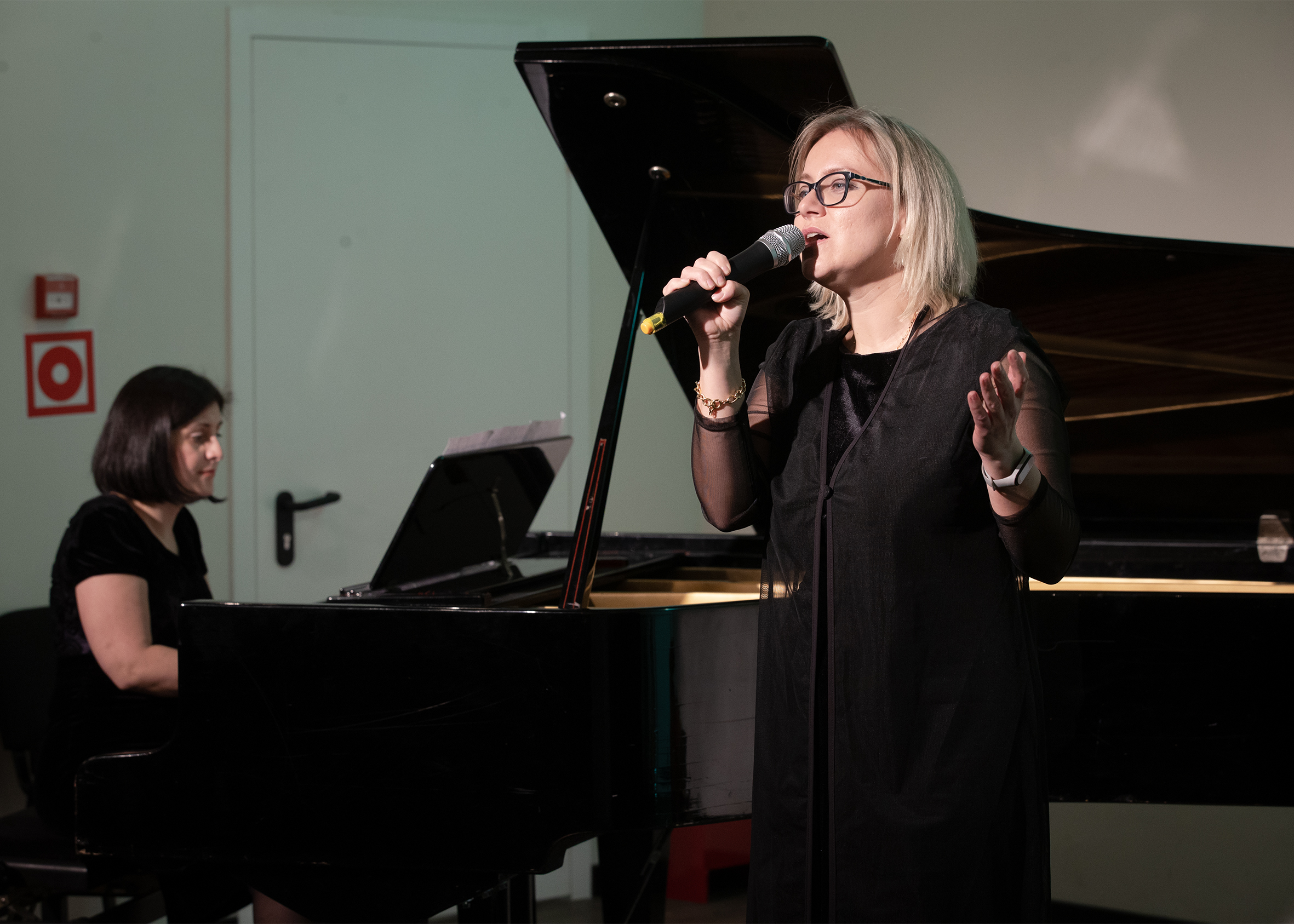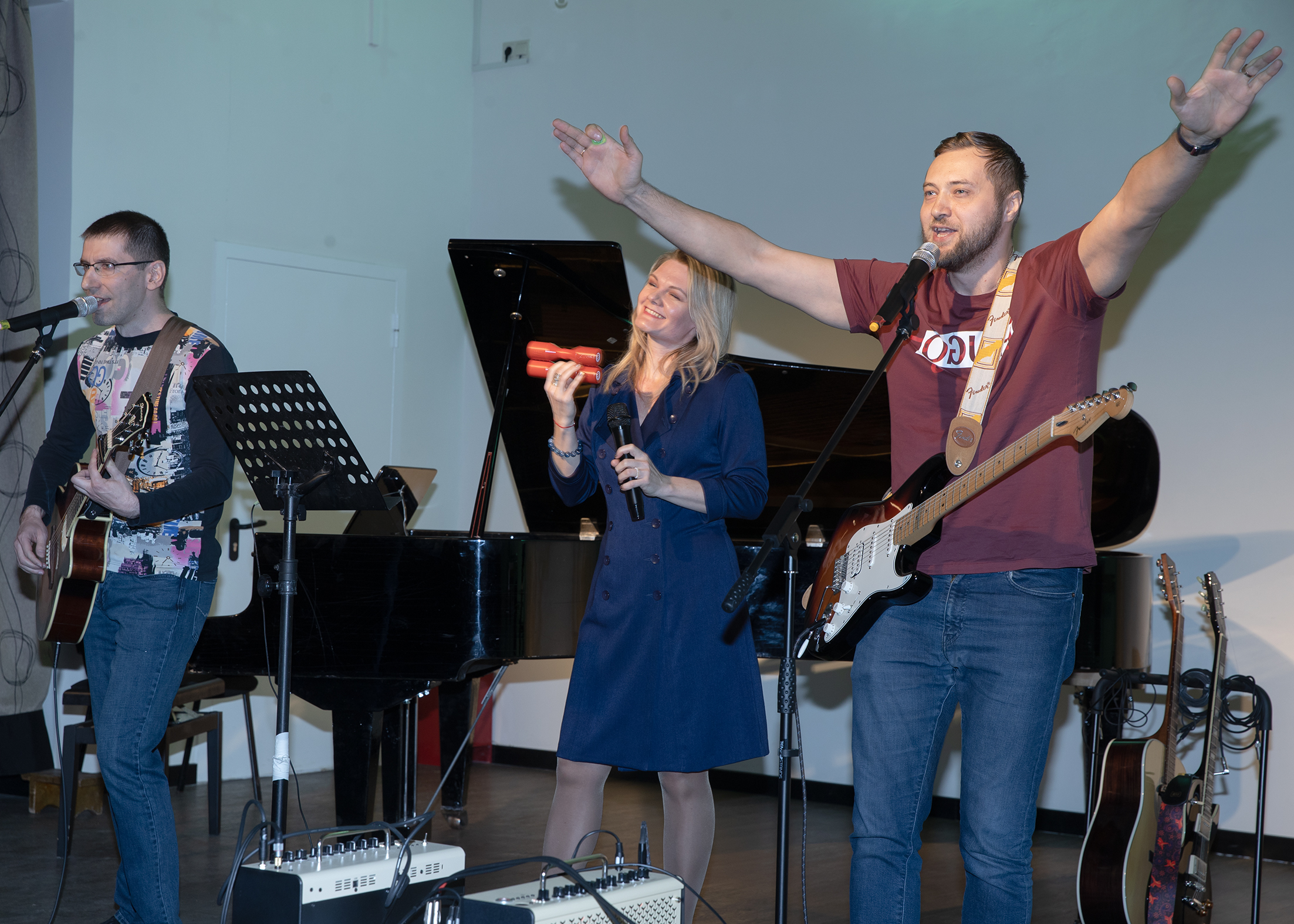 The reading hall of the JINR Universal Public Library was full of the record number of guests. About 80 people came to listen to each other and perform music in a chamber, informal atmosphere.
The concert turned out to be multi-instrumental. Musicians performed piano, violin, cello, guitar, accordion, dombra, saxophone parts. They played music by composers from different countries. The musical heritage of the JINR Member States such as Armenia, the Czech Republic, Kazakhstan, Poland, Romania, Russia were among performed musical compositions. Classical music performances by students of the Dubna Children's Music School were mixed with performances by bands from JINR laboratories and departments.
"The number of guests was a surprise for us," Elena Badawy said. "The concert was multifarious and very long. There were more than fifty performances, but most of the listeners, except the youngest ones, stayed until the end. We are very grateful to our audience who supported us and young and adult artists so warmly. This feedback motivates us to organize other events!"
As the organizers emphasised, an important part of the concert's concept was to support the Dubna Children's Music School and its students, as many children of Institute's employees study music there. It is necessary to show children the importance of studying music. We should demonstrate by our example that music forever remains a bright and inspiring part of people's lives even if people are not professional musicians.
The audience greeted performances by the representatives of the Kazakhstan national group at JINR Meir Yerdauletov (FLNP), Dauren Aznabayev (DLNP), and Kanat Nurlan (BLTP) with a storm of applause. They played melodies on dombra, a traditional instrument. People from the Republic of Kazakhstan consider this instrument truly iconic. "We say, "A true Kazakh is not a Kazakh. A true Kazakh is a dombra,"" said Meir Yerdauletov. "Dauren and I give dombra lessons to beginners. We have been providing lessons every Tuesday at 6:00 PM in the JINR Scientists' Club for almost a year. Everyone interested is welcome!"
Martin Bures (MLIT) sang lyrical songs to the accompaniment of a guitar. He said that his current contract with the Institute is about to expire. "I have spent a wonderful time in Dubna in terms of science, sports, and music," he shared his impressions.
One of the highlights of the evening was the performance by Anna Gulyaeva (DLNP). She sang famous bard songs and her own song. "Thanks to the concert, I found out that JINR now has the Women's Committee," Anna said. "It is so great. The Committee has just appeared and immediately started with such a positive and creative event. It is a great pleasure for me to work at JINR, because at first, you are constantly among people who are in love with their work and creating the future. People whose eyes are burning and there are endless new ideas buzzing in their heads. I am a programmer not a scientist, but the thought that you are making your own, even the most modest contribution to the common cause brings joy and a sense of peace. I am a mother with many children and I will be glad if one day one of my children will work at JINR."
The first concert organized by the JINR Women's Committee was a success with the public. Many guests suggested holding another similar musical evening in a short time. New ideas, artistic unions, and plans for the future were born during the concert. One of the plan is to organize an entire musical festival dedicated to creativity of JINR employees and their family members.