New equipment from Zelenograd
News, 25 January 2018
The first working week of 2018 at the Frank Laboratory of Neutron Physics was finished by the presentation of a new high-tech piece of equipment. The "INTEGRA – PRIMA" is an atomic-force microscope, a basic model of the INTEGRA platform developed by a widely known in the field of nanotechnologies Russian company "NT-MDT" from Zelenograd. FLNP Director V.N. Shetsov, FLNP Deputy Directors E.V. Lychagin and O. Kulikov, heads and employees of various departments of the laboratory took part in the presentation as well as S.Yu. Krasnoborodko, a representative of the partner-company of the equipment manufacturer. Head of the Sector of Raman Spectroscopy G.M. Arzumanyan who opened the presentation told JINR Weekly Newspaper about the event.
He noted that the sector's staff have struggled to get the device of the same class for many years, and, finally, the plan was fulfilled at the end of 2017. G.M. Arzumanyan proposed to develop a user programme for all interested in the device FLNP employees. FLNP is equipped with world-class instrumental infrastructure sufficient for study of Nanoworld and complementary to the laboratory's main scientific field – neutron physics. It makes the laboratory even more attractive for the JINR Member States and primarily for young scientists keen on condensed matter physics.
The participants of the event heard the report by S.Yu. Krasnoborodko on the microscope with considerable interest. The report was ended with online demonstration of microscope operation. During the provoked discussion after the presentation, the reporter was asked numerous questions concerning, mainly, the tasks and scientific fields the microscope may be used for. Answering the questions, S.Yu. Krasnoborodko noted a set of distinguishing features of the FLNP microscope including control electronics of new generation that allows working with high speed scanning, developed motorized adjustment movement of sample never met in commercial systems before, and the additional liquid cell for bio samples fitted at the customer's request.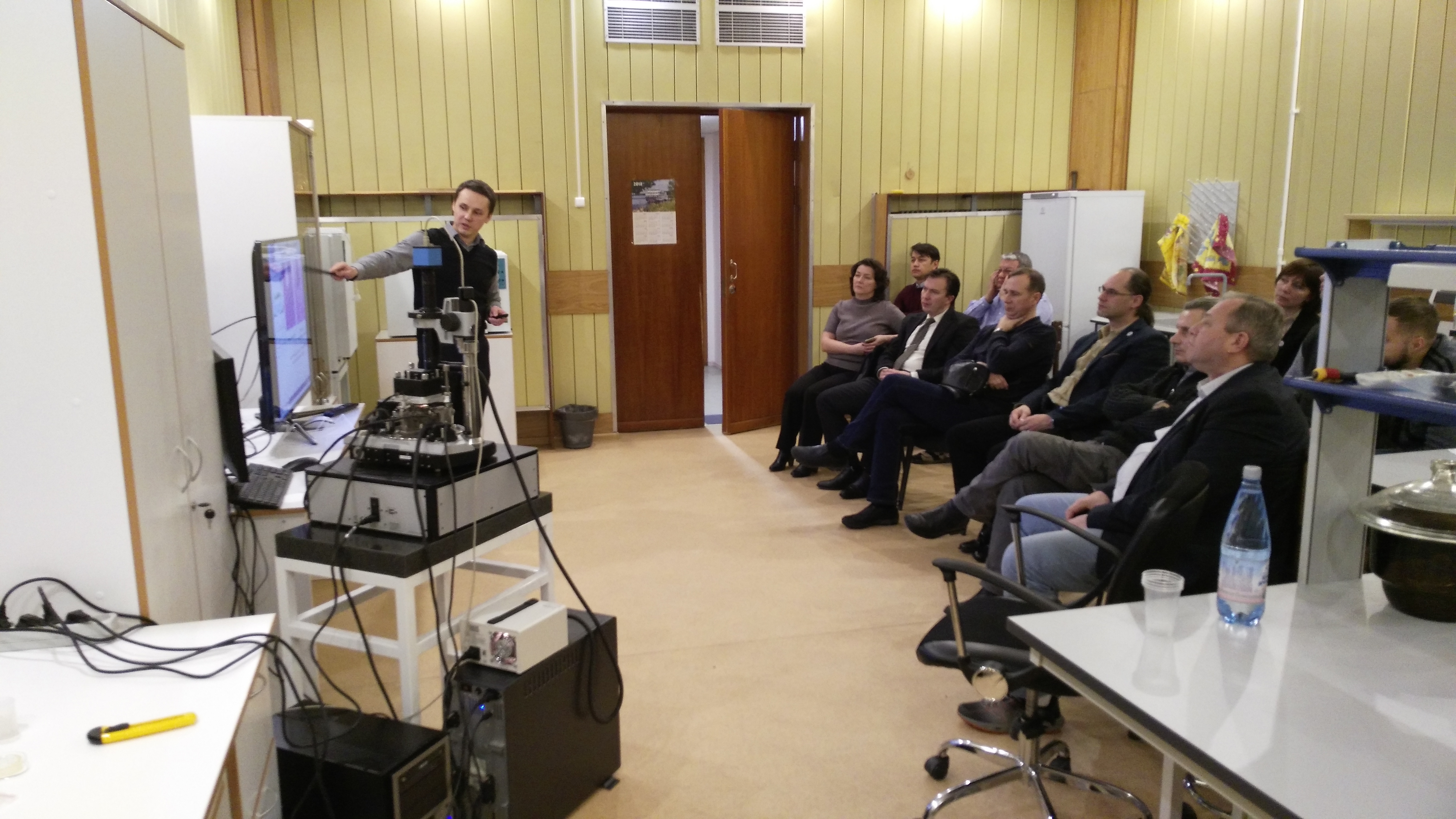 Olga Tarantina, JINR Weekly Newspaper
Grigory Arzumanyan, Head of the Sector of Raman Spectroscopy