Cuba Liberation Day
News, 22 December 2015
According to the long-term tradition to congratulate employees of the JINR Member States on national holidays, for the first time in many years, the JINR Directorate has an opportunity to congratulate representatives of the Cuban national group at JINR Antonio Leyva Fabelo and Adelmo Montalvan Estrada, who have been working in the Laboratory of Nuclear Reactions and the Laboratory of Nuclear Problems since the end of 2014, on the Liberation Day in Cuba, which is officially celebrated on January 1.
On behalf of the JINR Directorate JINR Vice-Director Mikhail Itkis and Head of the JINR International Cooperation Department Dmitry Kamanin conveyed heartily greetings on the national holiday, as well as on the New Year and Christmas, to the Cuban leader Raul Castro, as well as Ambassador Extraordinary and Plenipotentiary of the Republic of Cuba to the Russian Federation Emilio Lozada Garsia.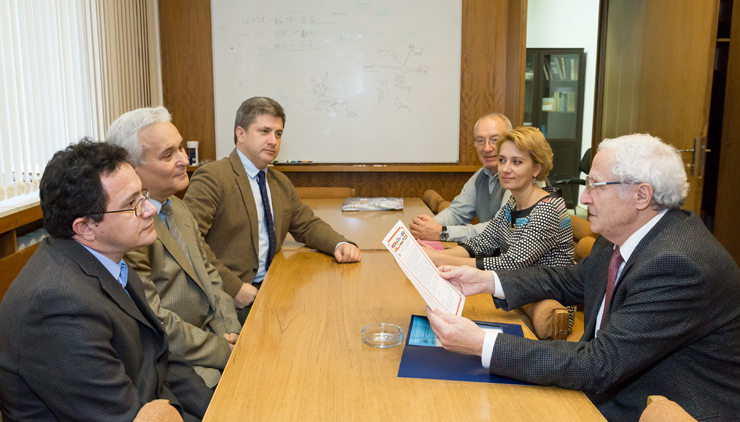 Further prospects and opportunities for development of cooperation between Cuba and JINR were discussed at a meeting which was traditionally held in friendly atmosphere. The Vice-Director expressed the expectation that the number of students and postgraduates from Cuba will increase. The Cuban colleagues noted that working conditions, accommodation, climate and working atmosphere are good, both for themselves and for future interns from Cuba. This aspect will be discussed at the JINR Days in Latin America, which will be held in the frames of the celebration of the 60th anniversary of JINR, at the beginning of February 2016 in Havana. The preparation of this event was started during the earlier visit of a delegation from the Embassy of Cuba to JINR, at the end of November 2015.