Regular meeting of Supervisory Board of the NICA Complex project was held
News, 29 July 2020
On 29 July 2020, the 5th regular meeting of the Supervisory Board of the NICA Complex project, a supreme body of management and control over implementation of the NICA mega-science project, was held as a video conference. Members of the Supervisory Board gathered to assess the project's progress and to discuss further development, scientific programme, and staffing support of the collider complex, as well as to take decisions on changes in the membership of the Supervisory Board.
Deputy Minister of Science and Higher Education of the Russian Federation Sergey Lyulin, who joined the membership of the Supervisory Board of the NICA Complex project, took part in the meeting. The meeting was attended by members of the Supervisory Board, namely representatives of the Directorate of the Joint Institute for Nuclear Research headed by JINR Director Victor Matveev and JINR First Vice-Director Grigory Trubnikov, Chairman of the Bulgarian Nuclear Regulatory Agency, Plenipotentiary Representative of the Government of the Republic of Bulgaria in JINR Lchasar Kostov, President of the Russian Academy of Sciences Alexander Sergeev, Deputy Director General of Rosatom State Corporation Yuri Olenin.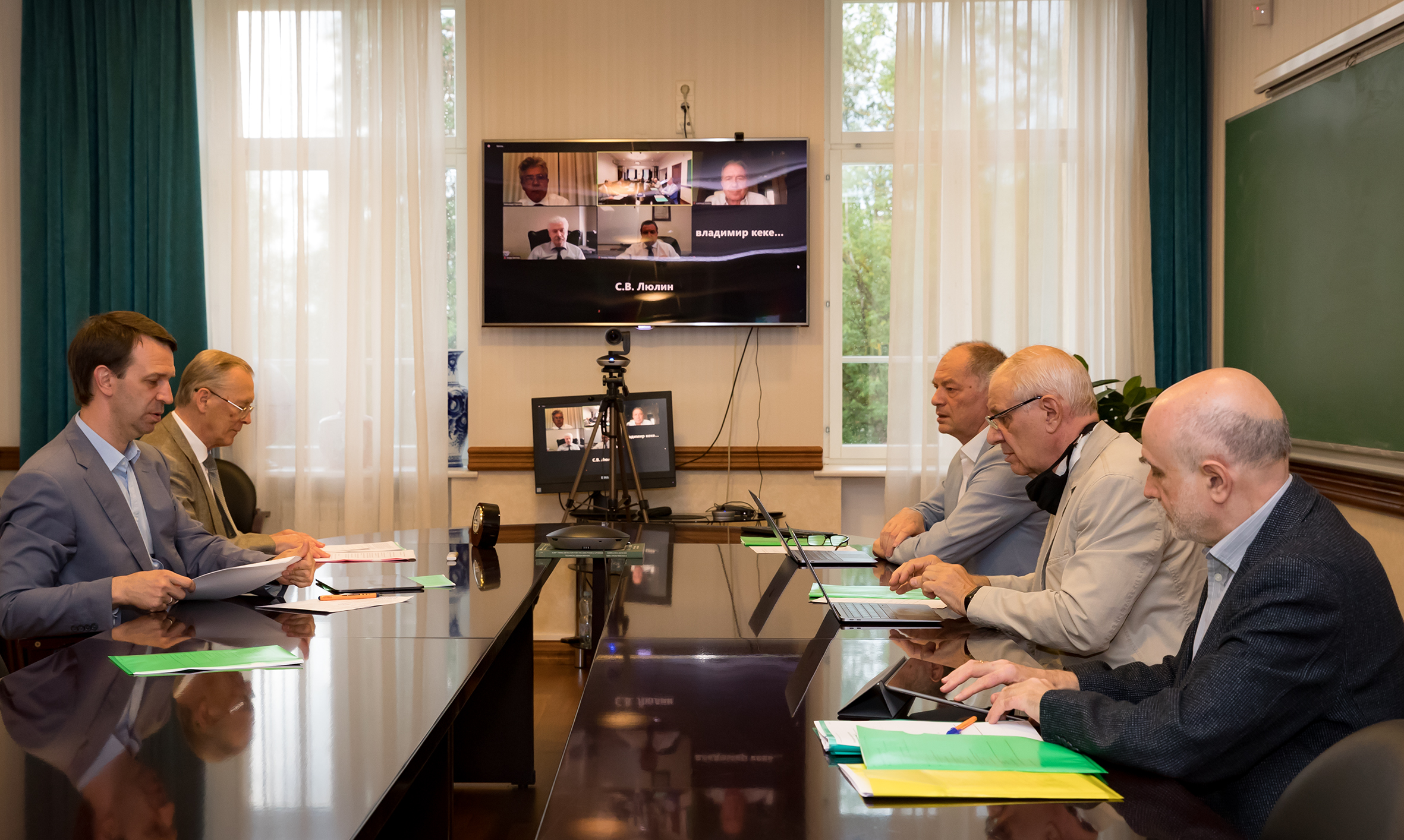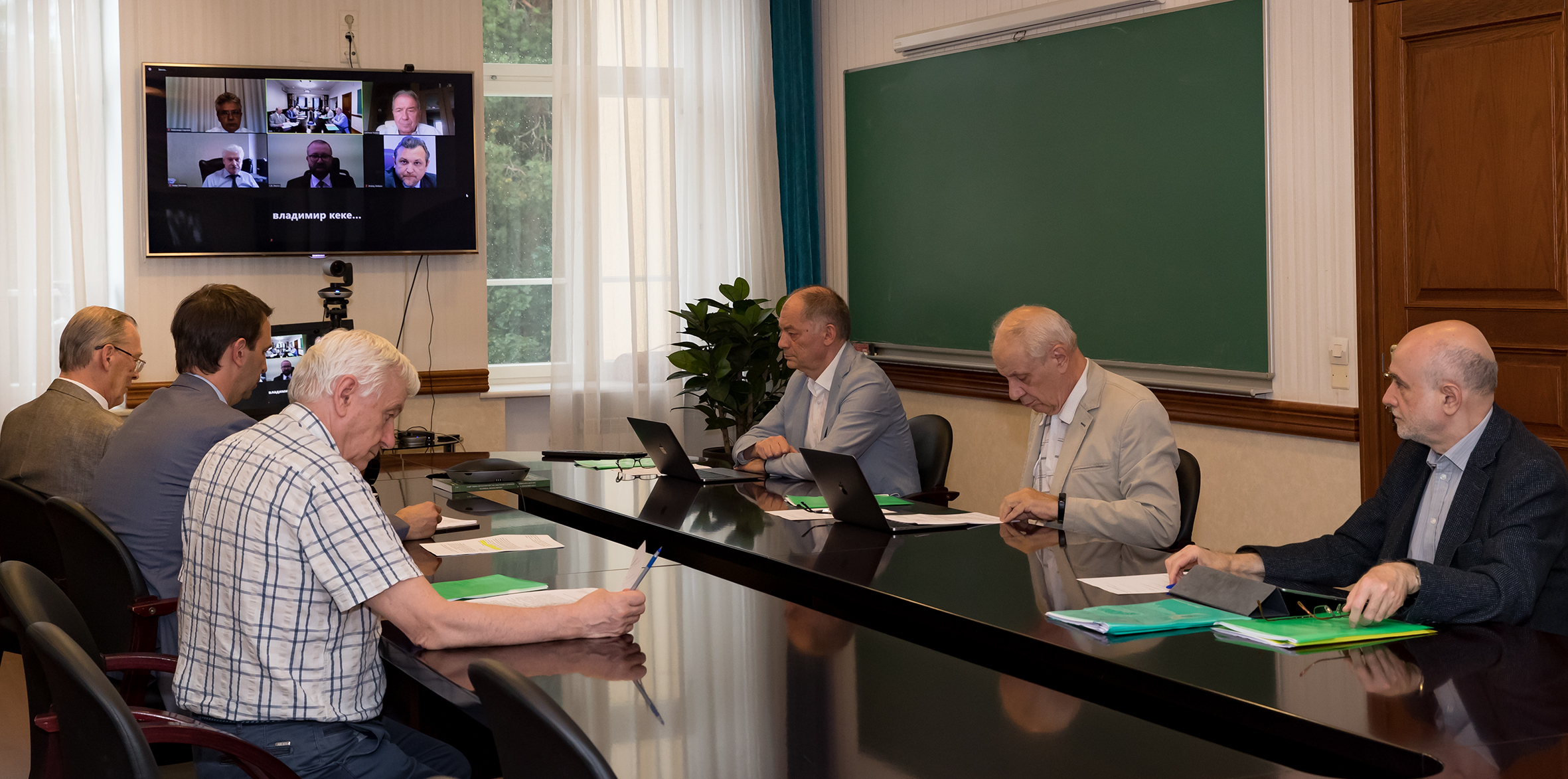 Photos by Elena Puzynina
Leader of the NICA project Vladimir Kekelidze presented to participants of the meeting a report on the progress on the NICA project, the results of the meeting of the NICA Cost and Schedule Review Committee (March 2020), and the detailed plan for the operation of the basic configuration of the NICA project scheduled for December 2022. The Supervisory Board supported the implementation of the programme of the 1st Day Experiment at the collider of the NICA complex. The Supervisory Board emphasised the importance of the staffing support of the project and assigned to the JINR Directorate the task of intensifying this activity. The Supervisory Board noted considerable progress in the implementation of the NICA project, as well as the significant work done in establishment of international collaborations of major NICA experiments and active attraction of new partners to its implementation.

During the meeting, co-reports were made by Leader of the NICA Project Directorate Grigory Trubnikov and Leader of the NICA project Vladimir Kekelidze on the development of the basic configuration of the "NICA Complex" project and preparation of the report for 1 January 2021 on the implementation of the Order № 783-р of 27 April 2016 of the Government of the Russian Federation.
Taking into account the importance of the agreement signed between JINR and the Helmholtz Centre for Heavy Ion Research (GSI, Germany), the Supervisory Board decided to approve the proposal made by Grigory Trubnikov to invite Director for Large Facilities and Basic Research Department of the Federal Ministry of Education and Research of Germany Dr Volkmar Dietz and Scientific Managing Director of GSI and FAIR Prof. Paolo Giubellino to join the Supervisory Board as observers.
At the end of the meeting, members of the Supervisory Board approved the preliminary agenda for the next meeting scheduled for December 2020.