Remembering founding fathers: Alexander Baldin
News, 26 February 2022
On 26 February, the 96th anniversary of the birth of an outstanding physicist Alexander Mikhailovich Baldin (1926-2001) is celebrated. He was the Director of JINR Laboratory of High Energies for almost 30 years.
He was Doctor of Physics and Mathematics, Professor, Academician of the USSR Academy of Sciences, a winner of the Lenin and State Prizes of the USSR, an author of many scientific discoveries. A. M. Baldin made an invaluable contribution to science. He was a founder of a new scientific direction called relativistic nuclear physics.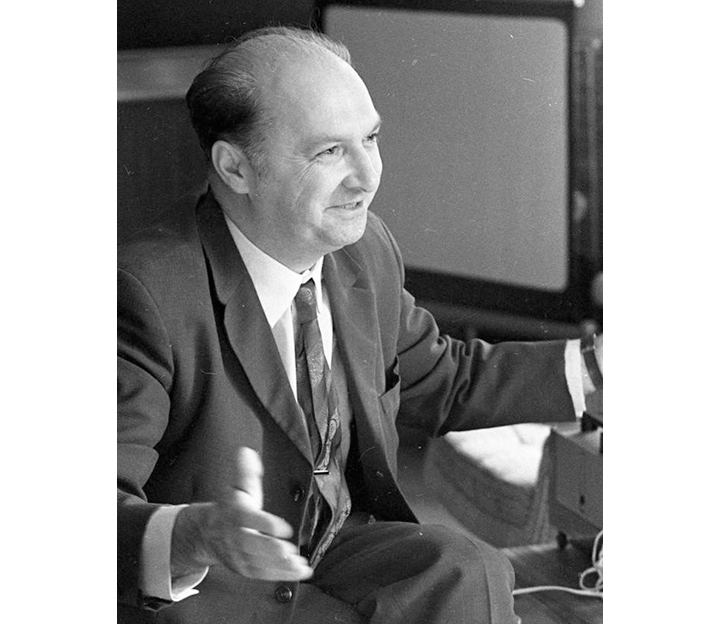 In 1949, A. M. Baldin graduated from the Moscow Engineering Physics Institute (since 1965, he was a professor at this university). In 1949-68, he worked at the Lebedev Physical Institute of the USSR Academy of Sciences. In 1968, he was elected Director of the JINR Laboratory of High Energies. He held this position until 1997.
A. M. Baldin took an active part in the development of the legendary Synchrophasotron. Later, it was transformed into a relativistic nuclear accelerator under his leadership. In addition, the superconducting nuclear accelerator Nuclotron was constructed under his direction and according to his idea. At the moment, the Nuclotron is becoming a part of the NICA accelerator complex.
He was the Chairman of the Council for Electromagnetic Interactions of the Russian Academy of Sciences, the member of the Bureau of the Department of Nuclear Physics of the Russian Academy of Sciences, editor-in-chief of the journals "Physics of elementary particles and the atomic nucleus" (PEPAN) and "Letters to PEPAN", a member of the editorial boards of other scientific publications, an organizer of International Seminars on High Energy Physics Problems. Scientific works by Academician Baldin cover elementary particle physics, electromagnetic interactions, nuclear physics, and accelerator theory.
Together with V. V. Mikhailov, M. Baldin introduced anomalous magnetic moments of nucleons into the theory of meson photoproduction (1950-52), predicted main regularities of near-threshold meson photoproduction (1951), proved that elementary particles should have electric and magnetic polarizability (1957), discovered the direct photon-to-vector-meson transition, introduced the notion of optical anisotropy of atomic nuclei (1959), and proposed the theory of tensor nuclei polarizability (1961). He predicted and discovered (in collaboration with V. S. Stavinsky) the nuclear cumulative effect in collisions of relativistic nuclei (1971).
According to contemporaries, he was a leader not only at work but also in life. Thus, in 1952, he became a master of sports in alpinism and the USSR champion. Besides, he was fond of poetry and had truly encyclopedic knowledge. Those who knew him mark that A. M. Baldin was considerate of people, but in matters of the science organization he always took principled stands.
The Veksler and Baldin Laboratory of High Energy Physics JINR, a street in Dubna, the city of JINR location, the International Baldin Seminar on High Energy Physics Problems "Relativistic Nuclear Physics and Quantum Chromodynamics" bear his name. The International Baldin Seminar has been held since 1969 and received the short name "Baldin autumn".