Role of mega-science facilities discussed at SPIEF-2021
News, 04 June 2021
The organization of operating international scientific collaborations has crucial importance for the implementation of mega-science projects. This general opinion was expressed by participants of the thematic panel discussion that took place at the exhibition stand of the Ministry of Science and Higher Education of Russia at the St. Petersburg International Economic Forum.
Scientists from such scientific organizations as ESRF, European XFEL, INFN, MAX IV, BFU, BIC SB RAS, INP SB RAS, MSU, MIPT, SFU, as well as the Joint Institute for Nuclear Research, took part in the event online and in-person. BIC SB RAS Director Valery Bukhtiyarov moderated the discussion.
The discussion touched upon such large-scale projects under construction in the Russian Federation as the synchrotron radiation source of the 4+ generation in Koltsovo, Novosibirsk region, SRF SKIF and the mega-project of the NICA accelerating complex.
Presenting the NICA project, Alexander Sorin, Deputy Director of the Laboratory of High Energy Physics, spoke about the JINR experience in establishing international expertise bodies and coordination of the scientific programme of studies in them. "To launch the implementation of any element of the facility and bring it to the technical project, a 'green light' is necessary from the relevant committee. And we see that this approach is very effective," he noted.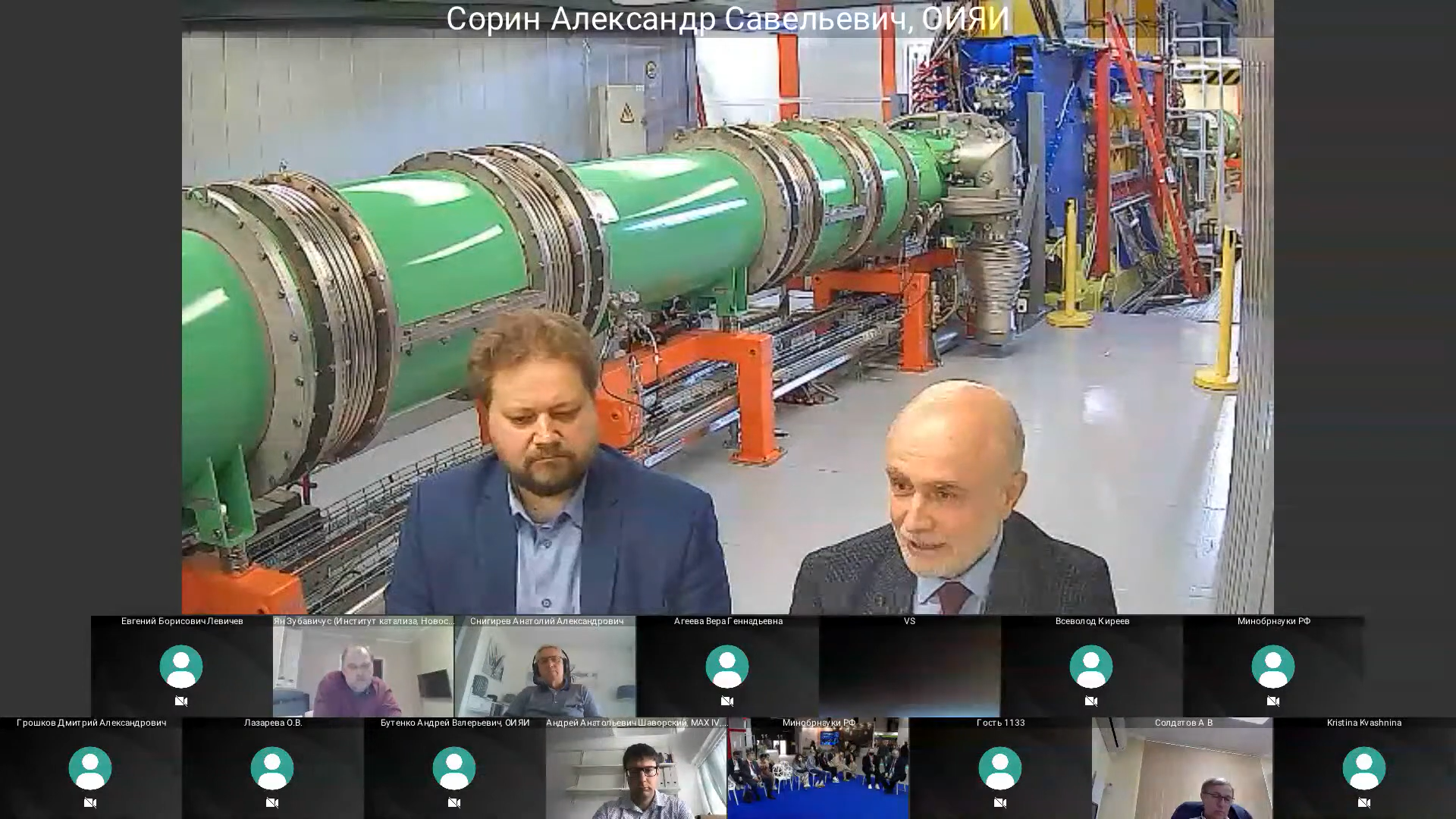 Alexander Sorin paid attention to the considerable contribution to the project made by Russian, foreign, and international scientific organizations. "It would be difficult for us to implement this project without such international collaboration and international expertise. Nowadays, wide international cooperation is one of the key elements for the development of any large-scale facility," the speaker highlighted.
VBLHEP Deputy Director Andrey Butenko added that based on the JINR experience attracting a wide range of high-tech companies worldwide significantly aids in the implementation of large-scale scientific projects.
Participants of the event discussed also such issues as the development of the policy for collecting and exchanging data, the formation of a circle of international users, cooperation in the Data Science and Big Data areas. It was proposed to create digital counterparts of key elements of the scientific infrastructure, which would be developed in parallel with the creation of mega-science facilities, thus to train future employees and users. Participants also noted that the conditions of the pandemic gave impetus to the communication of scientists in the video conference format thus allowing projects to attract famous scientists from all countries of the world.