Summer School "Dialogue-2023", organized with JINR support, started
Education, 19 July 2023
The summer session of the Dialogue School started on 18 July. This year, it is taking place at the Gubkinets Sports and Recreation Centre in the Tver Region. During 15 days, 56 schoolchildren (7th – 11th forms) of Dubna and other cities will develop research projects, as well as participate in educational and sporting events. Traditionally, the best project will receive a diploma named after A. N. Sissakian, the former JINR Director, the initiator and an ideological inspirer of the Dialogue School.
"The School's main goal is the maximum development of intellectual and creative abilities of children and adolescents, the development and testing of methods of personal development and bringing their talents to light," Director of Dialogue, Deputy Head of the Phasotron Department of the Laboratory of Nuclear Problems JINR Sergey Shvidky says. "And here our partners are helping us a lot". Since the foundation of the School for more than 20 years, the Joint Institute for Nuclear Research has been a great help for us. At one time, the experience of the International Computer School, as well as the experience of the JINR Scientific Schools was the basis of the Dialogue's work. In 1991, Vice-Director of the Joint Institute Alexei N. Sissakian proposed to create it. For several years now, the diploma awarded to the team for the best project bears his name."
Project activity is the peculiarity of the summer sessions of the "Dialogue". On the first day, all the children were divided into small groups of 7 – 10 people. During the entire session, each group will be engaged in their project under the guidance of experienced teachers. At the end, they will present their achievements at the final scientific and practical conference.
Among teachers are teachers of Dubna, employees of the University "Dubna", leading specialists of companies working in the field of high technologies, students of Moscow universities. There are people who have been a participant in the "Dialogue" sessions several times, and now they have returned as teaching assistants. Staff members of the laboratories of the Joint Institute are taking an active part as well. This year, staff members of the JINR University Centre will lead the IT direction, among other things.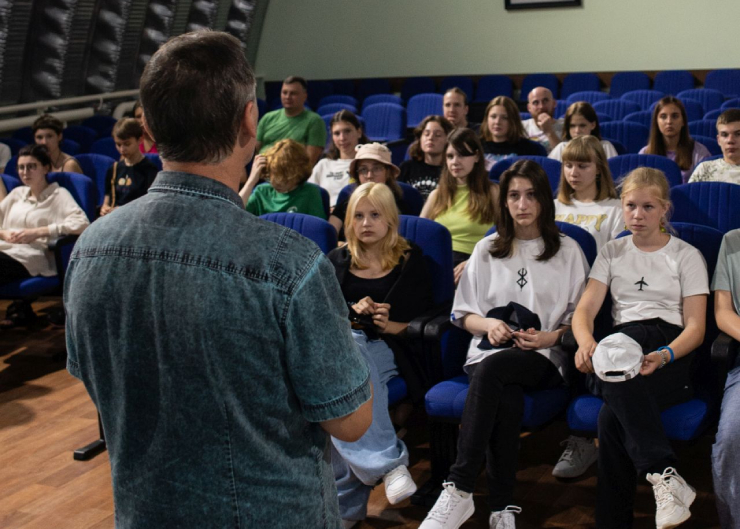 This year, seven projects are being implemented at the Dialogue School, namely a project to study the unique properties of water, to create objects using a 3D-printer, to study the basics of field biology, a project to create lifting mechanisms, a creative experiment project using natural dyes, a project to analyse the classics, and a project to study the basics of translation studies. As a rule, these topics are either not included in the curriculum of the comprehensive school or supplement some of its sections. Students will work on their projects in the morning. In the afternoon, they will enjoy various sports and cultural events, strategy games, classes in creative workshops.