The end of 2019 marked the start of a new public project
News, 09 January 2020
On 28 December 2019, a seminar-presentation of the public project "Web magazine and club of JINR employees" took place in the JINR Visit Centre. Members of the JINR Directorate, representatives of the management and the national groups of the JINR Member States gathered in the Visit Centre. The seminar was concluded with the discussion of the project's prospects in which JINR Director Academician V. A. Matveev as well as Vice-Directors M. G. Itkis and B. Yu. Sharkov took an active part.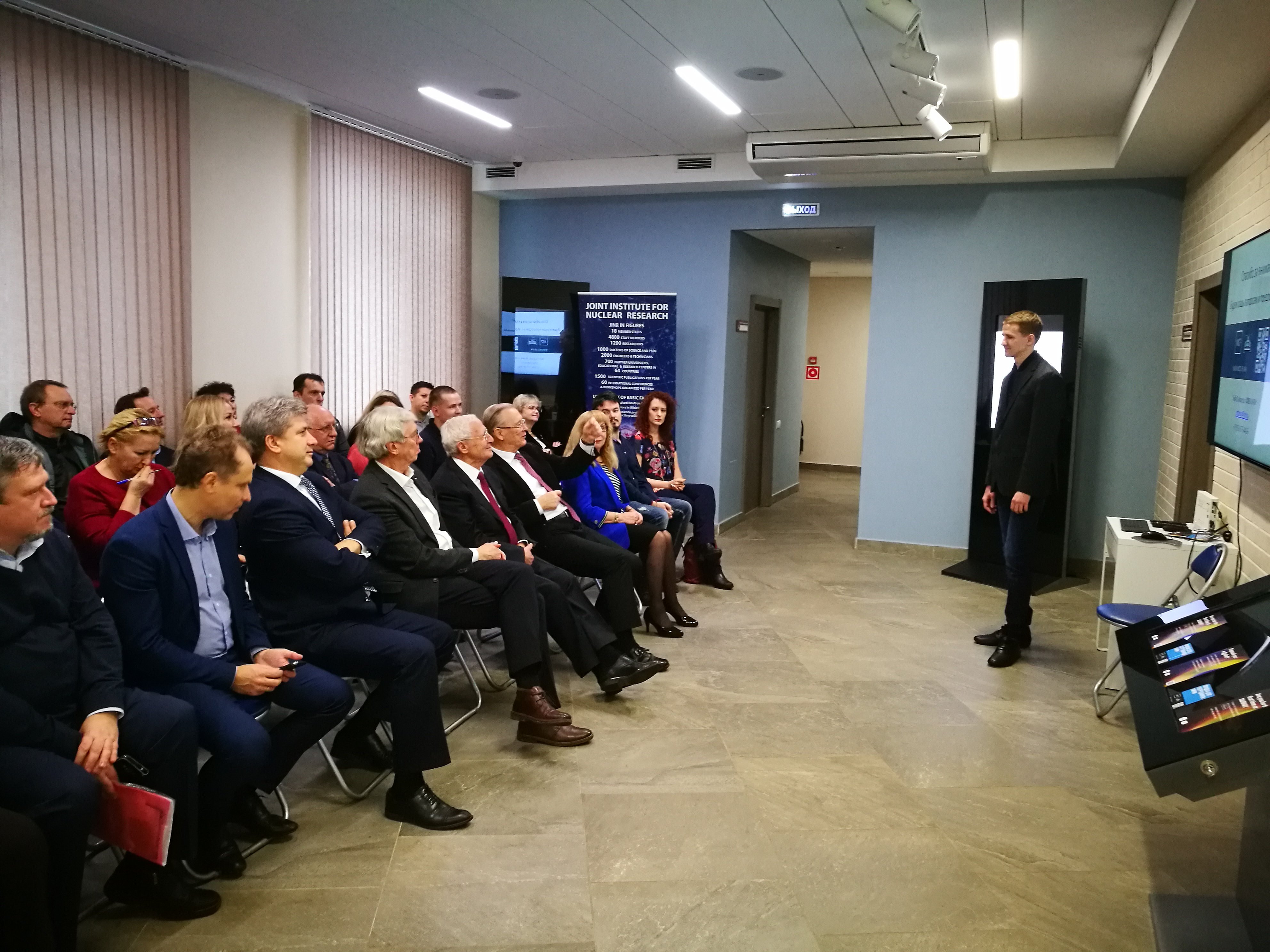 The project "Web magazine and club of JINR employees" was presented by its initiator and head, VBLHEP engineer Gleb Stiforov who participated in the creation of the first similar information platform for CERN. According to the speaker, the project is public and implemented thanks to the efforts of the action group generally consisting of JINR staff members. First of all, it is aimed to collect background information useful to the JINR guests, e. g. participants of conferences, schools and other events, in one place. The major part of the target audience of the casually called "MC2 Club" project includes users and employees coming from the JINR Member States and their families. According to the speaker, the project aims not only to help non-Dubna residents do the paperwork or tell the JINR staff how to, for example, apply for additional medical insurance. It is aimed to create a comfortable environment first. Articles of the website already provide information about places for walks with children or practising sports, possible ways to get to Moscow and sites worth visiting there, solutions to some domestic problems.
It should be noted that the format of the "Club MC2" project's implementation has become wider than that of the CERN project. It offers to JINR employees not only background information but also special offers of Dubna companies. Thus, this new project has achieved commercial agreements on providing discounts with almost 20 companies. G. Stiforov also shared with the audience the short-term plans for the project's development. The project casually launched with the minimal support of the JINR management is now at its initial stage, and some aspects need further development. It was reflected in numerous questions and a vivid discussion of offers a part of which went far beyond the existing frames of the project. Many participants of the discussion noted that the theme of the project is in demand, and its implementation needs close cooperation with administrative offices and the national groups of JINR.
The seminar was concluded with the official launch of the project supported and approved by the JINR Directorate: links to the source were added on the official website of JINR, web counter was launched, and participants of the project received an offer of official support of the Institute's management. Everyone interested is kindly invited to learn more about the project on the websites specified below.
JINR MC2 Club in VKontakte social network