Visit of the Chairman of the RAS Far Eastern Branch
News, 30 January 2020
On 29 January 2020, Chairman of the Presidium of the Far Eastern Branch of the Russian Academy of Sciences Academician Valentin Ivanovich Sergienko visited the Joint Institute on the invitation of the JINR Directorate. He met with JINR Director Academician Victor Anatolievich Matveev and discussed the issues of the development of cooperation between scientific centres in the Far Eastern region with the Joint Institute for Nuclear Research.
Accompanied by the Institute's Director, V. I. Sergienko was acquainted with research conducted in the Flerov Laboratory of Nuclear Reactions and the accelerator complex of the Superheavy Element Factory. He was welcomed in the Laboratory by FLNR Scientific Leader Yu. Ts. Oganessian, FLNR Director S. N. Dmitriev, Deputy Director A. G. Popeko and Head of the DC-280 facility K. B. Gikal.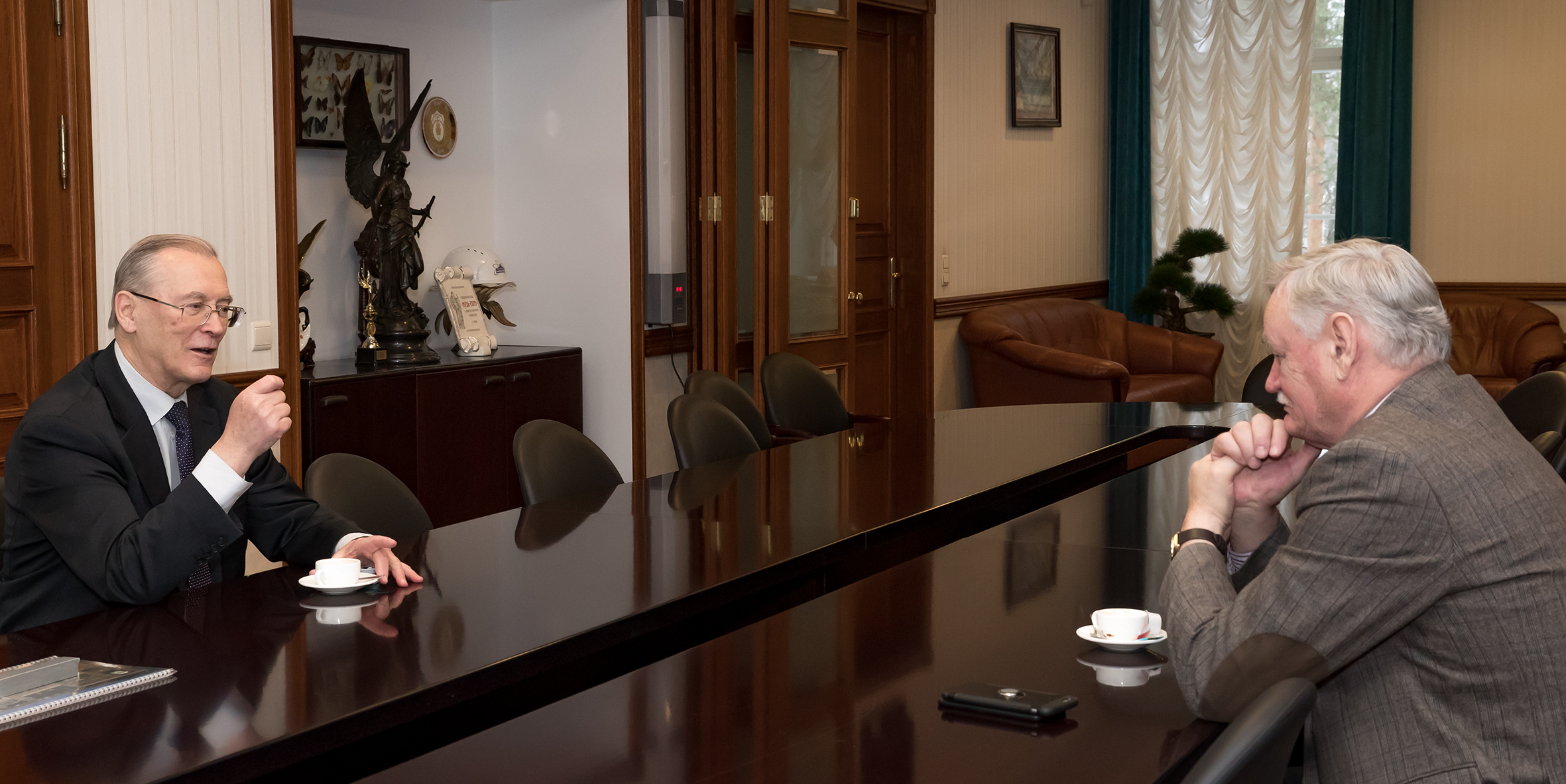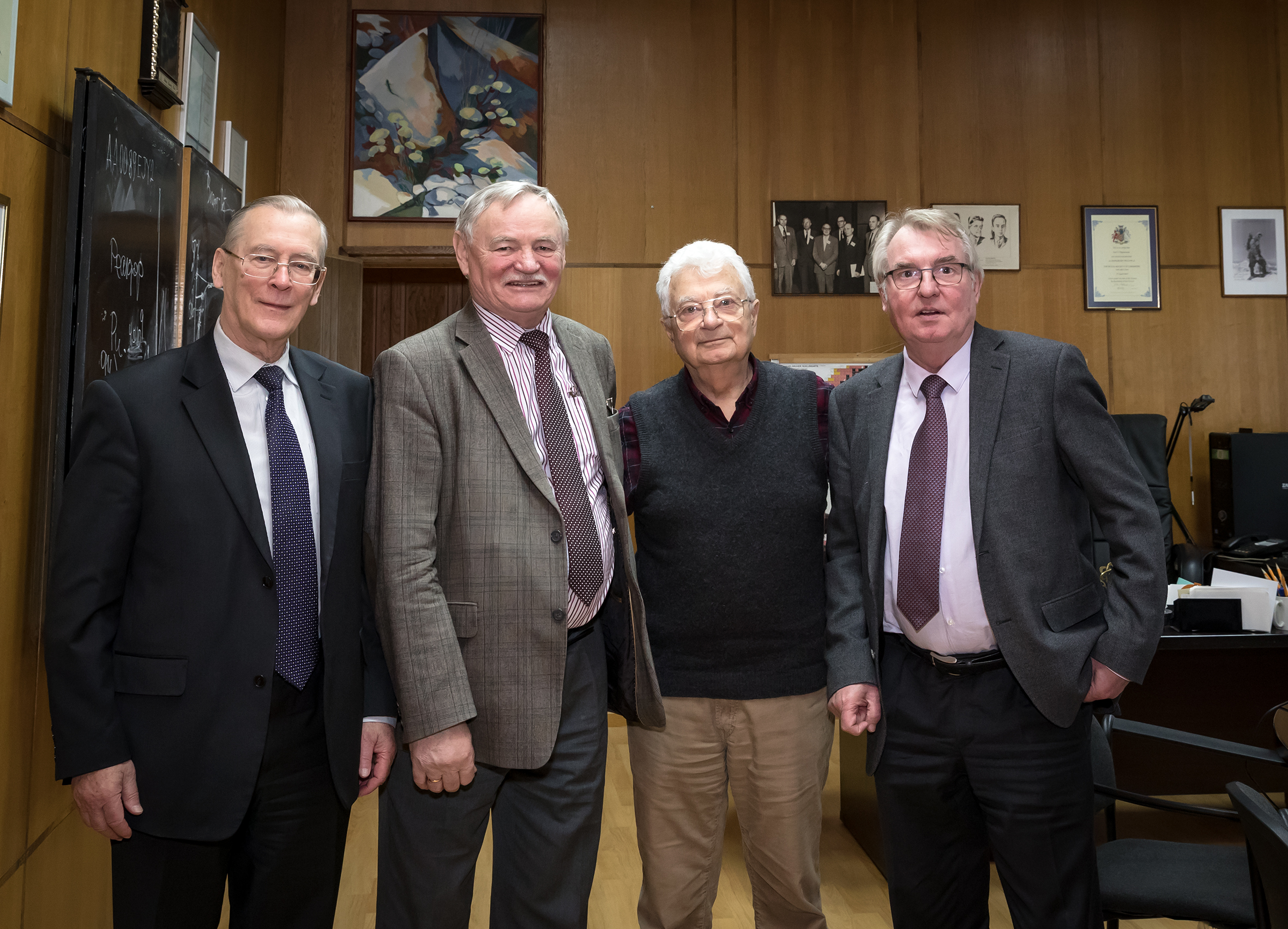 Academician V. I. Sergienko shared his impressions of the visit with a journalist of the JINR Weekly Newspaper:
"The visit to your Institute and legendary laboratories is an honour for any physicist who has ever heard of or studied something related to Dubna in student years. I was lucky to meet Academician Flerov for several times, and something used in your Laboratory then was adopted in the East: we used your neutron generators, and nowadays the californium source still operates. It is the only device in the country that determines the gold content with the accuracy of one-tenth of a gram per ton. Our scientists and specialists were trained in JINR. I came to learn about your activities. I visited Dubna for the last time five years ago, and now I see that you are actively developing and that science is at an excellent level here. Moreover, Victor Anatolievich and I have the same scientific roots: we both studied at the Far Eastern University. He then transferred to the Leningrad University being a second-year student. I graduated from Far Eastern University. Some of our fellow students stayed here, some of them work at MSU, some of them moved to St. Petersburg, other students moved abroad. And these contacts gave a start in life to a very large number of people. Our specialists in radiochemical analysis methods often visit you and consult with your staff. So, I hope that our meetings in Dubna will be useful and will give impetus to further enhancement of our cooperation."
The Far Eastern Branch of the Russian Academy of Sciences (FEB RAS) is a regional branch of the Russian Academy of Sciences, which is a developed and territorially distributed system of complex scientific centres, institutes, hospitals and scientific stations, nature reserves. The system covers the whole territory of the Far Eastern Federal District. There are FEB RAS scientific centres in Vladivostok, Khabarovsk, Petropavlovsk-Kamchatsky, Magadan, Blagoveshchensk, and Yuzhno-Sakhalinsk. Separate institutes operate in Birobidzhan, Anadyr.
At the beginning of 2017, about 7,500 people worked at FEB RAS, including 2,500 researchers. Among them, there were 23 academicians and 141 RAS corresponding members. At the beginning of 2005, more than 300 doctors and 1,150 candidates of sciences worked in the RAS Far Eastern Branch.
Evgeny Molchanov, JINR Weekly Newspaper
Photos by Elena Puzynina