XXII Summer School on Particle Physics and Astrophysics finished on Lake Baikal
News, 29 July 2022
From 12 to 19 July 2022, the XXII Summer School on Particle Physics and Astrophysics was held on Lake Baikal, in the village of Bolshie Koty. Irkutsk State University (ISU) and the Joint Institute for Nuclear Research organized the event.
This year, the School has resumed on the shore of Lake Baikal in the offline format after a two-year break caused by COVID restrictions. Then it was held in a shortened format at ISU and online on Zoom. The traditional venue is the Baikal Biological Station of the Research Institute of Biology of ISU in the village of Bolshie Koty. Doctor of Physics and Mathematics, Professor Alexander Nikolaevich Vall (ISU) and Doctor of Physics and Mathematics Dmitry Vadimovich Naumov (DLNP JINR), who led the School for almost two decades, stood at the origins of the School. The traditional topics of lectures and classes are the Standard Model, neutrino physics, and astrophysics.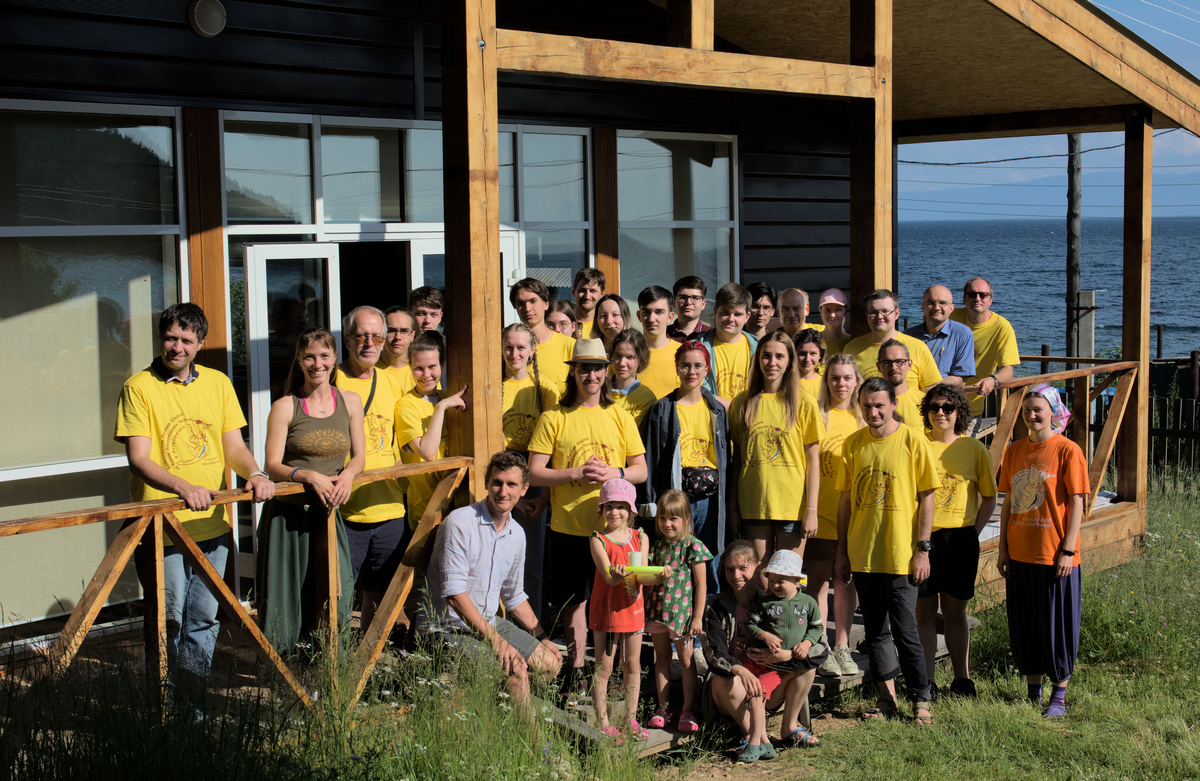 A school teacher, a DLNP JINR researcher, Candidate of Physics and Mathematics Yury Malyshkin spoke about new things at the School this year and experience that participants had gained.
"This year we have managed to hold the School again on the shore of Lake Baikal, in a very beautiful place, which can be reached by a hydrofoil. Accommodation at the base is in warm houses, there are no problems with the Internet and electricity. In the village for teachers you can rent an additional house, there is a shop. It is convenient that a conference hall for lectures and classes has appeared at the biostation this year."
29 students and 11 mentors participated in the School. Five teachers of the Laboratory of Nuclear Problems came from JINR: Andrey Sheshukov, Yury Malyshkin, Yulia Yablokova, Anna Sirenko, and Arseniy Gavrikov. The School lasted for six days, one of which was a half-holiday because participants played volleyball and walked along the famous Baikal Trail after morning reports.
The School-2022 was devoted primarily to neutrino physics. Various theoretical aspects were considered in detail, an overview of the mechanisms of neutrino generation was given (in the Sun and other stars, in the bowels of the Earth, the atmosphere, nuclear reactors, etc.), the effects of neutrino oscillations in vacuum and matter were analysed. Lectures on experiments were delivered, among which the Baikal-GVD astrophysical neutrino registration experiment and the TAIGA experiment exploring the Universe in gamma rays were discussed. Special attention was paid to the plausible mechanisms of supernova explosions that generate a short-term but powerful burst of neutrino flux, and the capabilities of modern detectors to register it.
Practical classes, i.e. a workshop on the simulation of the particle passage through matter using Geant4 software, a workshop on machine learning (participants modelled a data set and then used it for machine learning) and a task from Anna Sirenko and Yulia Yablokova to reconstruct an event from the Baikal-GVD experiment, became an important part of this year's Baikal School.
"Anna and Yulia have provided real experimental data, from which students had to reconstruct one of the real, rare, and beautiful events. They have taken a piece of information about this event with time and amplitudes from the dataset from the optical modules of the Baikal Neutrino Telescope and offered young scientists to reconstruct the flight path of the muon that this signal generated. It has turned out to be quite a difficult task. I have undertaken to accomplish it myself, and despite my experience, it has taken me more time than they thought to give students. As a result, we have gathered students into groups and offered to solve the problem together with the mentor. It has turned out to be a graphic and vivid example of the work of a scientist in the framework of this experiment.
I believe that practical classes are of great value. At the lecture, the student sits, listens, and writes down. After the lecture, perhaps, he will discuss something with colleagues, and in practical classes they themselves carry out work related to science. At the same time, technical questions arise along the way, and you can immediately ask something, get an answer, and achieve progress in solving the problem."
In addition to lectures and practical work, there were also student reports at the School. Those of participants who had already received interesting results talked about them. Someone made a report on personal research; other students gave a report on the work of their group. For example, four second-grade students made the work with real data from the Baikal telescope and obtained interesting results, which were presented at the School.
Participation in the Baikal School on Particle Physics benefits not only students, but also the organizers. Students and postgraduates have the opportunity to communicate with scientists studying particle physics, learn about the latest achievements in this field, determine their future interests in science, and gain skills in working with experimental data. In their turn, JINR scientists can take a closer look at potential staff members.
"We think about new staff members. You can easily miss if you take an outsider because of their application. The application may be good, but it is unknown how a person will work in the future, whether it is easy to interact with them, and their productivity. At the School, especially during practical classes, you can see how students work, how they interact with a teacher and each other. In our turn, we can tell students more interesting about any topic than it is written somewhere in the textbook.
In general, the ties between JINR and ISU are an established tradition. Many specialists come to us from ISU, including those who have been to this School. Many of them are highly talented and prove themselves working at JINR.
It is interesting that at the School there is also communication between people that have something to talk on the topic of the School. For example, I watched Andrey Sheshukov discussing questions about supernovae with Maxim Sergeevich Dvornikov: one is an experimentalist, another is a theorist. Of course, they had many topics in common to discuss."
Yury Malyshkin has participated in the Baikal School for the first time and believes that it will be possible to talk about practical results of this year later, in a few years. Now the main thing is that the School took place in the usual format. "We have spoken about interesting and important things, students have heard it and learnt it. Personally, I have learnt many interesting things, for example about the TAIGA experiment, because I not only taught classes, but was also a listener. I would like to participate in the School next year."