Yuri Oganessian visited V. G. Kadyshevsky Lyceum
News, 04 October 2021
On 1 October 2021, Scientific Leader of the Laboratory of Nuclear Reactions JINR Yuri Oganessian visited the Regional Physics and Mathematics Lyceum named after V. G. Kadyshevsky. Director, an acknowledged teacher of Dubna Yuri Kurlapov guided a tour of the Lyceum for the outstanding scientist.
During the visit, Yuri Tsolakovich Oganessian had a conversation with the Director of the Lyceum in his office where Director Yuri Petrovich introduced the guest to the history of the Lyceum's creation and spoke about the implementation of the joint educational project of JINR, the Government of the Moscow region, and the Administration of the Dubna city. Director Kurlapov also explained the way students had been selected.
Introducing the guest to the Lyceum, Yuri Kurlapov showed him around classrooms, in particular, accompanied by an IT teacher Vladislav Kuzmin, Yuri Tsolakovich had a look at equipping of IT, Physics, and Foreign Languages classrooms. In a classroom for laboratory works on physics, Yuri Oganessian left his autograph on the interactive touch board. At the end of the visit, Yuri Tsolakovich met with senior school students of the Lyceum (students of the inly 9th grade and both 10th grades, namely with the chemical-physical and IT grades).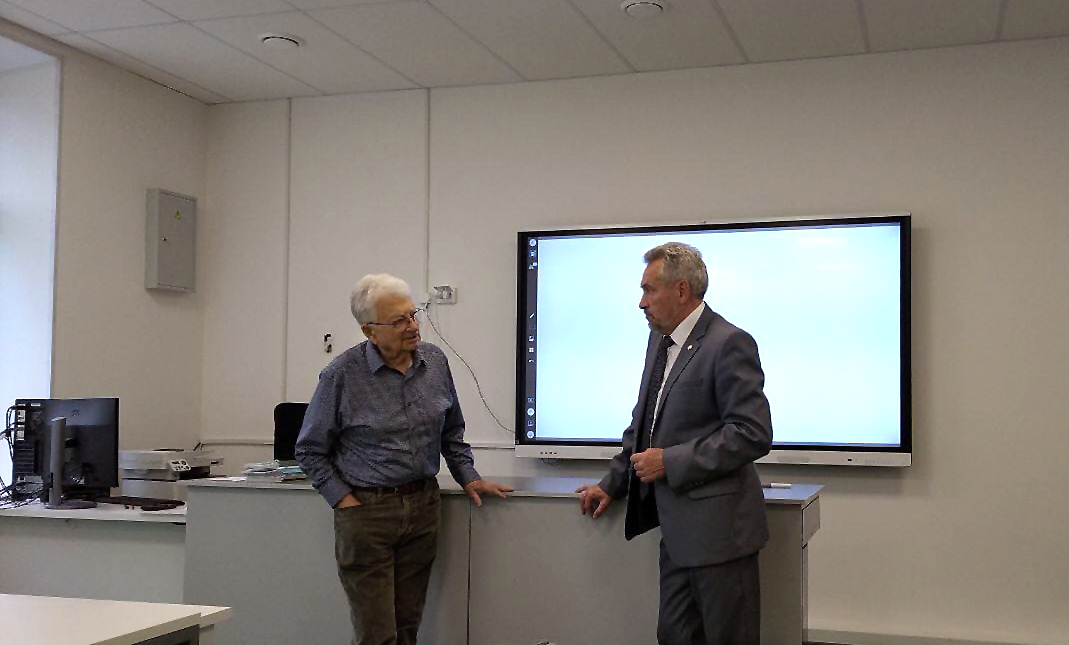 "I am honoured to introduce Yuri Tsolakovich Oganessian to you, a scientist whose name has come down in the history and the Mendeleev's Table," the Director told students.
"You are the first students of the Lyceum n.a. Kadyshevsky, my great friend. To be honest, I have never thought that I would once stand and look at the mosaics depicting Vladimir who used to be the JINR Director," Yuri Oganessian noted. "The idea to name the Lyceum after him was brilliant. He studied in the cadet class at Sverdlovsk Suvorov Military School, and they had a pretty good level of education, especially in terms of exact sciences: physics, mathematics. He graduated from the Academy with a gold medal and entered Moscow University, he did not follow the military career. He brilliantly graduated from the University. He was a theoretical physicist, a famous scientist. When he passed away, I came up with an idea that it would be great to call the cadet class after Academician Kadyshevsky. But why should not there be a Kadyshevaky lyceum here, in Dubna? I am happy that it has happened. I congratulate you, your students, all the teachers. The Lyceum will also acquire its own style, character, just like the cadet class once did."
The famous scientist promised students to read a lecture preliminarily scheduled for the second term, before the New Year.
"That is why we are not saying goodbye. See you first here and then in our Laboratory. Since you have shown me today your laboratory, I then will show you mine," he said.
Yuri Oganessian visited V. G. Kadyshevsky Lyceum