For development of a new-generation device
News, 06 May 2019
On the initiative of the Head of the Group of Inelastic Neutron Scattering of the Department of Neutron Investigations of Condensed Matter of FLNP Dorota Chudoba, a meeting on the creation of a new spectrometer of inelastic neutron scattering was held in the Laboratory at the end of March. The first such device was developed at the IBR reactor, and Polish staff members worked at it. Colleagues from Krakow and Dubna designed and created the Krakow-Dubna Reverse Geometry Spectrometer (CDRGS) for the IBR-30. Two spectrometers of inelastic scattering were used in operation of the IBR-2, namely NERA and HRNS. Specialists from various countries came to JINR to discuss the idea of the concept of a new facility with Polish and Russian colleagues. Among them, there were experimentalists from several European centres, the Russian PNPI, and equipment developers from the FRAKOTERM company (Poland).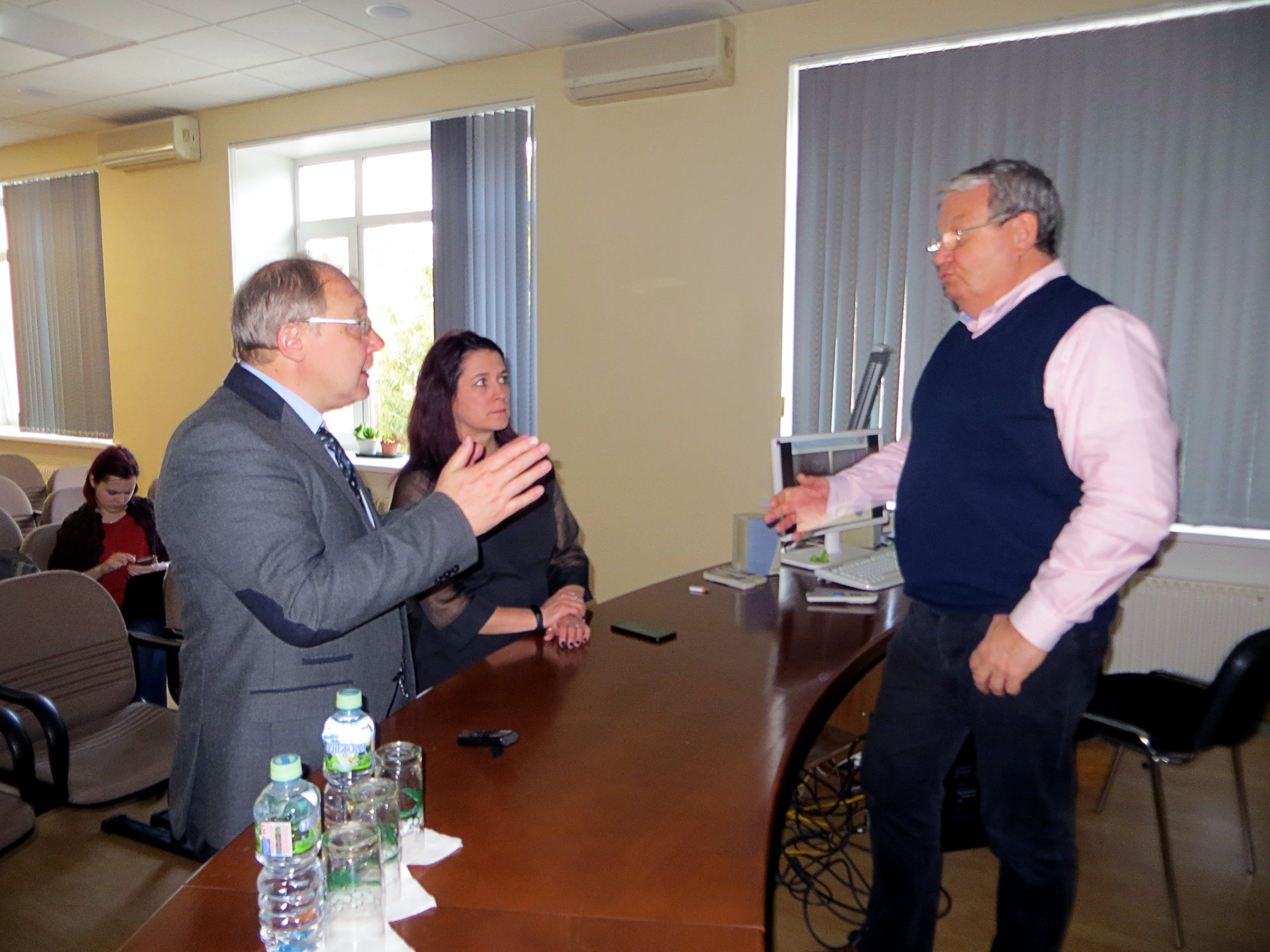 Alexander Ivanov (Institute Laue-Langevin, France): I worked at the IBR-30 with the device that was called CDRGS, the Krakow-Dubna reverse geometry spectrometer. I did my Ph.D. thesis at this reactor. Sasha Belushkin, who had graduated from MEPhI a year earlier, was responsible for the device at that time. He taught me to work at the spectrometer, and the first scientific publication was co-authored by him. Later on, this device was modernized by efforts of the Polish group and its leader Irek Natkants.
The NERA spectrometer was used at the IBR-2 facility for a long time, and now it is more than 30-year old, and it is clear that a new modernization stage for this equipment is about to start. It is caused by the fact that such devices are developed, constantly improved all over the world, and new facilities are created. The utility of such instruments for research in many fields of chemistry, physics, biology, pharmacy, energy supply, the most significant areas nowadays, is obvious. The potential of such instruments for these fields is immense. The NERA spectrometer was out of date, and it was possible to improve its parameters, according to the first calculations, for up to 100 times.
"Will it be modernization or a new device?"
"It will be brand-new equipment, and the FLNP Polish group, a leader in the fields of inelastic scattering, wants to use one of the principles mastered in the Institute Laue-Langevin where I work now. We created a device and called it LAGRANGE. It uses a fairly interesting principle of space focusing using the de Broglie reflection from crystals. It allows increasing the capture area of useful neutrons not making the detector too big. It will count only a useful signal and will not analyze the background.
Our colleagues want to use this principle to develop a new-generation device in Dubna with regard to peculiarities of your reactor and the geometry necessary for this facility. Today, we discuss different opportunities: to construct a primary device, i.e. an optimized neutron guide, and to improve a so-called secondary spectrometer in order to gather neutrons bringing a useful signal in the most optimal way. The task of our meeting is to discuss these ideas, the first developments. Now, this process of thinking over what and how should be done is underway. New ideas and new variants emerge, and, of course, we discuss them."
"Is the meeting supposed to be concluded with a particular preliminary project?"
"No, there won't be a project yet but we will develop principles and ideas to follow in order to create a new facility. Nowadays, there are several different opportunities based on one basic principle. However, we are now discussing how to implement it, what parameters and distances to use."
Jiří Kudla (the Czech Republic / Institute Laue-Langevin, France): "It fits the world tendency of the method's development. In fact, it does not matter where this new device will be created: here, in Germany, or in America. I am interested in it as in the scientific problem: new equipment, new opportunities for experiments, and so on. Of course, my affiliation to Dubna influences me as far as I lived here for four years. Many people work here, and I remember them; I even remember that my room was under here, a floor below. The project itself interests me in terms of my scientific activities; I am a consultant to another project in Oak Ridge (USA) in the same way – I share knowledge and experience.
Wojciech Zajoc (Institute of Nuclear Physics, Krakow, Poland): As you know, the CDRGS spectrometer, which long operated, replaced the NERA spectrometer, which had been designed in Krakow on the basis of the long, 100-meter base. Components of the neutron guide were brought from Poland while mirror elements were produced in Gatchina. It still operates but demands the renewal. It is high time new scientific tasks were solved at the best instrument with the use of the larger amount of scattered neutrons. In our tasks, we use isotopically scattered neutrons. We capture them not only by the horizontally placed detector. The new project will lead to higher effectiveness: starting from the neutron optics that will be altered. Colleagues from St. Petersburg conduct its Monte-Carlo modeling and, due to their calculations, new neutron optics will be produced. The new spectrometer will have a higher neutron flux compared with the existing one, and its geometry will allow carrying out experiments more effectively; there will be an opportunity to study processes online, for example, work with energy sources. It will be possible to conduct more complicated experiments and move forward."
"Does this field still remain interesting for Polish specialists and attract the youth?"
"Yes, they are interested in the themes we have been engaged earlier, such as molecular dynamics of crystals, physics of liquid crystals, and others. Moreover, there are new fields of research: physics of pharmaceutical products, biological compounds, and physics of high-correlated systems. There are teams that may be interested in such an instrument."
At the end of the workshop, the FLNP Directorate made a decision to construct two new world-level facilities for inelastic neutron scattering at the second channel of the IBR-2 reactor. The spectrometer being designed under the supervision of D. Chudoba will be one of them.
Olga Tarantina, JINR Weekly Newspaper
Photos by the author