JINR Foundation Day in the Cultural Centre "Mir"
Organization, 28 March 2019
The session of the Committee of Plinipotentiary Representatives of the governments of the JINR Member States was concluded on 26 March 2019 with celebration in the JINR Cultural Centre "Mir" of the 63rd anniversary of the JINR foundation.
Opening the event, JINR Director Academician V. A. Matveev said: "Today, the Institute, our city celebrate a big holiday, we celebrate a significant date of the JINR foundation. It is a great honour for me to welcome on behalf of the Institute and Plenipotentiary Representatives the audience, and especially veterans of JINR, colleagues from the JINR Member States, representatives of diplomatic missions, leaders of the city, colleagues from city companies. I heartily congratulate all on this big event!
On this memorable day, we bow our heads to the Institute's founders who devoted their lives to JINR establishment, to establishment of its traditions. Let's maintain and continue these traditions." Director of the Institute noted the latest achievements highly appreciated by the CP: opening of the building of the Factory of superheavy elements and launch of the DC-280 cyclotron, bringing into operation of the fourth cluster of the neutrino deep-underwater telescope in the Baikal lake, start of work of the founded at the end of the previous year School of Engineering established in cooperation with the Bauman Moscow University and the Dubna University. Moreover, several days ago, Governor of the Moscow Region A. Yu. Vorobyov signed the decision on establishment of the Kadyshevsky Regional Physical and Mathematical Lyceum in Dubna.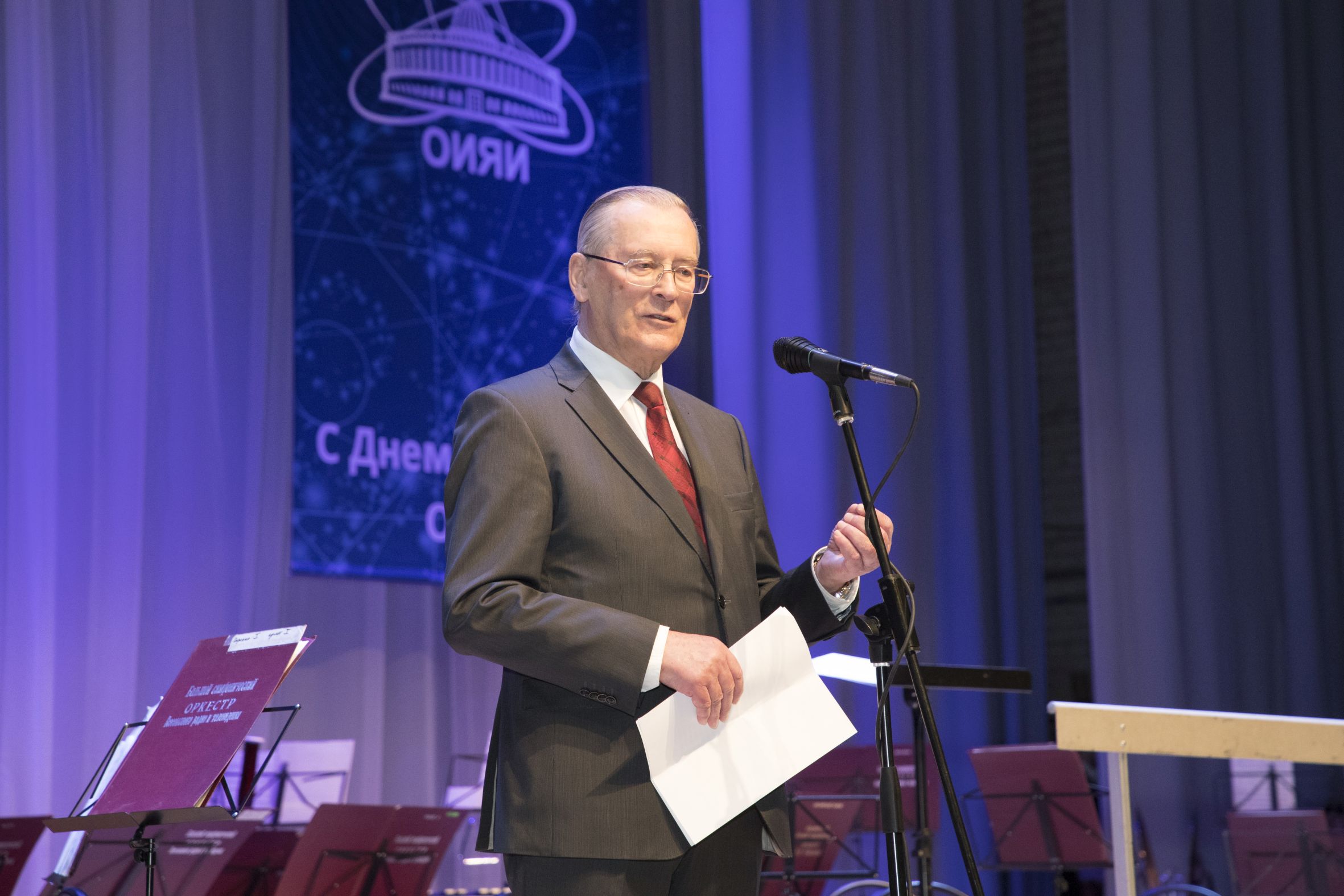 The event was continued with traditional awarding of Dubna teachers who had won the JINR grant competition. The culmination of the event was the performance of the Tchaikovsky State Academic Symphony Orchestra. Headed by Denis Lotoev, the orchestra brilliantly performed the Symphony #1 "Classical" by S. S. Prokofiev, the pezzo-capriccioso for cello with orchestra by P. I. Tchaikovsky (soloist – Fedor Zemlerub), the duet for flute and oboe with orchestra by I. Moscheles (soloists – Anton Silvestrov and Olga Gotovtseva), the introduction and rondo-capriccioso for a violin with orchestra by C. Saint-Saëns (soloist – Sergei Kostalev), the Italian capriccioso by P. I. Tchaikovsky. Endless ovations were awarded with the enchanting encore performance of the fragment of the Spanish dance by P. I. Tchaikovsky. General emotions of the audience were expressed by Victor A. Matveev who thanked musicians for the concert: "Your visit is a big event; this concert is special; it calls us not to stop at what we have already achieved. We will dream about the day when we will listen to you again in our city!"
Olga Tarantina, JINR Weekly Newspaper
Photos by Elena Puzynina