Meeting with President of Armenia
Media, 30 April 2023
On 29 April, in Yerevan, President of Armenia, a JINR Member State, Vahagn Khachaturyan hosted JINR Director RAS Academician Grigory Trubnikov and Scientific Leader of the Laboratory of Nuclear Reactions RAS Academician Yuri Oganessian. The high-level meeting took place within the discussion "Science brings nations together" at the international conference "Heaviest nuclei and atoms" dedicated to the 90th anniversary of Yuri Oganessian. It was held under the auspices of the International Union of Pure and Applied Physics at the National Academy of Sciences of Armenia (NAS RA) from 25 to 29 April 2023.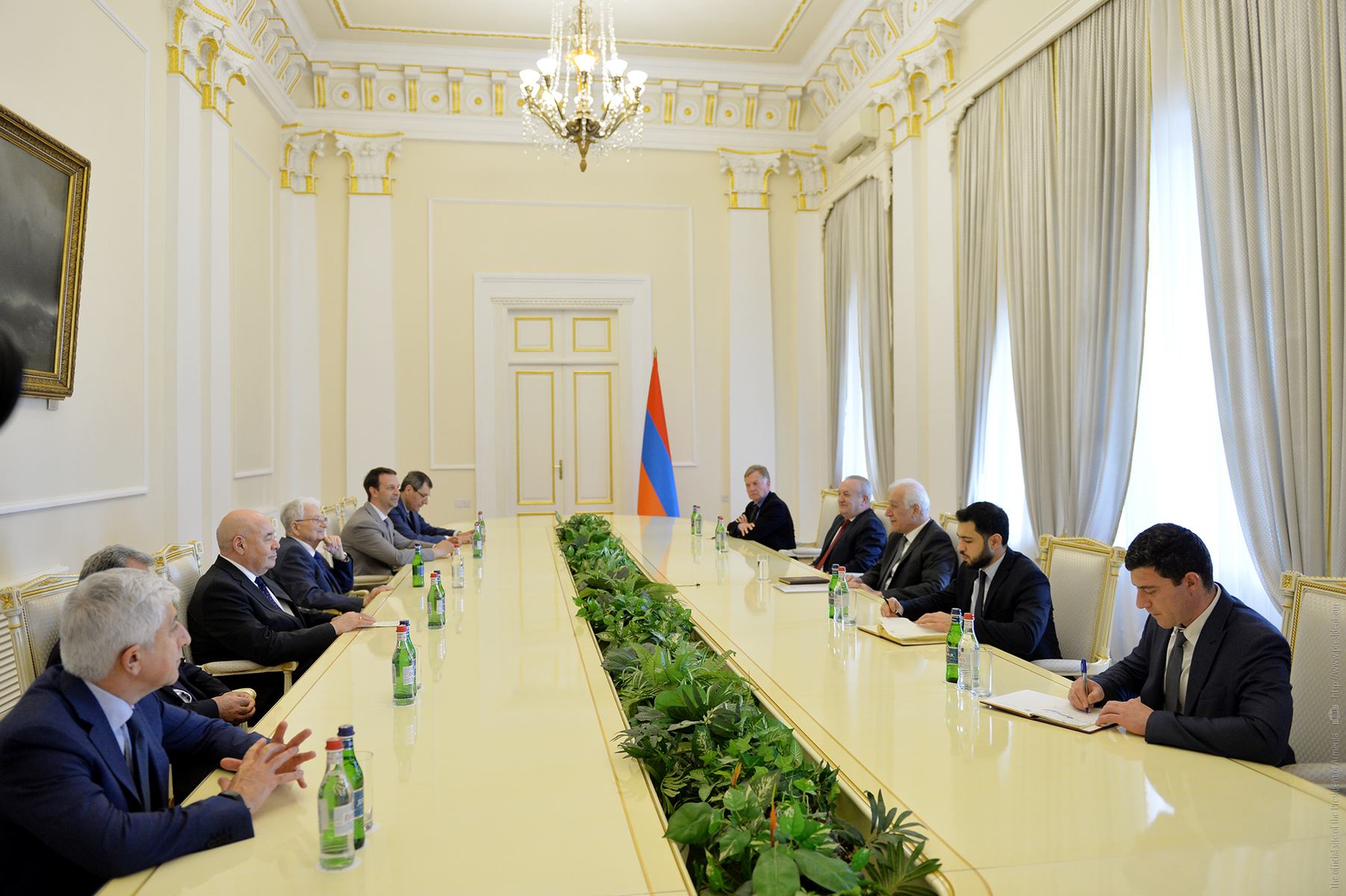 Photos by https://www.president.am/
NAS RA President Ashot Sagyan, Director of the Institute for System Programming of RAS Arutyun Avetisyan, Rector of the Moscow Aviation Institute Mikhail Poghosyan, NAS RA Academician Ruben Harutyunyan took part in the event. Special Representative of Russian President on International Cultural Cooperation Mikhail Shvydkoy moderated the discussion.
A wide range of issues on strengthening and expanding scientific and cultural ties was discussed at the meeting. In particular, the participants discussed unlocking of the existing potential in high technologies and in other fields of science, as well as the formation of a substantive agenda for cooperation.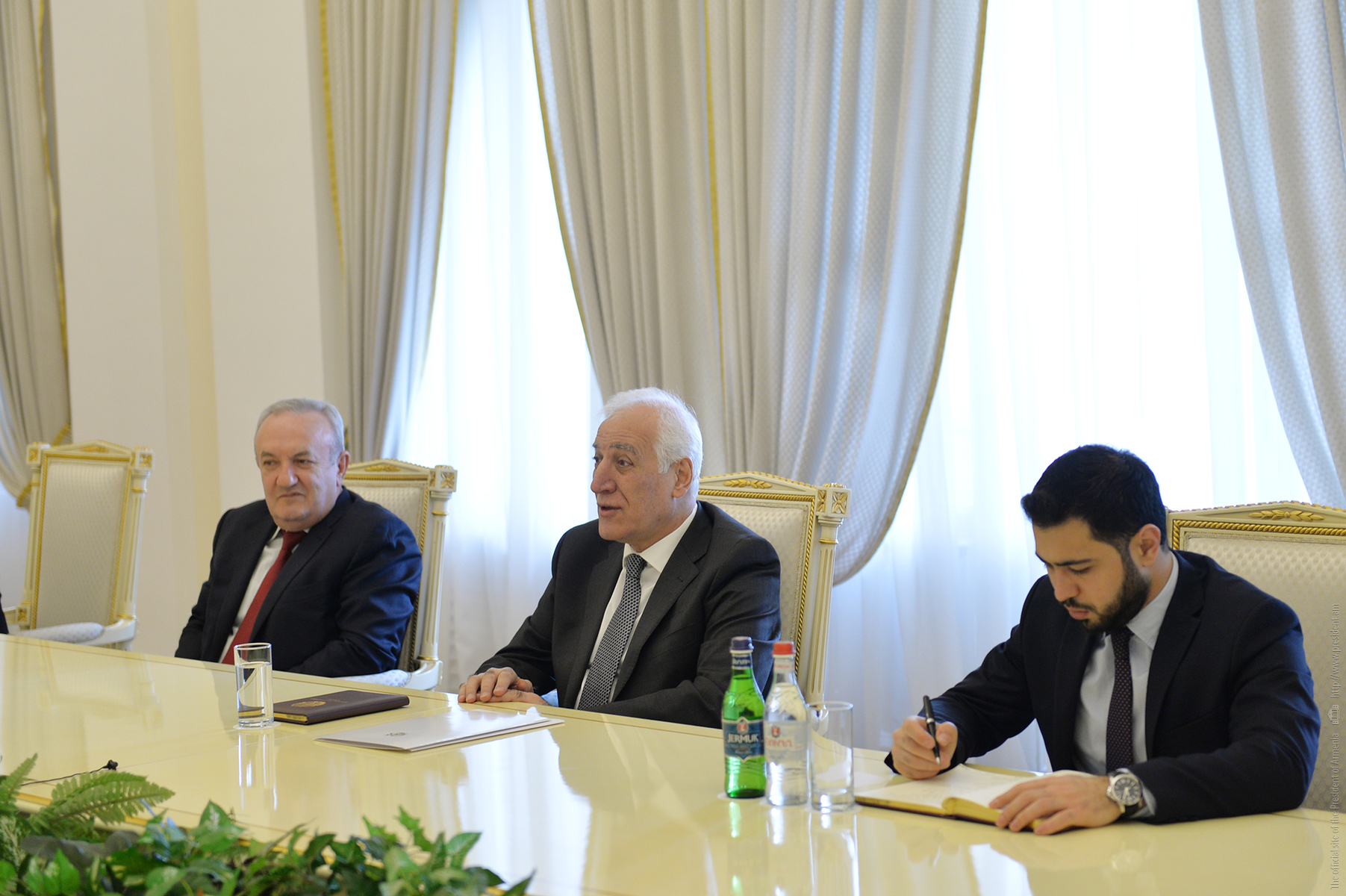 Vahagn Khachaturyan expressed willingness to fully support the organization of international conferences and seminars in Yerevan. Following the meeting, participants reached an agreement on regular holding of international multidisciplinary conferences and joint cultural events in Armenia.
The President of the Republic of Armenia congratulated Yuri Oganessian on his anniversary and wished him good health and new scientific achievements.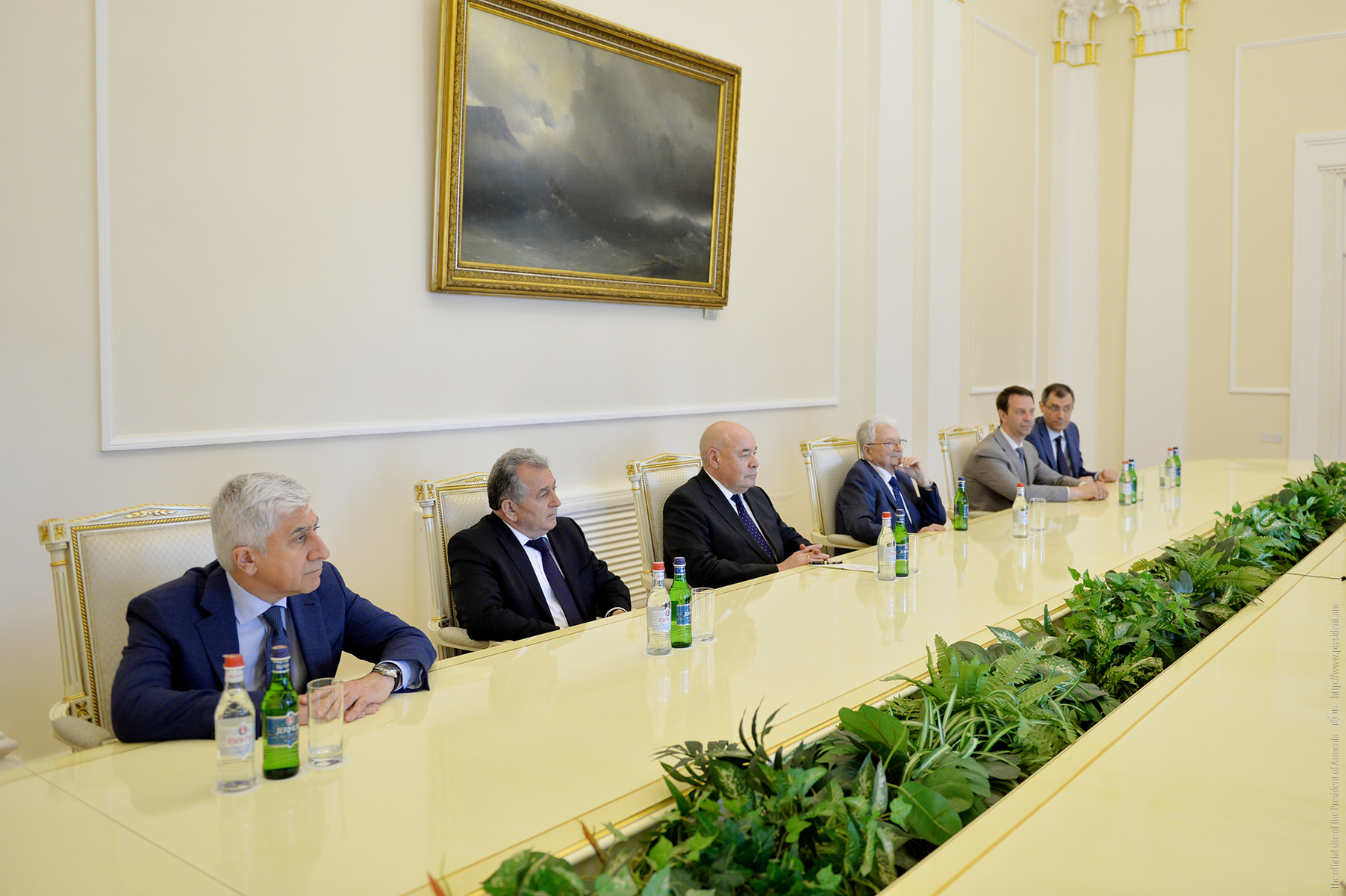 The conference "Heaviest nuclei and atoms" brought together well-known scientists from the Joint Institute for Nuclear Research, the University of Notre Dame (USA), the Paul Scherrer Institute (Switzerland), Tel Aviv University (Israel), the National Centre for Nuclear Research (Poland). Scientists presented results of their research on the synthesis and study of the physical and chemical properties of the heaviest elements. At the conference, a photo exhibition "Big Science" took place, where discoveries and achievements of the scientific centres participating in the conference were presented.
NAS RA President Ashot Sagyan invited Yuri Oganessian and conference participants to take part in the celebration of the 80th anniversary of NAS RA in October 2023.
On 28 April, the opening ceremony of the garden, the Botanical Museum, and the Laboratory of Molecular Biology took place at the Botanical Garden of the Institute of Botany named after A.L. Takhtajyan NAS RA. As part of the event, a tree named after Yuri Oganessian was planted in the garden.