Physics? Chemistry? Nice to meet you!
News, 22 April 2019
The VI all-Russian scientific festival "Days of Physics" was held in our city from 12 to 14 April 2019. It was organized by the Joint Institute for Nuclear Research, the JINR University Centre and the Physics and Mathematics Open Classroom.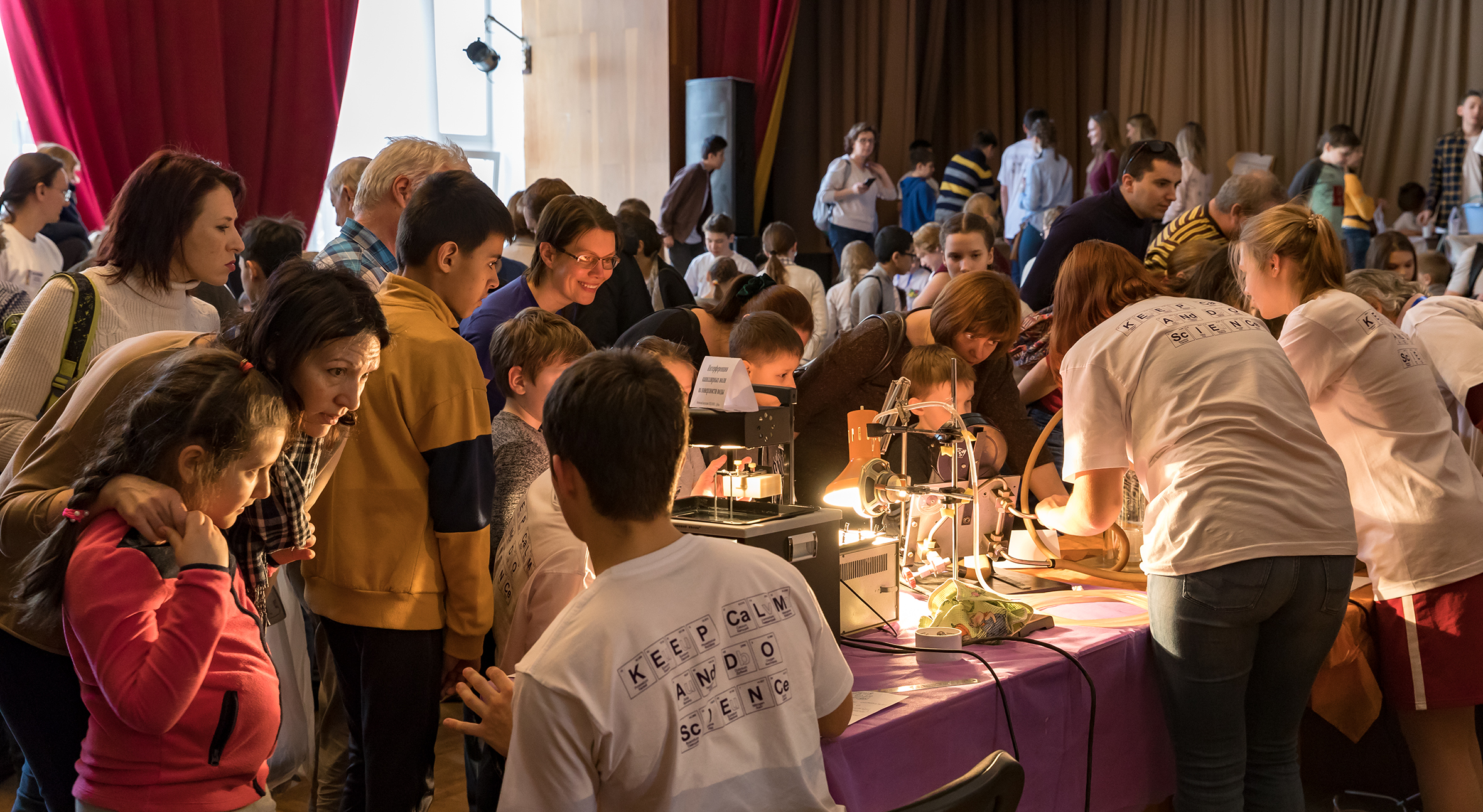 Days of Physics is a holiday of immersion into the fascinating world of physics and chemistry. The Days are organized in such a way that senior school students demonstrate and explain to the audience various physical laws at the equipment constructed themselves. These experiments, always bright and sometimes unexpected and demanding to think them over, have always attracted a large number of spectators of all ages – from pre-school students to retirement-aged people. They are also attractive to participants as far as, according to the feedback, events in such a format are held only in Dubna. Moreover, participants from other cities had an opportunity to get acquainted with Dubna on the first day of the Festival passing an exciting quest around the city and visiting the Museum of History of Science and Technology of JINR. They also played the intellectual game "What? Where? When?" For the next two days, the JINR Cultural Centre "Mir" transformed into one big laboratory: on Saturday, experiments were demonstrated in the small hall, and the "Periodic Law" quest was held in the big and exhibition halls. On Sunday, the traditional mathematical holiday and workshops were held. The Cosmonautics Day was marked by the launch of rockets on Molodezhnaya glade (lit. "The youth glade").
Chairman of the Festival's organizing committee M. V. Zhabitsky (JINR): There have not ever been so many guest teams. This year, we welcomed six teams: the Moscow gymnasium #1514 that has participated in the Festival for several times, the St. Petersburg Physical and Mathematical Lyceum, students from Volgograd, Glazov, and Istra of the Moscow region took part for the first time, the team of Bryansk has also participated for several times. Among Dubna teams, there were students of the Physics and Mathematics Open Classroom of the UC (I. A. Lomachenkov), and students of I. G. Osipenkova (School #6); students of the "Dubna" Lyceum also participated in the Festival. All experiments demonstrated by students were complicated. We always welcome experiments on particle physics and nuclear physics. This year, participants of the Classroom's team headed by I. A. Lomachenkov prepared many new experiments. They constructed "an accelerator", a ball accelerated by the electromagnetic field in the carton barrier.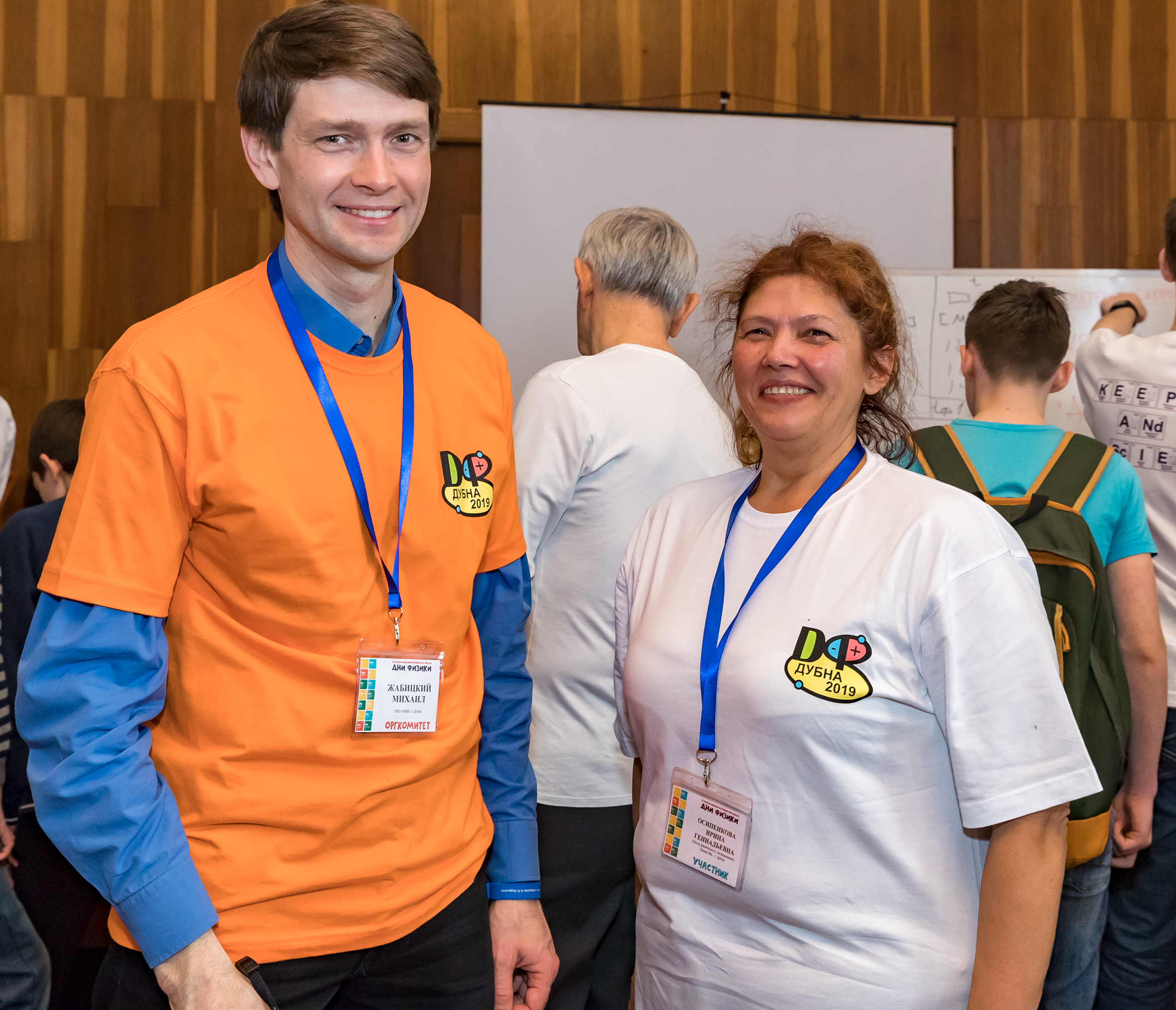 In the year marking the jubilee of the discovery of the Periodic Law, our traditional quest for participants of the Days is dedicated to this event. Students get the map, the Periodic Table, and passing the stations in the big hall of the Cultural Centre they solve various tasks: on history, geography, even linguistics. They learn what is the role of chemical elements in our everyday life, what elements were synthesized in Dubna and at the end, they get the deserved prize. Most interestingly, these tasks are set up in such a way as to allow both senior school students who already study physics at school and junior school students who are not yet acquainted with it to learn something new.
Our guests, when they are lucky to have free time, walk around Dubna – from the monument of IL-2 to the monument of Bogoliubov. The quest suppose its participants to pass 23 points; they should solve tasks hidden around these monuments or think something over. And thus they become acquainted with our city.
Physics teacher M. V. Akimova (Lyceum #1, Volgograd): We have come here for the first time; I learned about Days of Physics one and a half year ago when I took part in the School for Physics Teachers held by the UC JINR. I even took part in the CERN School. We presented here two projects prepared by girls from my lyceum and we were waiting for the decision. When we learned that both works were selected, the children were very happy. It is a physical and mathematical lyceum, and physics and mathematics are taught in-depth; we have project on physics. We participate in regional festivals and competitions. Here, research activities, beautiful experiments prevail; we prepared them in 3-4 months. It was necessary to invent facilities in the experiment on the study of fat content in milk and the "Slow dance". The girls learned to solder.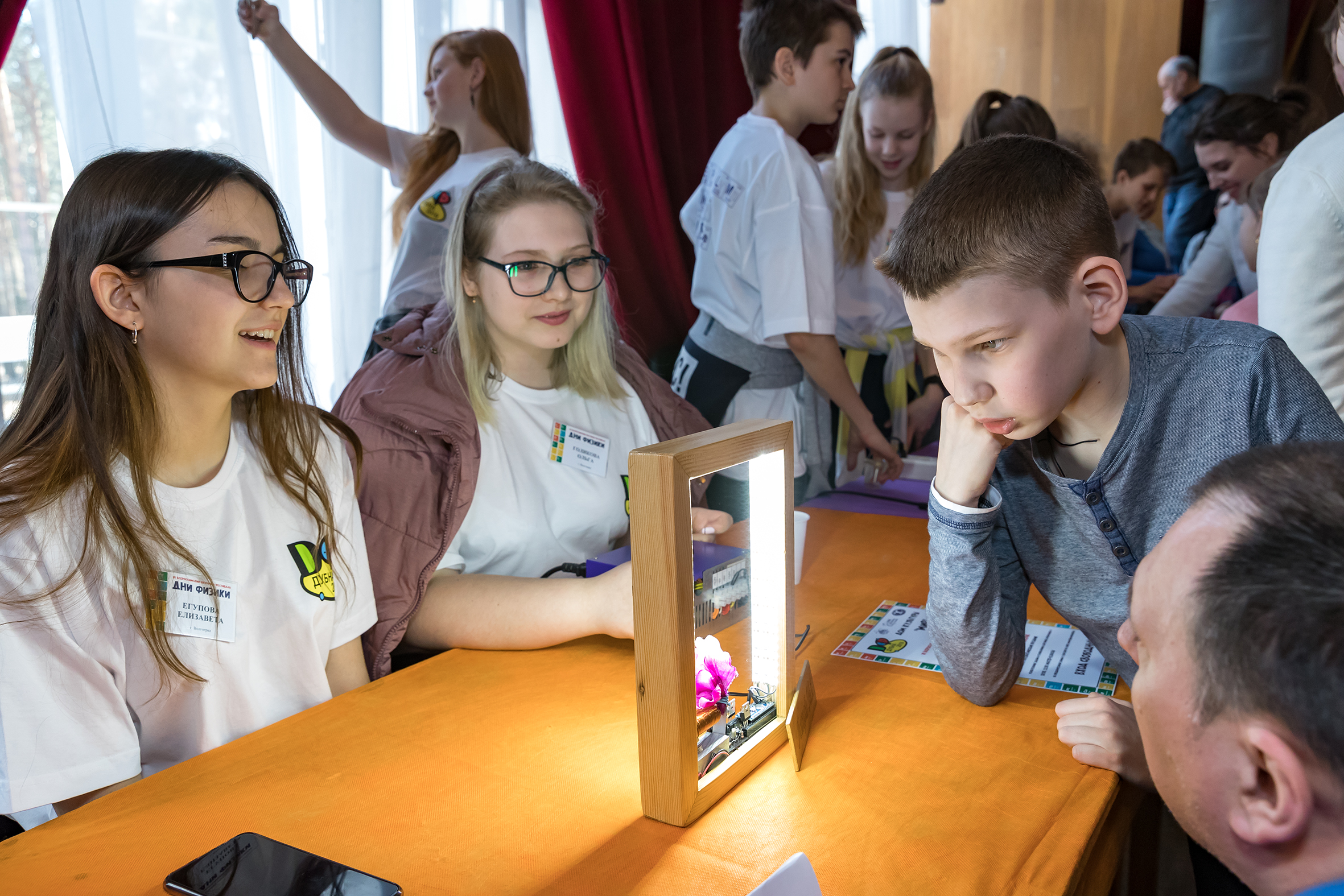 – Why is your team represented by girls only?
– It is the second year of such team content: girls participate in research projects, where patience is needed; boys mostly participate in Olympiads in which they are supposed to solve tasks. Moreover, our girls won the team game "What? Where? When?" yesterday.
Olga Golikova (Volgograd): Our project "Slow Dance" is based on the idea by Jeff Lieberman, an American inventor and an artist. The experiment is based on the stroboscope effect. A flower is attached to a solenoid with inductors and vibrates fast while a LED strip programmed by a special chip flashes with a frequency 80 Hz that cannot be seen by our eyes. It seems to us that lightning is constant, and we just do not see a part of the flower's movements. Thus, it seems like the flower is slowly dancing.
I. A. Lomachenkov (UC JINR) teaches experimental physics to Dubna students: "We demonstrated seven experiments at the present Days of Physics. In fact, there are much more of them; we have already shown some of them at previous festivals but we do not want to repeat them. Two experiments with accelerators are, firstly, interesting and, secondly, connected with the JINR activities; they highlight the direction the Institute works in."
– You also have a lot of girls in your team…
– Experiments are shown by children studying in our club; this year, the numbers of boys and girls are equal.
The experiment on electromagnetism was demonstrated by Ivan Pachkolin (Lyceum #15, Glazov): I demonstrate the model of the Faraday generator. I am an 8-grade student; it is a physical and mathematical class. I am going to enter a physical or technical university. Before demonstrating our experiments to the audience, we saw what other teams prepared. Some experiments interested me. It is the first time we take part in the Days of Physics, but we will take part in the Festival again.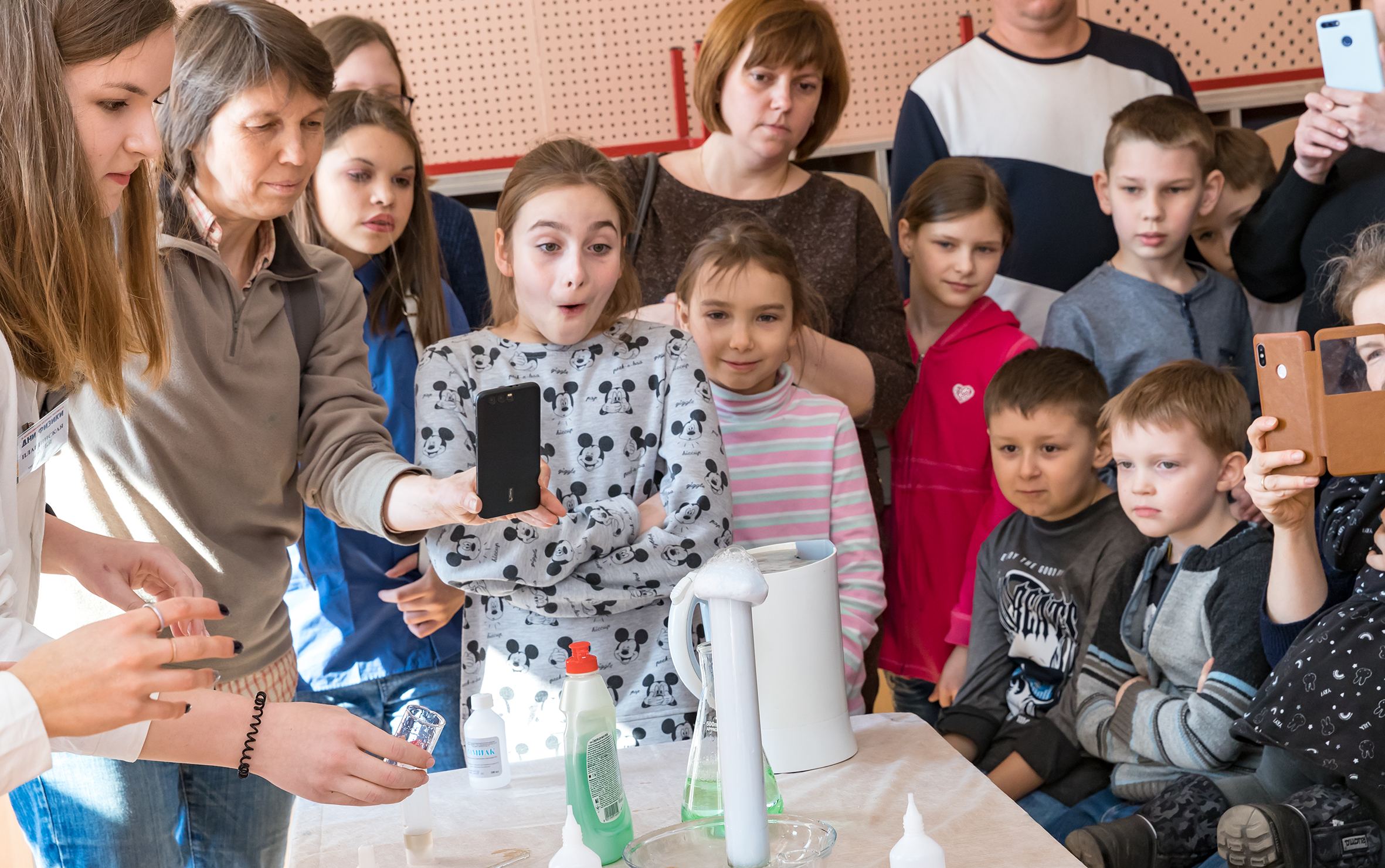 The chemical experiment "Foam party" by MIPT students evoked excitement among children. Daria Plaschinskaya: I am a first-year student at the biophysical department. We prepared to these experiments; we found some reagents by ourselves; the others were offered by our laboratory worker who was even happy that we would be engaged for a while in science and would demonstrate something to children. We rehearsed, and it seems like we succeeded.
– If we consider the children's emotions, it is a real success!
– Thank you! My colleague Masha has come here several times. She is excited by the holiday; she likes Dubna. I liked the city as well. And any event connected with science, particularly with my fields of activities, may be really engaging. Other students came with us as well; they helped us hold the quest. We will definitely participate in the next year.
A teacher of physics and the Physics and Mathematics Open Classroom A. A. Leonovich stood at the origins of the Days of Physics. Jointly with the JINR Universal Public Library, he presented three his books of the series "Simple science for children" at this holiday: "Physics without formula", "Technical miracles", "Bionics: nature gives hints". It was possible to get the books after winning the quiz "Physics for future use" that attracted many children.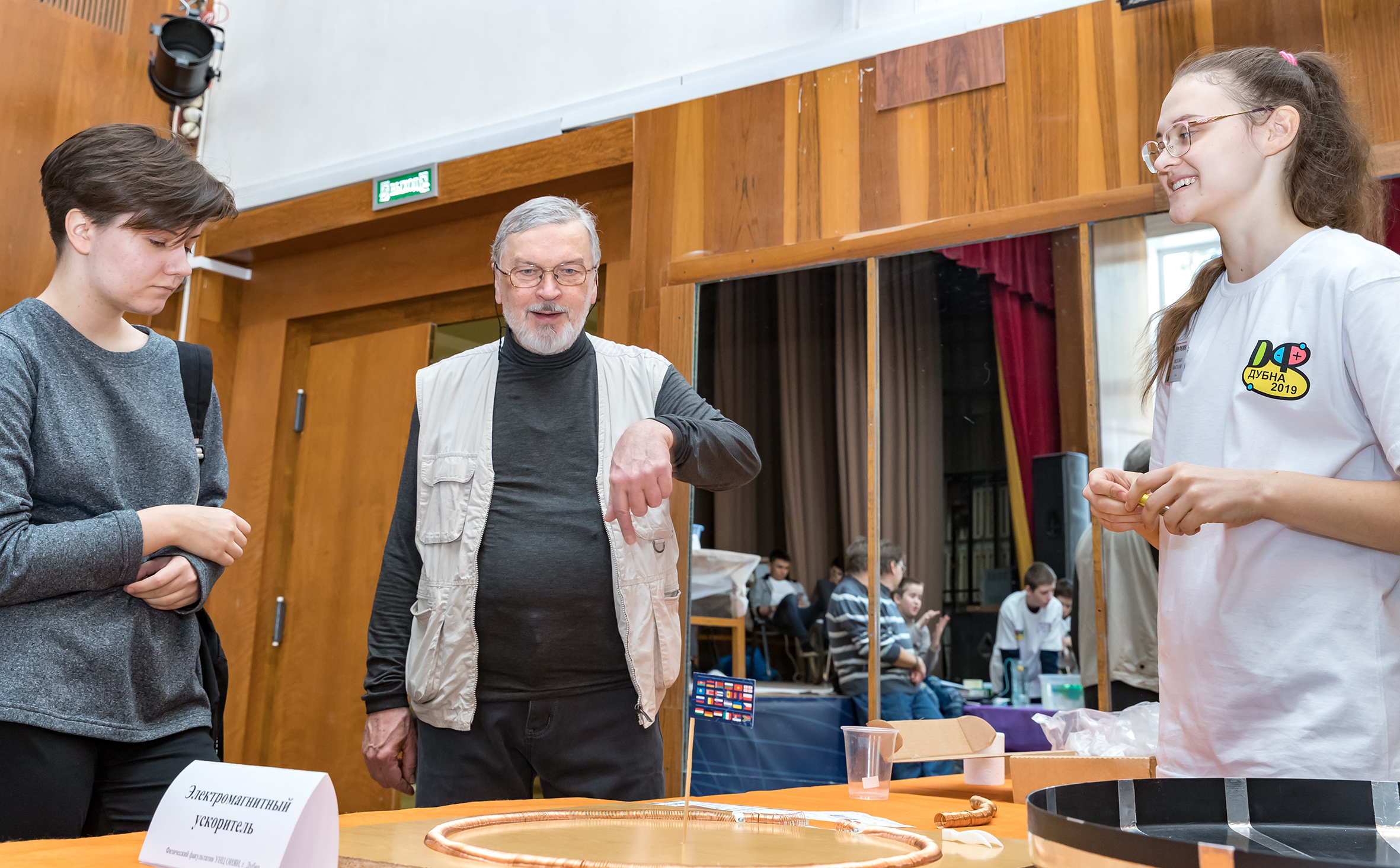 – The AST Publishing House decided to reissue the books of the series "I learn about the world", – Alexander Anatolievich said. – Some time passed; many people now ask "what information holders are popular – paper or electronic ones?" It turned out that the paper times have not ended. The series was reissued; the print run was extended, and there are no more books available in the Publisher's storage! As far as the Publishing House is interested in popularization of its work, these books are presented here, at the best place for this aim! We do not offer books without reasons: one needs to ask the questions of the quiz aimed at children up to the 6th grade, i.e. those who have not yet studied physics at school.
Of course, it is necessary to mention the organizers of the holiday: I led the Open Classroom for almost 15 years. Now, it is headed by Mikhail V. Zhabitsky, and the Days of Physics are mostly organized with his support. Of course, it is a pleasure to see such inquisitive children, but the greatest joy, I may frankly say, is when your students are keen on teaching. It is fascinating that there is someone who can head the classroom and organize such holidays, and this takes many efforts. Now, three teachers out of four are those whom I managed to involve in it, but I would like to see more of them.
Yu. S. Severuikhin (LRB): My colleagues and I take part in the quest; our station is called "Biology". We told children about chemical elements of our bodies, how they participate in biological processes, i.e. we present the Mendeleev's Table the biological prism. Moreover, children assembled the puzzle depicting the skeleton, and we told them about calcium in bones. They watched red blood cells using the microscope; these are fake erythrocytes containing haemoglobin, an important protein containing ferrum. We told them about chemical elements that are in the maximum amount in our bodies: carbon, oxygen, azote, hydrogen. Thus, children understood that chemistry is not only around but also inside us.
Boryana Kalinova (JINR) comes to the event for the second year: I would like to express my gratitude to the organizers as far as it is a large work to organize such an event! Children will keep in memory their meeting with "live" science, when they can touch everything, learn something and apply it in practice, for a long time. We very liked it and were satisfied. My daughter Rada is a second-year student but she watches educational TV programmes of the "Da Vinci" channel, and she watched some experiments here with understanding. She said that she knew this or that issue. It is amazing that the admission is free but I even think that it may be possible to earn some money.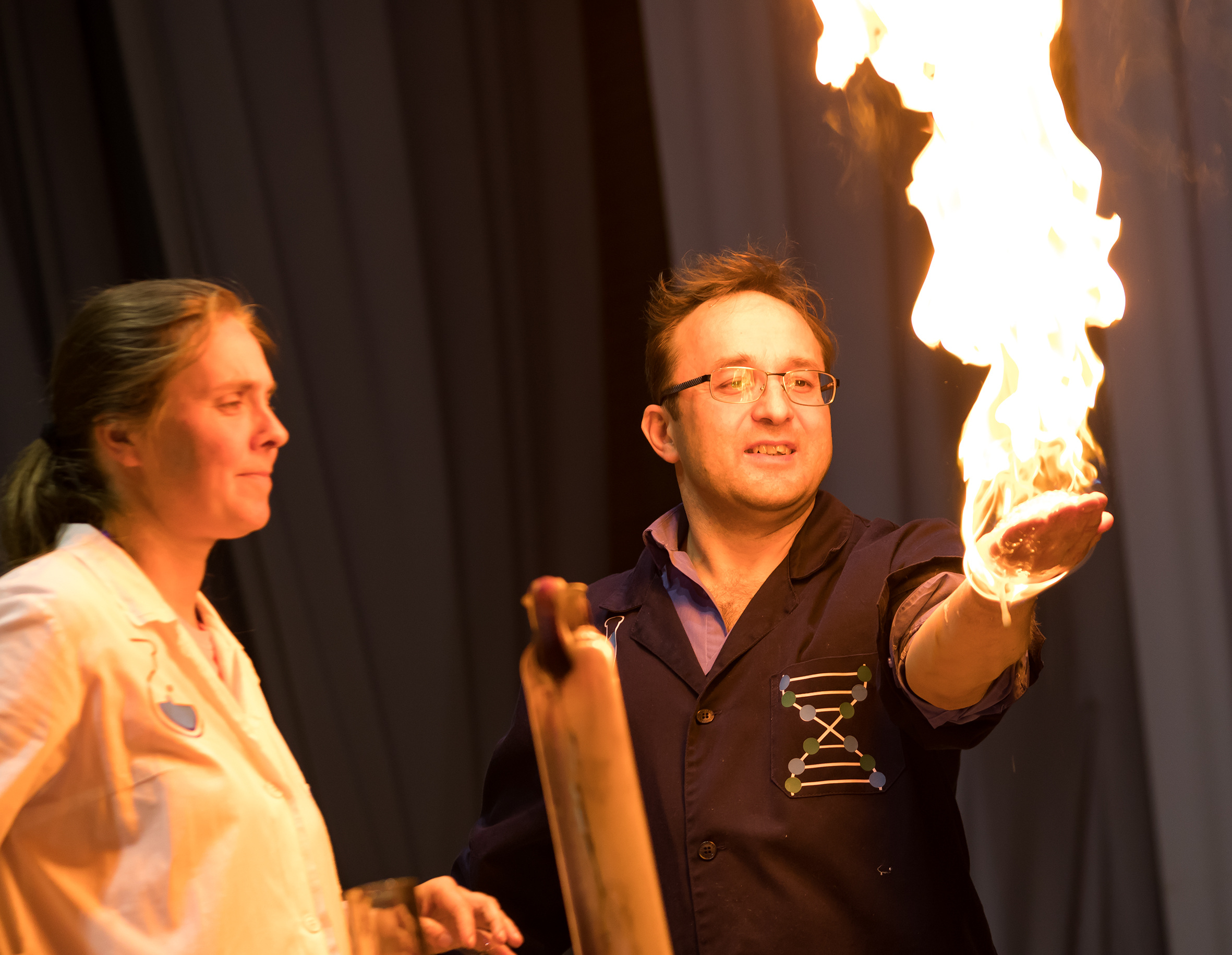 Spectacular chemical and physical experiments carried out by D. K. Dryablov (VBLHEP) and A. E. Zlotnikova (JINR Museum) attract more and more visitors from year to year. This time, the programme of their show became even more extended: from simple but spectacular decoloration of iodine using ascorbic acid and creation of "cinema" blood to gigantic "toothpaste" for an elephant, the "burning" arm and the azotic explosion that deeply impressed the audience of the full big hall of the Cultural Centre. The holiday passed. You have not been there? Then, take part in the Festival next year.
More photos from the Days of Physics 2019
Olga Taranti, the JINR Weekly Newspaper,
Photos by Elena Puzynina