Rector of South Ural State University visited JINR
News, 19 April 2022
On 18 April, a delegation of the South Ural State University (SUSU) headed by Rector Alexander Shestakov got acquainted with the infrastructure of MLIT and LRB. The delegation also included SUSU Vice-Rector Leonid Sokolinsky, General Director of PAPILON Systems LLC Pavel Zaitsev, and Technical Director of LLC TRIDIVI Andrey Valik. At the meeting of the delegation and JINR Director RAS Academician Grigory Trubnikov, the parties discussed the application of machine learning in interdisciplinary studies, as well as the creation of applied parallel applications and software programs.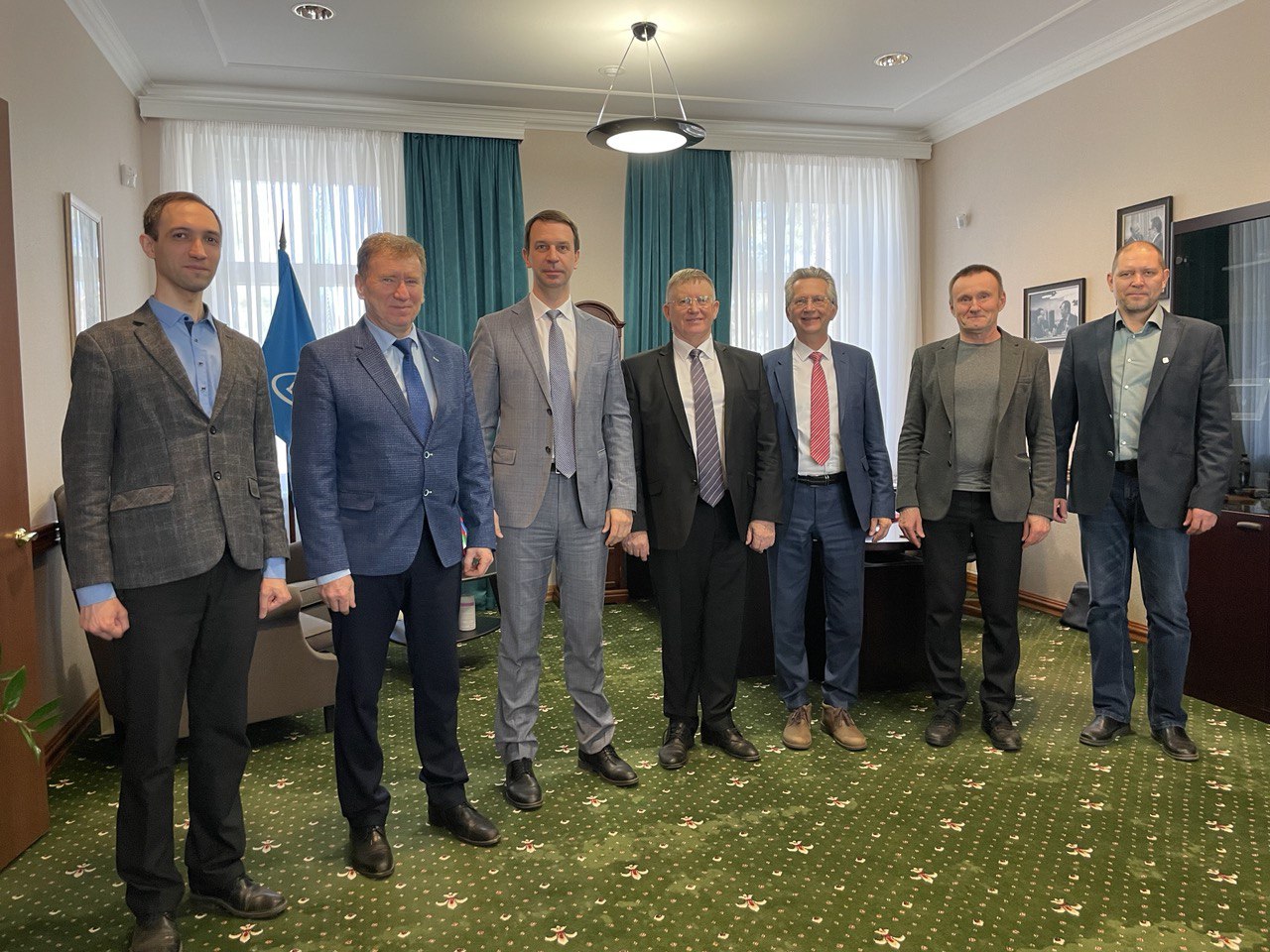 Grigory Trubnikov noted that the use of artificial intelligence in software for the innovative project of the complex of proton radiation therapy on the basis of the MSC-230 accelerator being created at JINR was a promising area for development.
As LRB Director Alexander Bugay noted at the meeting, machine learning systems for image processing are important for interdisciplinary studies conducted in the Laboratory of Radiation Biology. Participants of the discussion highlighted that automated analysis of diagnostic images for therapy planning, as well as the risk assessment of post-radiation complications and possible relapses, may considerably improve the quality of treatment and increase the throughput of a complex during its operation in future medical centres.
Taking into account the SUSU's strong school of parallel computing, Director of the Laboratory of Information Technologies JINR Vladimir Korenkov said that the promising cooperation field was the creation of parallel applications and libraries for solving applied tasks There is a supercomputer operating on the basis of the South Ural State University that is used for computing for fundamental and applied research. MLIT's experience in integration of supercomputers into the united supercomputer infrastructure will be useful in this regard. The JINR's supercomputer "Govorun" is already included in the infrastructure.
The programme of the SUSU delegation's visit included excursion to LRB where the guests learned about radiobiological studies conducted there. Participants discussed the prospects for joint development of software products based on artificial intelligence for processing video results of behavioural experiments, the image analysis of histological sections, automation of recognition of DNA damage and chromosomal aberrations in immunofluorescent microscopy systems.
The guests also visited MLIT where they were introduced to the robotics testing ground and the Multifunctional Information and Computing Complex of JINR. The parties considered the prospects for joint research in the fields of the development of machine learning and computer vision algorithms in various areas, including the processing of experiments on radiation biology. The SUSU delegation visited VBLHEP where the guests had a tour of the NICA accelerator complex. During the excursion, the SUSU representatives saw the Booster, the MPD multi-purpose detector, and visited the factory of superconducting magnets.