Seminar dedicated to the 70th anniversary of the Synchrocyclotron
Seminars
On Wednesday, 15 May 2019, at 11:00 AM, the seminar dedicated to the 70th anniversary of the Synchrocyclotron of the Laboratory of Nuclear Problems JINR will be held. The venue of the Seminar will be the Conference Hall of the Radio-Chemical Laboratory of DLNP JINR.
Programme of the seminar:
M. N. Omeliyanenko "The first in the world "electronic" experiment on study of the muon capture by proton in hydrogen gas"
D. L. Demin "Experimental search for nuclear reactions in the ptµ system"
G. V. Mitsyn "Proton therapy at Phasotron's beams"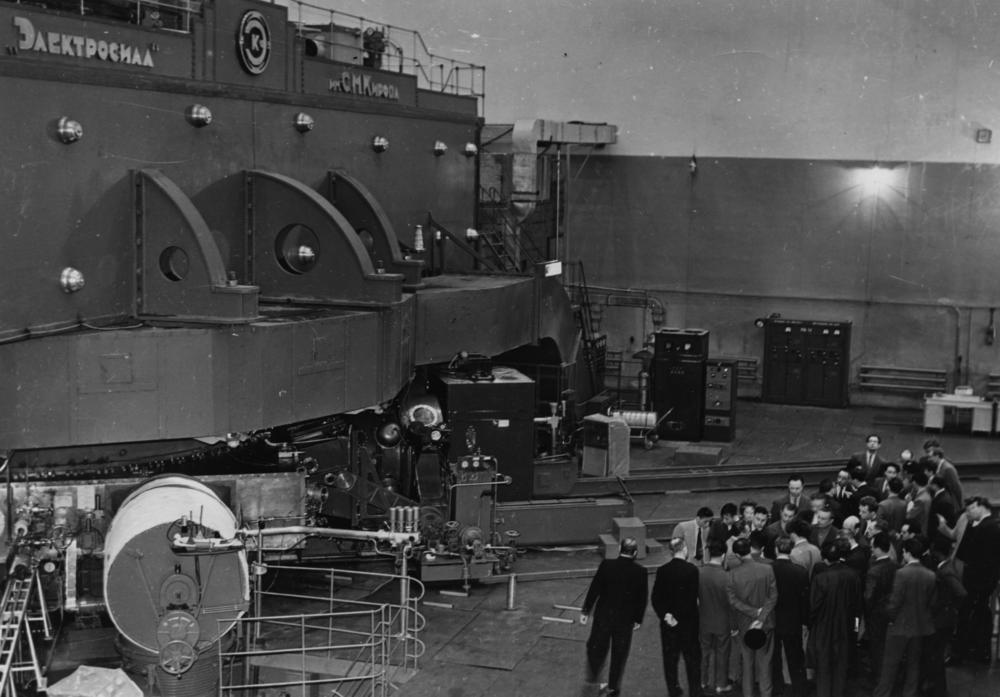 Guests from the "Pravda" newspaper at the first Dubna accelerator, the Synchrocyclotron, 04 May 1962. Photo by P. I. Zolnikov
On 14 December 1949, the Synchrocyclotron, the first basic facility of JINR later reconstructed into the Phasotron, was launched. The Synchrocyclotron was ready for operation within a record-breaking period. It was a historic event that enabled the development of a new field of scientific research – high-energy particle physics. At the Synchrocyclotron, deuterons were accelerated up to the energy of 280 MeV, α-particles – up to 250 MeV, and afterwards, protons – up to 480 MeV. Until 1953, the Synchrocyclotron had been the largest accelerator in the world.