Summer meeting of PAC for nuclear physics
Organization, 21 June 2019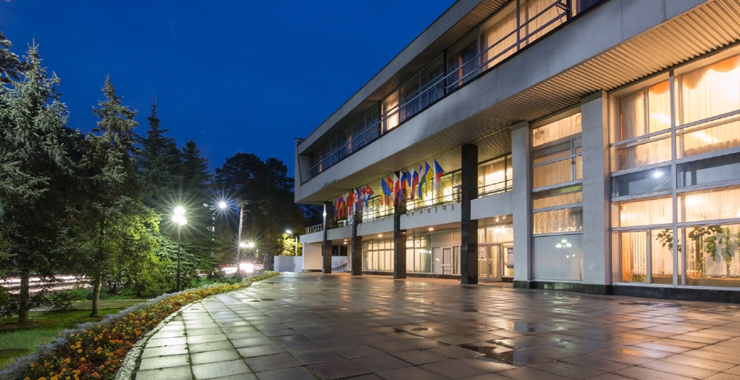 A regular 50th meeting of the Programme Advisory Committee for Nuclear Physics chaired by M. Lewitowicz will be held on 24 – 25 June 2019 in the International Conference Hall in Dubna.
Prof. M. Lewitowicz will open the PAC meeting with a report on implementation of the recommendations of the previous PAC meeting. JINR Vice-Director M. G. Itkis will continue the programme of the meeting with a report on the Resolution of the 125th session of the JINR Scientific Council (February 2019) and on the decisions of the JINR Committee of Plenipotentiaries (March 2019).
The Committee will consider a report by LIT Deputy Director T. A. Strizh on the theme "Information and computing infrastructure of JINR" with proposals for its extension. FLNP Director V. N. Shvetsov will make a proposal for the opening of a new theme "Development of the conceptual design of a new advanced neutron source at JINR".
The first results of experiments at the ACCULINNA-2 fragment separator will be presented in the report by A. S. Fomichev. An offer to open a new project on the construction of a prototype of the initial section of a high-current heavy-ion linear accelerator will be made by L. V. Grigorenko.
In the frames of the theme "Investigations of neutron nuclear interactions and properties of the neutron", Yu. N. Kopatch and E. V. Lychagin will present reports, and V. L. Kuznetsov and V. V. Novitsky will make proposals for opening of new projects in the frames of the theme. Participants of the meeting will consider reports on the E&T&RM (A. A. Baldin) and GDH&SPASCHARM&NN (Yu. N. Uzikov) projects and proposals for their extension.
The PAC programme includes a joint meeting of members of the Programme Advisory Committee with the JINR Directorate, as well as a visit to the Laboratory of Information Technologies. On the final day of the PAC meeting, a scientific report "Transverse momentum distributions of hadrons in the Tsallis nonextensive statistics" by A. S. Parvan will be presented. Following the tradition, the agenda of the meeting includes poster reports by young scientists, general discussion, and adoption of recommendations of the PAC meeting.

Programme of the meeting