Ambassador of the Arab Republic of Egypt visited JINR
News, 11 February 2019
On 8 February 2019, Ambassador Extraordinary and Plenipotentiary of the Arab Republic of Egypt Ihab Nasr visited JINR.
Ihab Nasr came to Dubna in order to discuss with the JINR leaders further steps in the frames of the roadmap for the Egypt-JINR cooperation development signed in December 2018 in Cairo on the milestones of the 8th APE-JINR Joint Committee. JINR Director Academician Victor Matveev welcomed the high guest in the JINR Directorate. JINR Vice-Director Richard Lednický and Head of the JINR International Cooperation Department Dmitry Kamanin also attended the meeting. The discussion was held with the participation of Deputy Chairman of the Egyptian Atomic Energy Authority (EAEA) Khaled Sakr and Professor of the Nuclear Research Centre of the EAEA Amer Hassan who had been participants of the International Training Programme JEMS-10. Advisor to the Embassy Khaled Shaalan and Head of the national group of Egypt at JINR Wael Badawy also took part in the meeting.
The visit of Ihab Nasr started with the round table concluding the 10th International Training Programme for decision-makers in science JEMS at which Ambassador took part in the ceremony of awarding certificates to participants from the EAEA. In his speech, Ambassador was glad to highlight the extent to which the African continent was represented at the present training programme. He also announced that he saw great prospects for active cooperation development with both African countries and JINR in light of the creation of the first in Egypt nuclear energy reactor jointly with the State Atomic Energy Corporation ROSATOM. In this regard, Ihab Nasr noted the necessity of intense work on training the highly qualified staff. Ambassador Ihab Nasr emphasized that his visit was one more confirmation of the fact that Egypt highly appreciates its relations with JINR.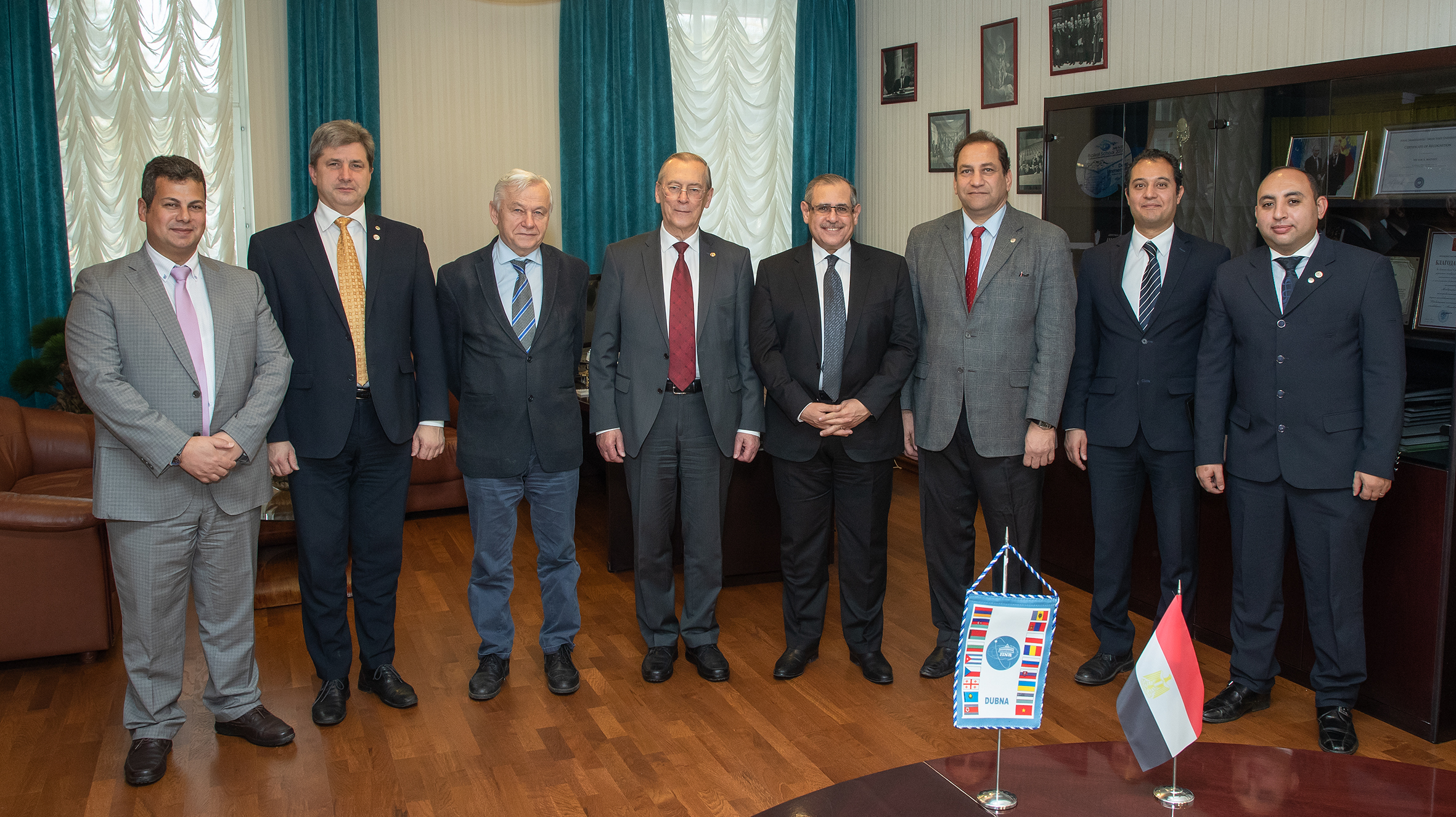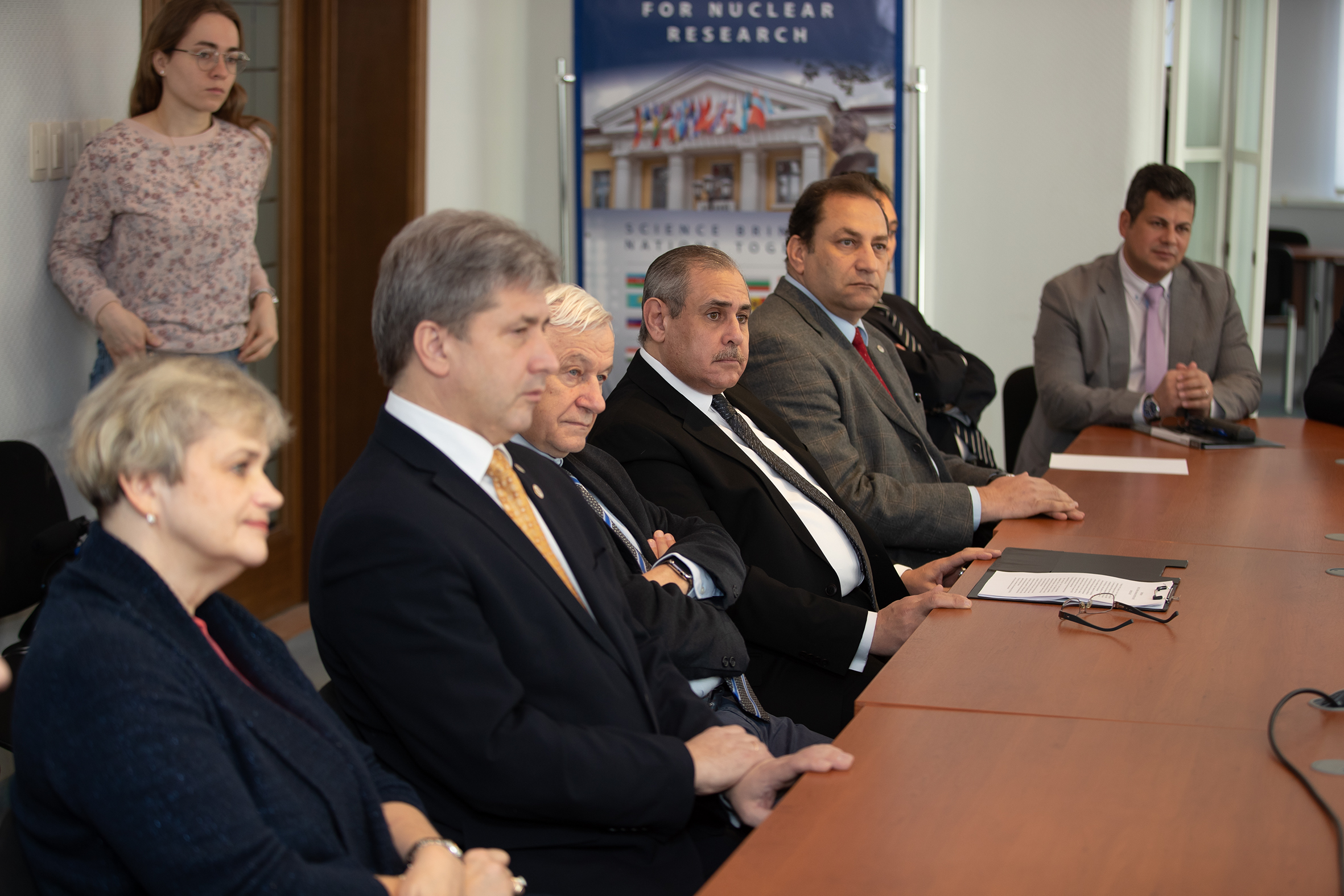 In conclusion of the visit, Ambassador Ihab Nasr held the meeting with representatives of the city and JINR mass media at which he commented on the aims of the visit:
"Our cooperation with JINR has a long history dating back to the beginning of the 1950s. The most fruitful stage of this cooperation started in 2009 after signing the agreement between JINR and the Academy of Scientific Research and Technology. In December of the last year, in the headquarters of the Academy in Cairo, we signed the roadmap specifying further practical steps for the development of cooperation between JINR and the Arab Republic of Egypt. That is why the key target of my visit today is the search for ways and mechanisms for our further actions in this direction. In spite of the fact that we have already done a lot, especially in the fields of attracting the youth and training young staff, a large number of tasks is still in store for us."
Answering the question of journalists about his impressions of participation in the round table of the JEMS-10 training programme, Ihab Nasr said, in particular: "I know that Egypt stands at the origins of this training programme continuing taking part in it up to the present. This time, Egyptian participants also participated in JEMS. Today, I could meet and have a talk with my counterparts one of whom is Deputy Chairman of the Egyptian Atomic Energy Authority, learn about their participation in the programme, see how useful this event is for each participant in terms of his fields of activities. It was a great pleasure for me to take part in today's round table the participants of which were representatives of many countries. It was exciting to learn about their impressions and comments, I had an opportunity to listen what they have picked up from this training programme and what they would like to pass to their colleagues and leaders of organizations. A great coincidence is that today the Day of Russian Science is celebrated in the Russian Federation. I would like to use the opportunity to congratulate all staff members of the Institute on this event."
Photos by Igor Lapenko, Scientific Information Department