Argentina is interested in establishing scientific cooperation with JINR
News, 28 February 2018
On 27 February 2018, a delegation from the Embassy of the Republic of Argentina in the Russian Federation headed by Ambassador Extraordinary and Plenipotentiary E.P. Ricardo Ernesto Lagorio visited JINR. Ambassador was accompanied by Plenipotentiary Minister Rolando Pocovi and Director of the Department of Science, Technology and Innovations Gastón Fielli. This was the first visit of Argentinian officials to the Joint Institute for Nuclear Research.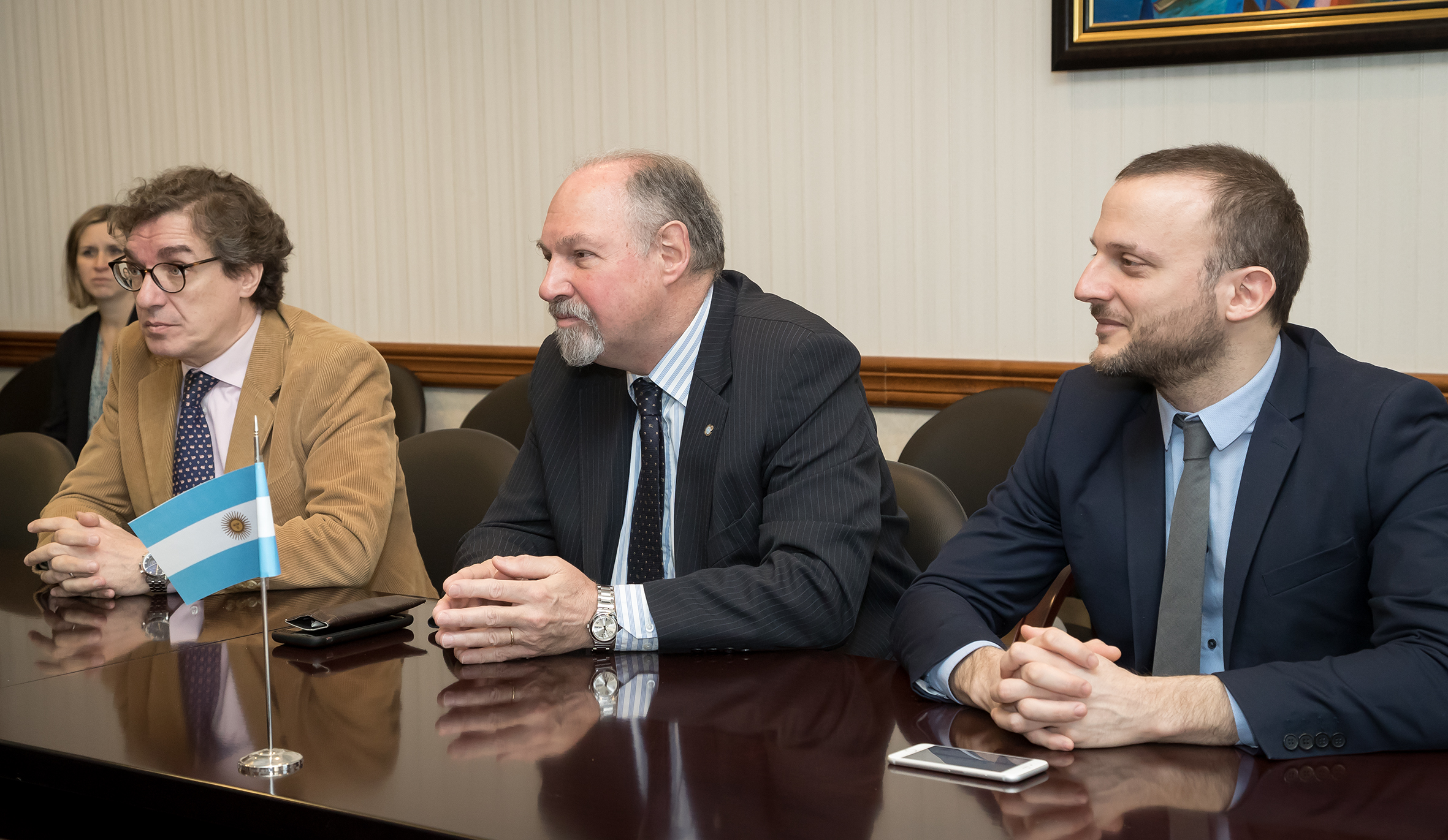 In the JINR Directorate, the delegation was welcomed by JINR Vice-Directors M.G. Itkis and R. Lednický, JINR Chief Scientific Secretary A.S. Sorin and Deputy Head of the JINR International Cooperation Department A.A. Kotova. A.S. Sorin delivered an introductory presentation to tell the guests about the JINR history and its present activities as well as its basic facilities and fields of scientific research. The description of the IBR-2 pulsed reactor and its structure evoked a vivid interest of the Argentinian guests.
The meeting in the JINR Directorate was concluded by Ambassador who announced that the Argentinian party is intended to establish and actively develop cooperation with JINR as a scientific organization having high prestige not only in Russia but in the world as well. He also noted that this visit was held in the frames of implementation of an agreement between presidents of Russia and Argentina on development of cooperation in the fields of science, technology and innovation. The agreement was reached at the meeting in January 2018.
Further acquaintance with the Joint Institute for Nuclear Research was continued in the JINR Laboratories. The guests visited the Flerov Laboratory of Nuclear Reactions where they were acquainted with the accelerator complex and activities on superheavy elements synthesis. Then, they visited the Veksler and Baldin Laboratory of High Energy Physics where the NICA mega science project was introduced to them, the factory of superconducting magnets, in particular.
In conclusion of the visit, the parties discussed possible directions of scientific cooperation development. The Argentinian party expressed interest in possibility for the scientific youth of Argentina to take part in the JINR educational programmes in the frames of student practices and summer student programmes. The delegates also expressed their deep interest in possibilities and formats of Argentinian membership in JINR.
Ambassador noted that this visit to JINR was interesting and beneficial. He also expressed his wish to visit Dubna once again in the nearest future for more detailed acquaintance with JINR, its activities and the scientific infrastructure.
Photos by Elena Puzynina
Read more about the visit in one of the upcoming issues of the JINR Weekly Newspaper.