JINR Visit Centre celebrated its first jubilee
News, 25 May 2021
Last week marked five years since May 2016 when the JINR Visit Centre opened its doors to the first visitors. On 20 May, a solemn seminar was held in honour of the jubilee at which results of work of the International Cooperation Department since the opening of the Visit Centre and further prospects for its development were presented.
JINR Scientific Leader Victor Matveev welcomed employees of the Visit Centre and guests and noted in his congratulatory speech the high professional level of the staff of the entire JINR International Cooperation Department and the Visit Centre as a part of it. He also conveyed a congratulatory address from JINR Director Grigory Trubnikov to the audience with whose active participation the JINR Visit Centre turned from an idea into an active division of the Institute.
Vice-Director Vladimir Kekelidze and Chief Scientific Secretary Sergey Nedelko congratulated the team of the International Cooperation Department on behalf of the JINR Directorate.
Head of the International Cooperation Department Dmitry Kamanin in his short presentation spoke about a wide range of events and programmes implemented at the platform of the Visit Centre for the past five years. It was noted that in addition to regular activities of the Department, the Visit Centre is constantly used as a venue for events organized jointly with the JINR University Centre, in particular, student internships. Dmitry Kamanin also illustrated new fields of international cooperation organization. Thus, the international training programme for decision-makers in science and international scientific cooperation JEMS, which traditionally starts with an introductory lecture about JINR in the Centre, has become an established and popular format. Active work is underway on opening JINR Information Centres in the Member States, contacts with a number of countries have been significantly expanded. The opening of the Visit Centre has surely contributed to the successes in international cooperation of the Institute.
At the end of the official part of the event on the occasion of the 5th anniversary of the Visit Centre and the 65th JINR anniversary, Victor Matveev presented to leading employees of the International Cooperation Department certificates of honour and letters of thanks from the JINR Directorate. Anna Kotova who supervises the work of the Visit Centre was one of the award recipients.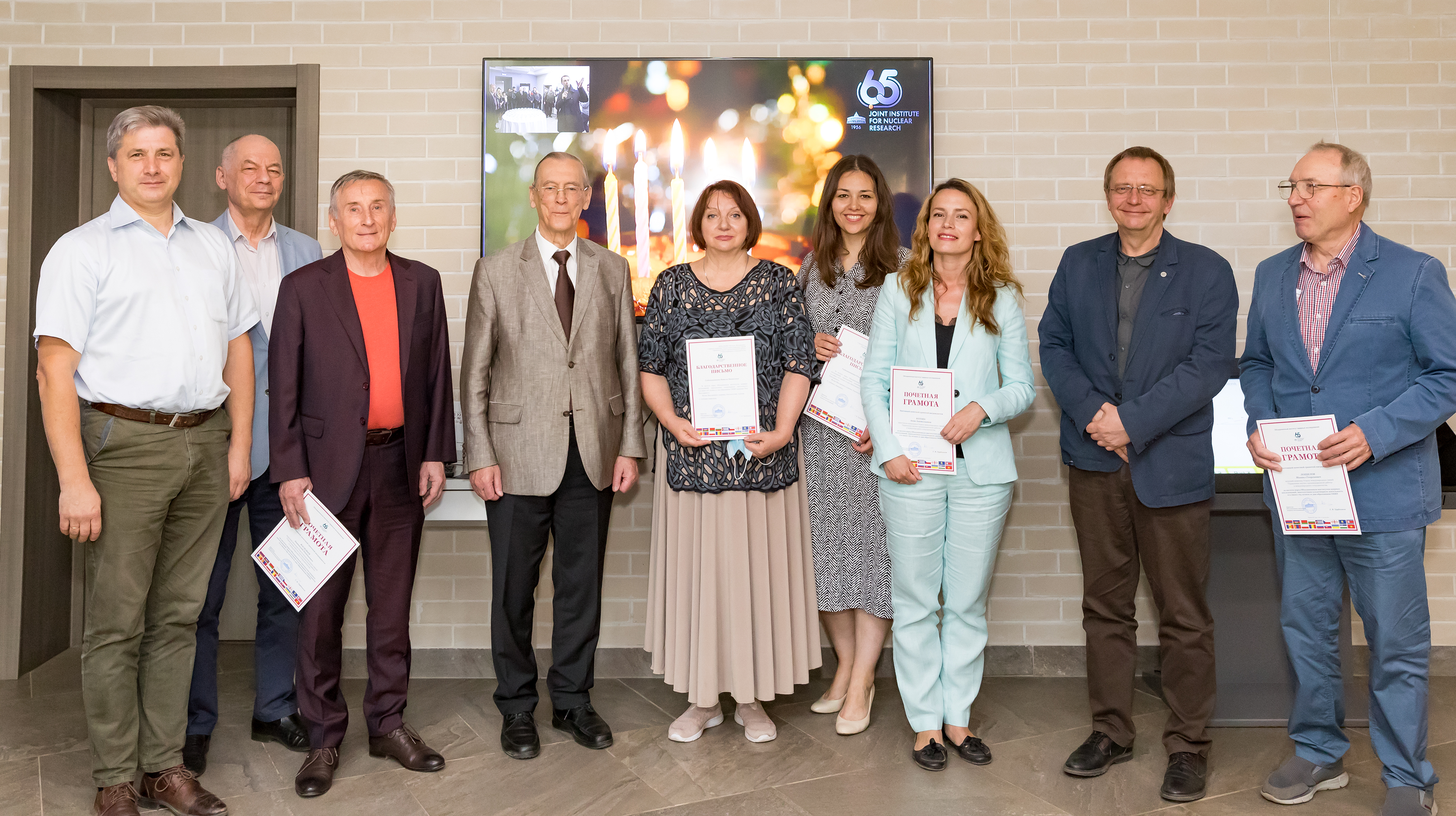 Photos by Elena Puzynina