Representatives of South African Embassy in Russia visited JINR
News, 13 September 2023
On 12 September, representatives of the Embassy of the Republic of South Africa in Russian Federation visited JINR, coinciding with the 23rd JINR Training Programme for Decision-Makers in Science and International Scientific Cooperation, JINR Expertise for Member States and Partner Countries (JEMS). The Counsellor of the Political Section of the SA Embassy, Douw Vermaak, and the First Secretary of the Section, Lesiba Ratlou, visited JINR laboratories, met with the management and leading scientists of the Joint Institute and the participants of the JEMS-23 training programme, which is currently being held for leaders from South Africa.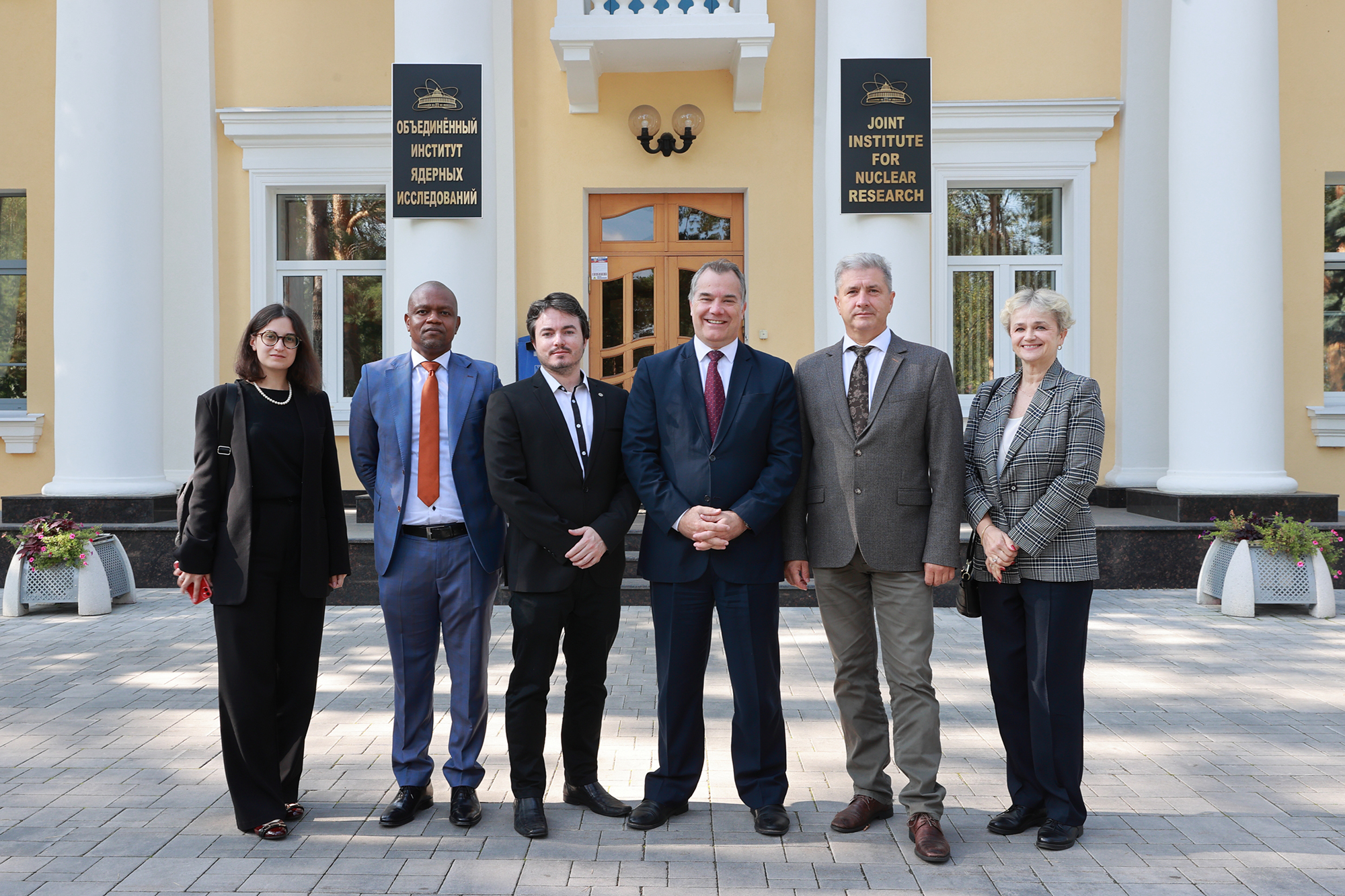 "The visit of diplomats from the South African Embassy took place as part of the JEMS programme, in which representatives of scientific centres and institutes of a country – South Africa – participate. This is the first training programme where participants gathered only from one country, and it reflects the systematic approach of the scientific leadership of South Africa to the use of cooperation opportunities with JINR. In addition, South African students are currently working at JINR, sent by their universities to participate in ongoing joint projects. At the same time, distinguished scientists from South Africa are also visiting the Joint Institute at the moment. The Joint Institute has young employees and extraordinary professors. We see the country's growing interest in cooperation with JINR, and to see all this, of course, is interesting for the Embassy," Dmitry Kamanin, responsible for relations with South Africa and Director of the JINR University Centre, noted. According to him, the purpose of the visit was to gain knowledge regarding the scientific infrastructure of the Joint Institute, establish closer contact between JINR and the South African Embassy, as well as develop possible measures for further support and deepening cooperation with the participation of the Embassy.
"Diplomats usually deal with many facts, but we think it's important to get to know people personally because people matter most. We were impressed by the professionalism of the scientists and engineers with whom we had the opportunity to communicate today. Each of them is exceptional and valuable in their work," the Counsellor of the Political Section of the South African Embassy, Douw Vermaak, commented on his impressions.
Douw Vermaak noted that relations between South Africa and the country of JINR location, the Russian Federation, are developing positively and expressed the Embassy's readiness to support further strengthening of cooperation.
As part of the programme, the diplomats became more familiar with the activities of the Joint Institute, particularly in the field of international cooperation. They visited the flagship facilities of JINR's scientific infrastructure – the NICA Accelerator Complex at VBLHEP, as well as the Superheavy Elements Factory at FLNR at JINR, and, together with the JEMS participants – the Nanocentre.