Results of JEMS-11: to see opportunities for drawing up plans
News, 10 April 2019
This thought was expressed by many participants of the traditional round table on 5 April 2019 that summed up the results of the concluded 11th international training programme for decision-makers in science and international scientific cooperation «JINR Expertise for Member States and Partner Countries» (JEMS-11). At the event, the JINR Directorate was represented by JINR Vice-Director M. G. Itkis who solemnly presented certificates on successful completion of the JEMS-11 training programme. Sharing their impressions at the round table, many JEMS "trainees" noted that participation in the programme gave them an opportunity to outline practical steps towards development of cooperation between their organizations and JINR.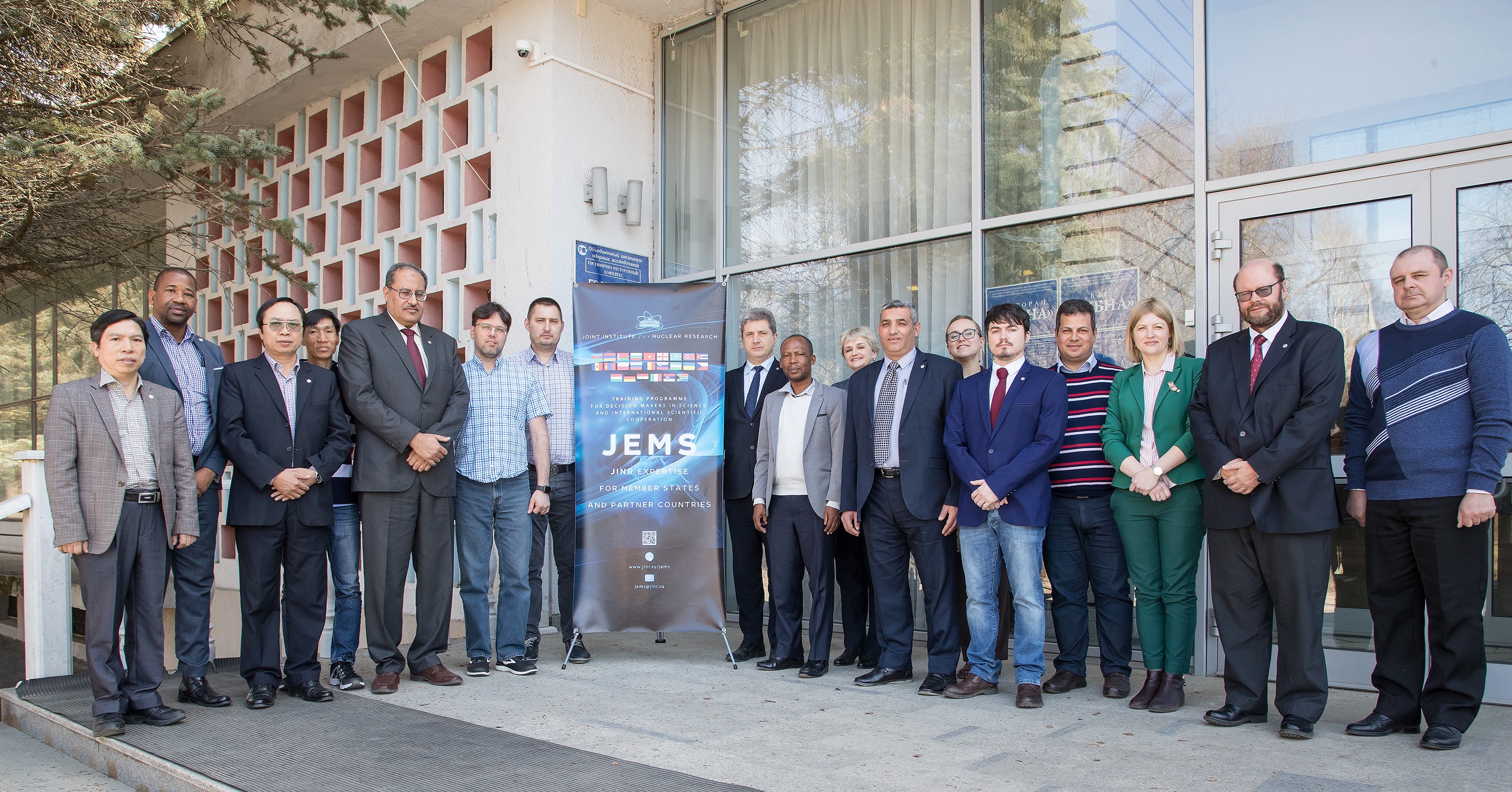 Representatives of Vietnam, a JINR Member State, regularly come to JEMS training programme. This time, the country was represented by leaders of the Ho Chi Minh National University (VNUHCM) and the Institute of Nuclear Science and Technology (INST). Speaking about the fields of his interests in the JINR scientific activities, Pham Duc Khue, Director of the INST Center for Nuclear Physics, touched upon virtually all thematic directions considered during the JEMS programme. He also noted the importance of the JINR expertise in the fields of research facilities to Vietnam, which actively develops nuclear technologies, and in training highly skilled specialists. Vuong Thu Bac, Deputy Director of the Center for Radiation Environmental Monitoring and Impact Assessment of INST, also shared his impressions with participants of the round table: "Vietnam has been cooperating with JINR for a long time, and our scientists have long worked in Dubna. In the frames of the cooperation of JINR with the Academy of Sciences of Vietnam, our scientists studied and gained scientific results at the research equipment from Dubna. I have read and heard a lot about the Joint Institute before visiting it by my own during this training programme. I am very impressed by scientific activities, research equipment and achievements of JINR, and I see many directions for cooperation. I would like to share many things I have seen here with my colleagues in Vietnam. I am also going to organize a visit to JINR for young Vietnamese scientists from our centre." These ideas were supported by Tran Thien Thanh, Deputy Director of the Nuclear Physics Department of the Faculty of Physics & Engineering Physics VNUHCM.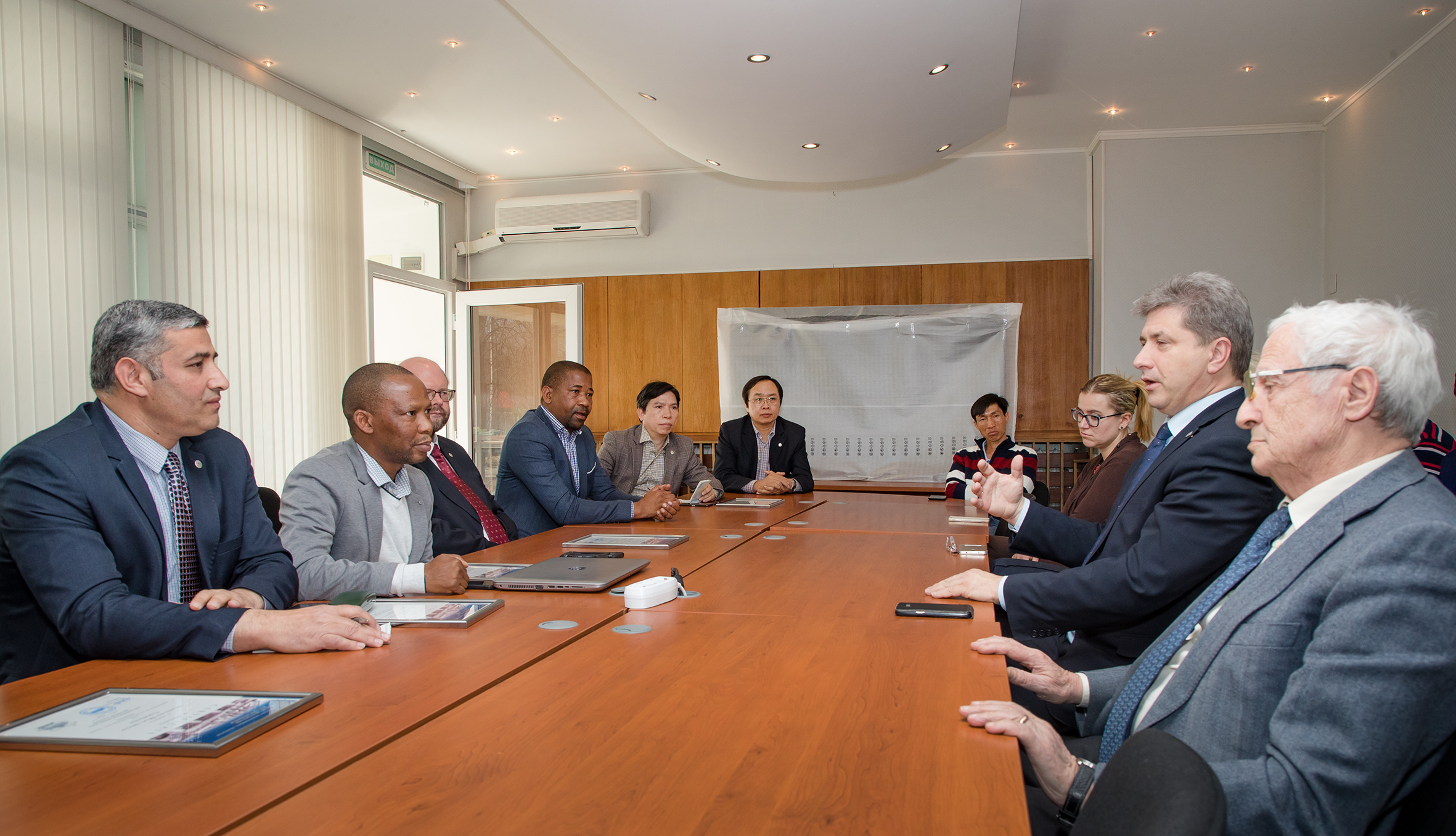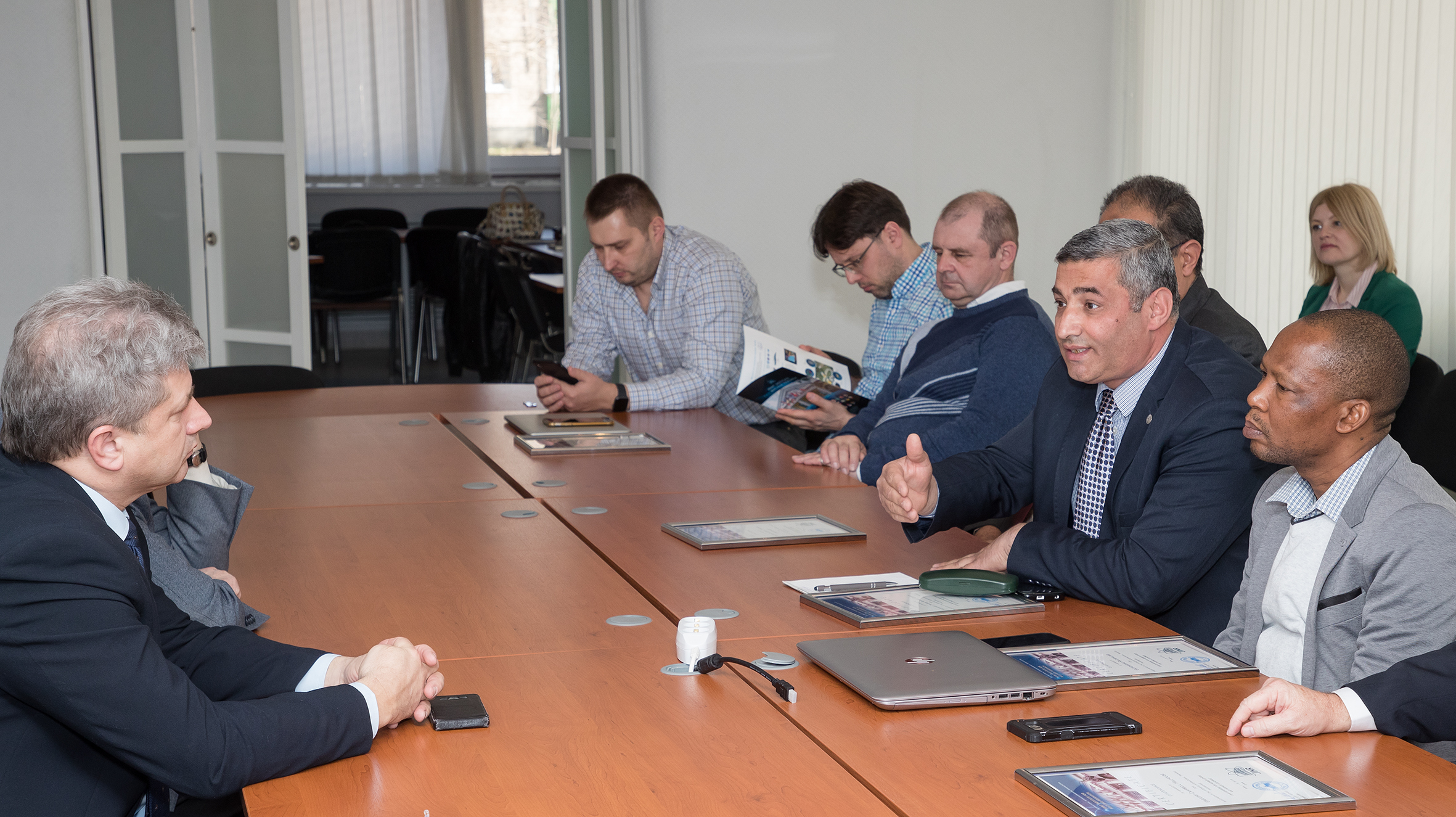 Gregory Hillhouse, Head of the Department of Physics and Astronomy of the Botswana International University of Science and Technology (BIUST): "Our aim is training of highly qualified scientific-engineering staff, in particular, in the fields of nuclear physics. There is such a fantastic diversity of scientific directions in JINR. It would have been nice if we just took our University here. We are greatly impressed of and inspired by this visit. I do not think that there are any similar centres anywhere. We see academic visits of professors and training of our young scientists as the next practical steps in development of our cooperation. Knowledge accumulated here will contribute to development of the nuclear industrial sector of Botswana and, later on, all industries of the country. Moreover, we would like to create research facilities in our University basing on the JINR expertise. That is why it is so vital for us to get the access to the JINR scientific infrastructure. We will contribute to organization of visits of Botswana officials at the level of ministers for close acquaintance with JINR that, I am sure, will make a deep impression. We may say that cooperation with JINR can transform Botswana."
Representatives of Egypt have been actively participating in JEMS since its establishment. Mohamed Esawy, Maintenance Director for the ETRR-1 research reactor, EAEA, (Egypt): "During this week, apart from participation in the JEMS-11 training programme, I had an opportunity to discuss possible participation of JINR in modernization of the physical programme of our ETRR-1 reactor. In addition to acquaintance with the IBR-2 reactor, I was greatly interested to learn about its large complex of spectrometers. Here we can gain experience of using operating research facilities necessary for construction and modernization of our reactor. We established contacts and had very fruitful meetings with FLNP leaders. Acquired information will help us further extend existing cooperation between Egypt and JINR. It will also help me realize prospects of the research programme of our future reactor. I am going to spread gathered information about JINR. Moreover, I think that it is necessary to inform officials of Egypt about the need in increasing the level of our cooperation with the Joint Institute that will contribute to development of our country. I would like to note that we were happy to meet here our Egyptian colleague Wael Badawy, and we are grateful to him for his assistance in organizing our visit and holding working meetings." Salaheldin Elmorshedy, Chair of the Reactors Division of the Nuclear Research Center (EAEA), continued the words of his colleague and noted that he hoped for establishment of cooperation between his research centre and the Joint Institute in the future as well as further development of contacts between JINR and Egypt at large.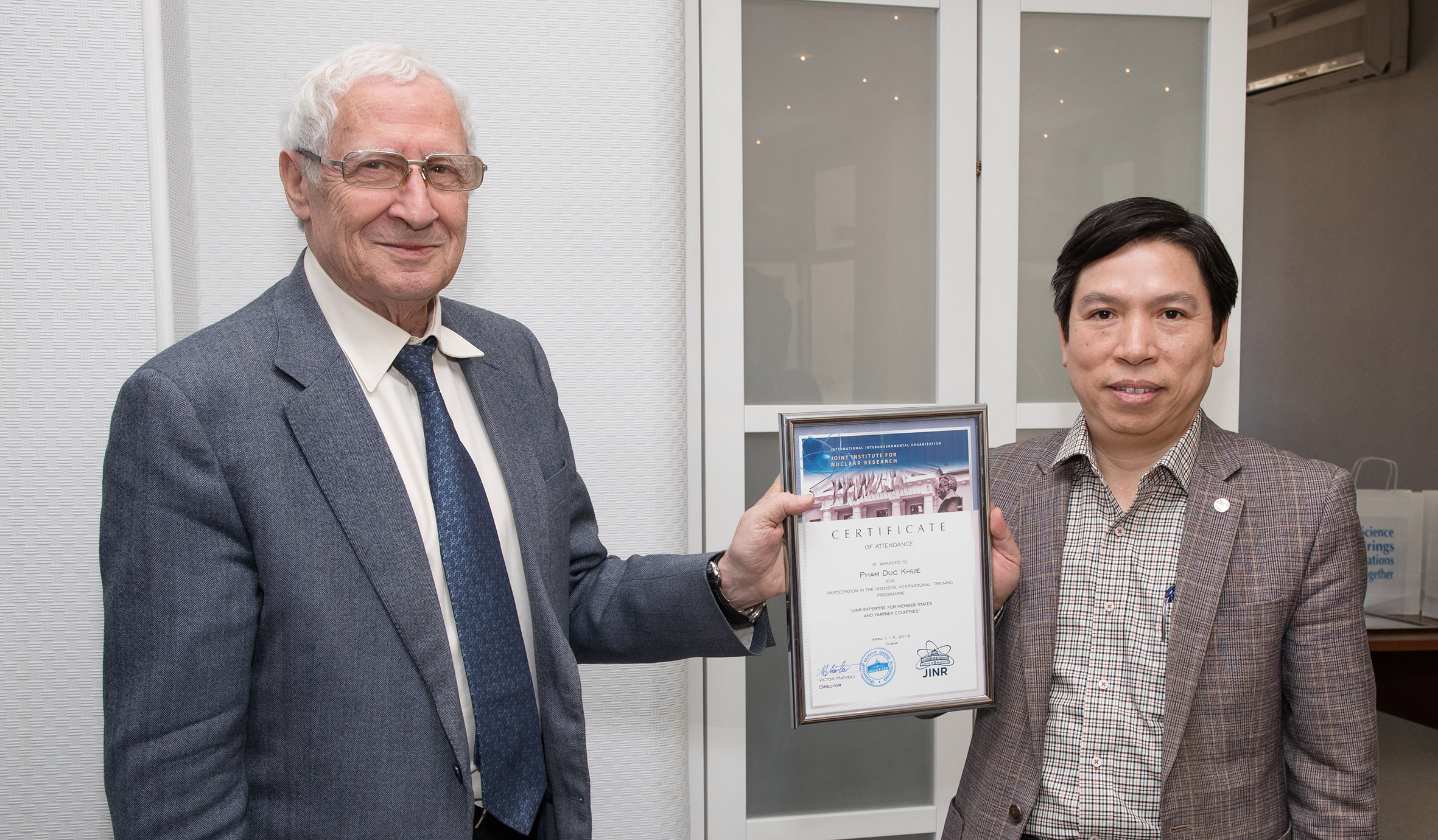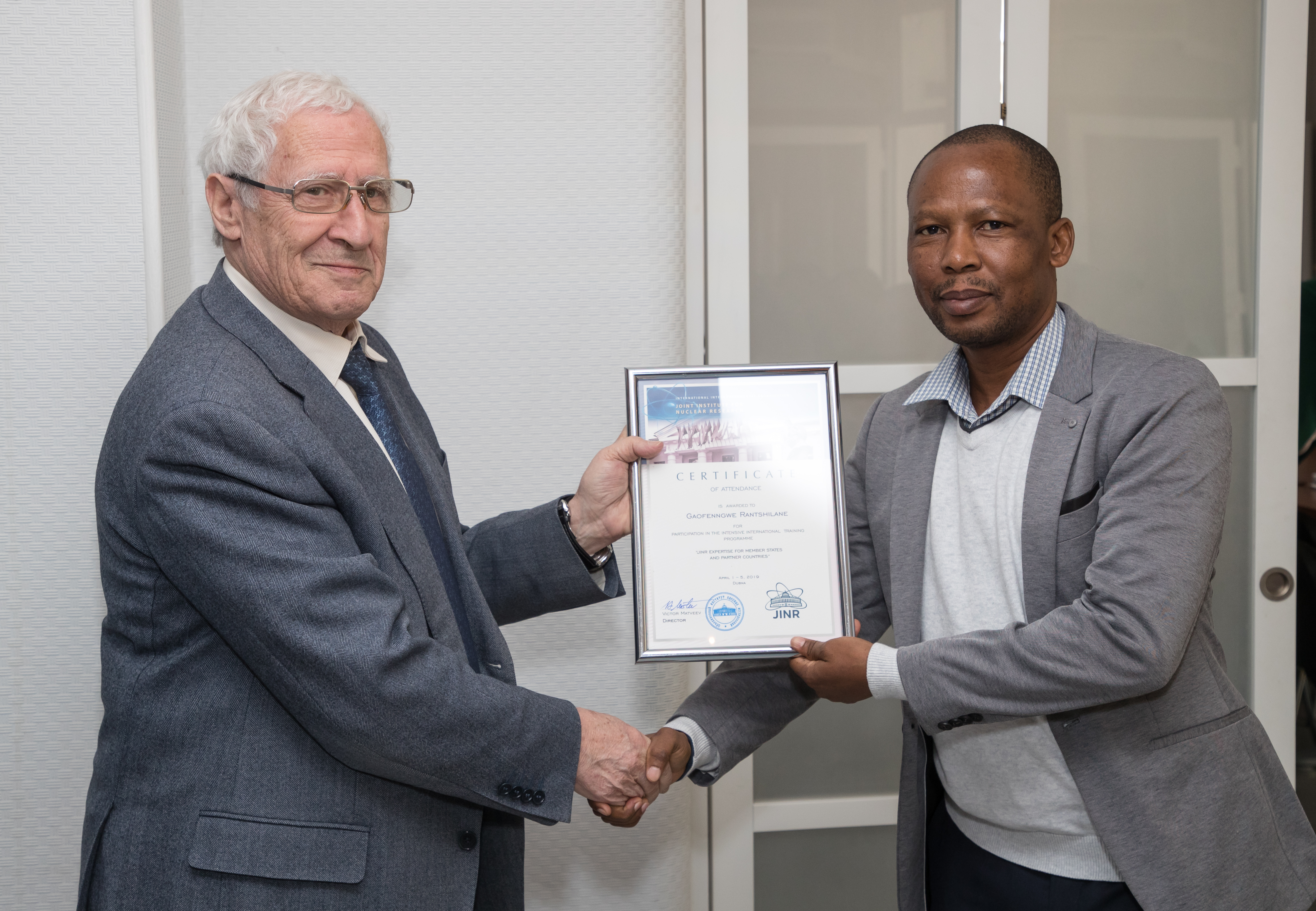 Russian participants at JEMS-11 were representatives of the Far Eastern Federal University (FEFU) with which JINR has a long history of cooperation. Sergey Shirmovsky, Research Scientist of FEFU: "My specialization is theoretical physics, but I got acquainted with the part of the JEMS programme dedicated to experimental physics with a keen interest. In addition to the existing cooperation in the fields of theoretical physics, we also have to develop contacts in the fields of experimental physics for which the NICA project offers large prospects. The research fields of the Laboratory of Radiation Biology we were acquainted with during the training programme also evoked a great interest. JEMS is an effective platform to search for new directions of cooperation with JINR that is expected to be fruitful."
Alexander Samardak, Research Scientist of FEFU: "Just before the trip to Dubna, I visited Grenoble and fascinating experimental facilities of the ESFR accelerating complex. Now I see that we can also cooperate with the Joint Institute in the frames of our work on nanotechnologies and systems' behavior. During the training programme, we have already held several discussions and, in fact, we are ready to start this mutually beneficial cooperation right now." Continuing the topic of joint projects, Alexey Ognev, Research Scientist of FEFU, expressed his hope for the close return visit of JINR representatives to FEFU.
The next international training programme JEMS will be held from 3 to 7 June 2019.
Photos by Igor Lapenko