JINR. Morning. Dance
Education, 15 June 2017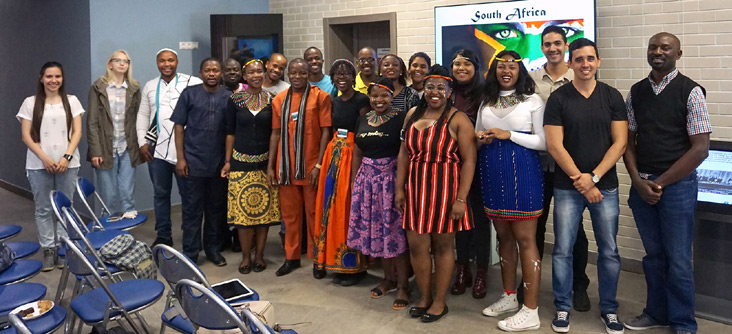 On 9 June 2017, the day started with "International Morning" at the JINR Visit Centre. The event has already become a good tradition during UC Student Practices at JINR. This time, participants of the First Stage of the International Student Practice have come from universities of the Republic of South Africa, including students from Nigeria, Congo and Cameroon who are studying in the RSA. Participants of the UC JINR Summer Student Programme from Cuba and Bulgaria also took part in the event.
The meeting started with welcoming presentations by Dr. Dmitry Kamanin, Head of the International Cooperation Department (JINR), and Jacobus Lodewikus Conradie, Head of the Accelerator and Engineering Department at the iThemba LABS (RSA). Following that, Elena Bazanova gave a lecture on the history of Russia.
The meeting continued with students' performances in an informal and friendly atmosphere. The students made colourful presentations on the history, culture and people of their native countries. There were dances, demonstrations of folk costumes, songs and national treats.
Such "International Morning" meetings bring students together, give the ground for new relationships, broaden students' horizons, enrich the world outlook embodying the slogan of JINR "Science Brings Nations Together".