General Information on Cooperation
HISTORICAL OVERVIEW
1976
The Republic of Cuba became the member state of the Joint institute of nuclear research. Committee of plenipotentiaries of the governments of JINR member states, having considered the intention of the government the Republic of Cuba to join the JINR.
The first staff member in JINR from Cuba was DR. CASTRO DIAZ BALART who worked during the period of 1972–1974 under the name of Jose Raul Fernandez Diaz.
The first collaborators from Cuba there were the theoretical physicists Rolando Durán, Jorge Molina and Carlos Rodriguez. Then the group of the Cuban employees in JINR considerably grew on — Cubans worked not only in LTP, but also in other JINR laboratories (LNR, LNP, LIT).
In the early 80s JINR staff members visited their colleagues in Havana many times to work on the microtron construction in Cuba.
1981. 25th anniversary of JINR. Plenipotentiary representative of the Republic of Cuba in JINR O.L.Caballero presents a congratulatory address to the JINR Director Academician N.N.Bogoliubov
1983 – 1989
Professor ELIAS ENTRALGO was the Vice Director of JINR during this period.
Unfortunately, owing to a number of circumstances since 1997 Cuba practically didn't participate in activity of JINR. More dense labor relations renewed in 2006.
2007
JORGE FERNÁNDEZ CHAMERO was appointed the Plenipotentiary representative of the Republic of Cuba.
Jorge Fernández Chamero and M.G.Itkis
2011
The beginning of the Cuba membership in JINR renewal process. During some time the negotiations with the scientific adviser to the President of the Republic of Cuba Prof. Fidel Castro Díaz-Balart, and also with representatives of the Government and management of Agency on atomic energy and advanced technologies (AENTA) were held.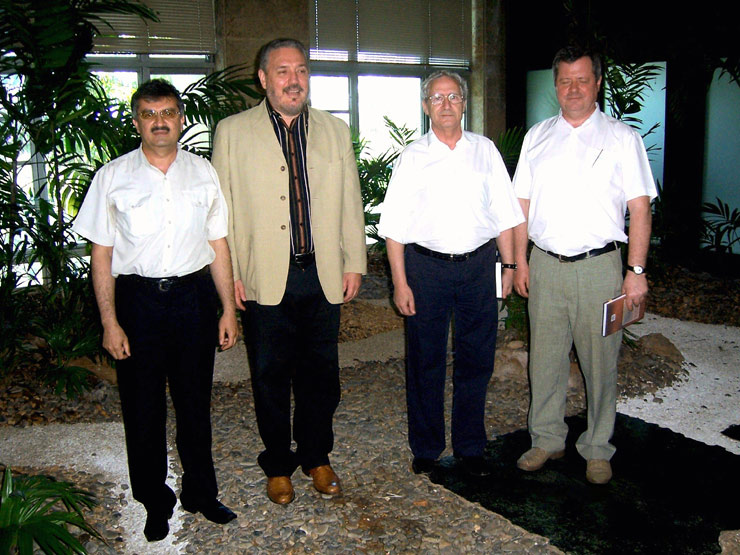 G.M.Arzumanyan, Fidel Castro Díaz-Balart, M.G.Itkis, N.A.Russakovich
2012
Professor FIDEL CASTRO DIAZ-BALART, the Advisor to the President of Republic of Cuba, Vice-President of the Academy of Science of Cuba was appointed the Plenipotentiary representative of the Republic of Cuba.
2014
Within the framework of cooperation renewal Cuban physicists Dr. Antonio Leyva Fabelo and MSc. Adelmo Montalvan Estrada were delegated to JINR to work in the Dzhelepov Laboratory of Nuclear Problems and the Flerov Laboratory of Nuclear Reaction.
2015
A delegation of the Ministry of Science, Technology and Environment of Cuba headed by Minister Dr. Elba Rosa Pérez Montoya visited JINR on 2 June 2015. Students from Cuba came to JINR to participate in the International Student Practice of the University Centre.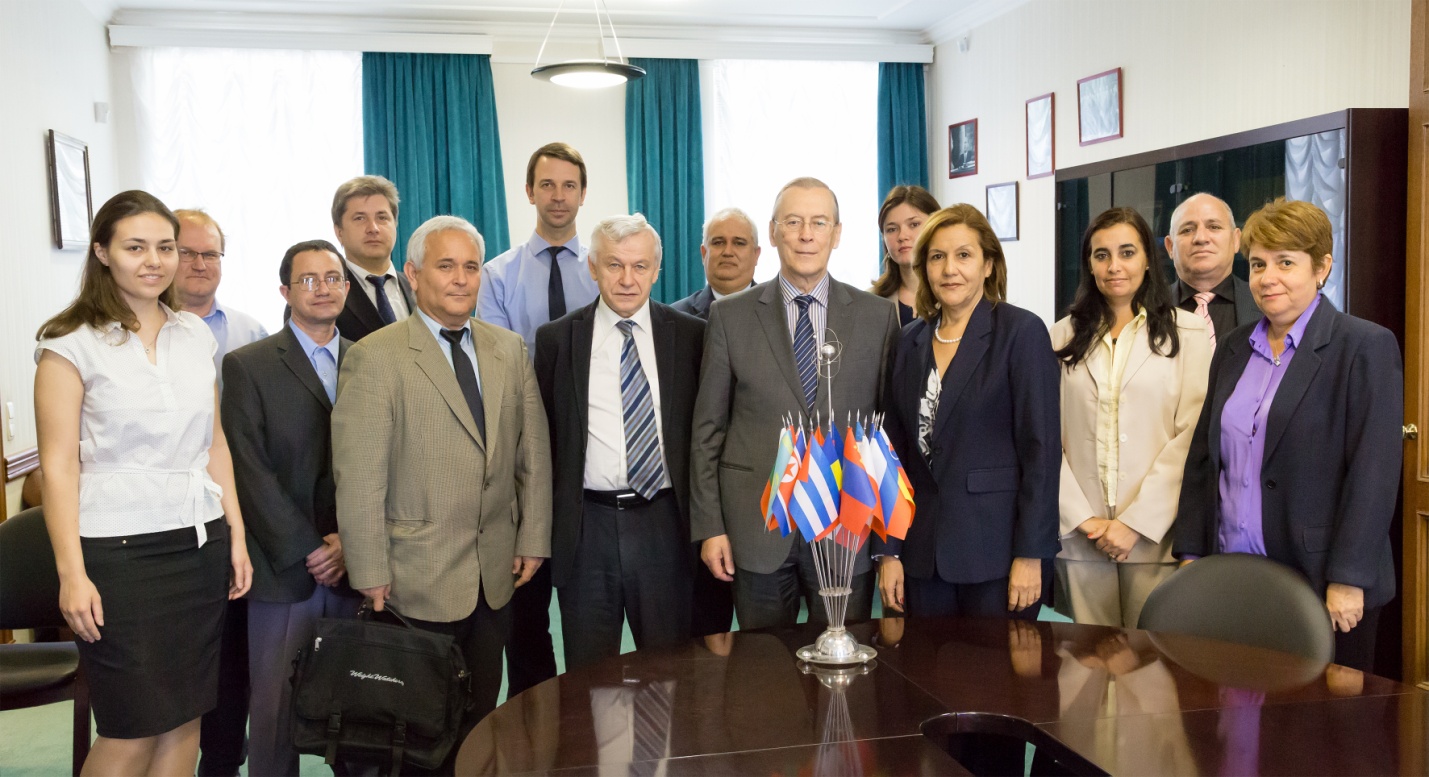 Delegation of the Ministry of Science, Technology and Environment of Cuba
Contact
Dmit­ry KAMANIN
Executive of the contacts with the Republic of Cuba, Deputy Di­rec­tor of the JINR Science Organization & International Cooperation Office.

+7 (49621) 6-58-39

+7 (49621) 6-26-36 (secretary)
Contact Information on the Embassies
Embassy of the Russian Federation in the Republic of Cuba:
Embajada de la Federación de Rusia, 5-a Avenida, N 6402, entre 62 y 66, Miramar, La Habana, Cuba
Consulate General of the Russian Federación in Havana:
Consulado General de la Federación de Rusia, 5ta. Ave. Esq. A 66, Miramar, La Habana, Cuba
General Consulate of the Russian Federación in Santiago de Cuba:
Consulado General de la Federación de Rusia, Calle 4, esq. 7, N 202, Vista Alegre, Santiago de Cuba, Cuba