JEMS-22 Training Programme started at JINR
News, 25 April 2023
On 24 April, the 22nd international training programme for decision-makers in science and international scientific cooperation "JINR Expertise for Member States and Partner Countries" started. Heads and specialists of national research and educational organizations from Egypt, Russia, South Africa, Vietnam are participants of JEMS-22. A representative of an international organization, the Arab Atomic Energy Agency, is taking part in the Training Programme. For the first time, representatives from Pakistan are participating in JEMS.
As always, the JEMS Training Programme began with an overview lecture about JINR. Head of the International Cooperation Department Dmitry Kamanin delivered it for participants of the programme at the Institute's Visit Centre. Guests got acquainted with the major accelerator projects of JINR at FLNR and VBLHEP. Participants visited the Superheavy Element Factory, the NICA Accelerator Complex, and the factory of superconducting magnets.
The JEMS programme is divided into thematic sections one for each day of the training programme, namely Heavy Ion Physics and Accelerator Technologies; Research with Neutrons and the Nanoworld; Theory, Information, Education; Life Sciences on Earth and in Space; Neutrino. Participants will visit laboratories and facilities of the Institute, listen to lectures on the areas of scientific studies from leading specialists of JINR.
Several additional events will take place alongside the JEMS Training Programme. At the end of the third day of the training programme, Professor Ishaq Ahmad will introduce JEMS participants to the research areas of the National Centre for Physics (Islamabad, Pakistan) and talk about the possibilities of JINR cooperation with this centre.
Chairman of the Egyptian Atomic Energy Authority (EAEA), a member of the Scientific Council from the Arab Republic of Egypt, Professor Amr El-hag Ali, based his introductory visit to JINR at JEMS-22 and met with the JINR Directorate on the first day of the training programme.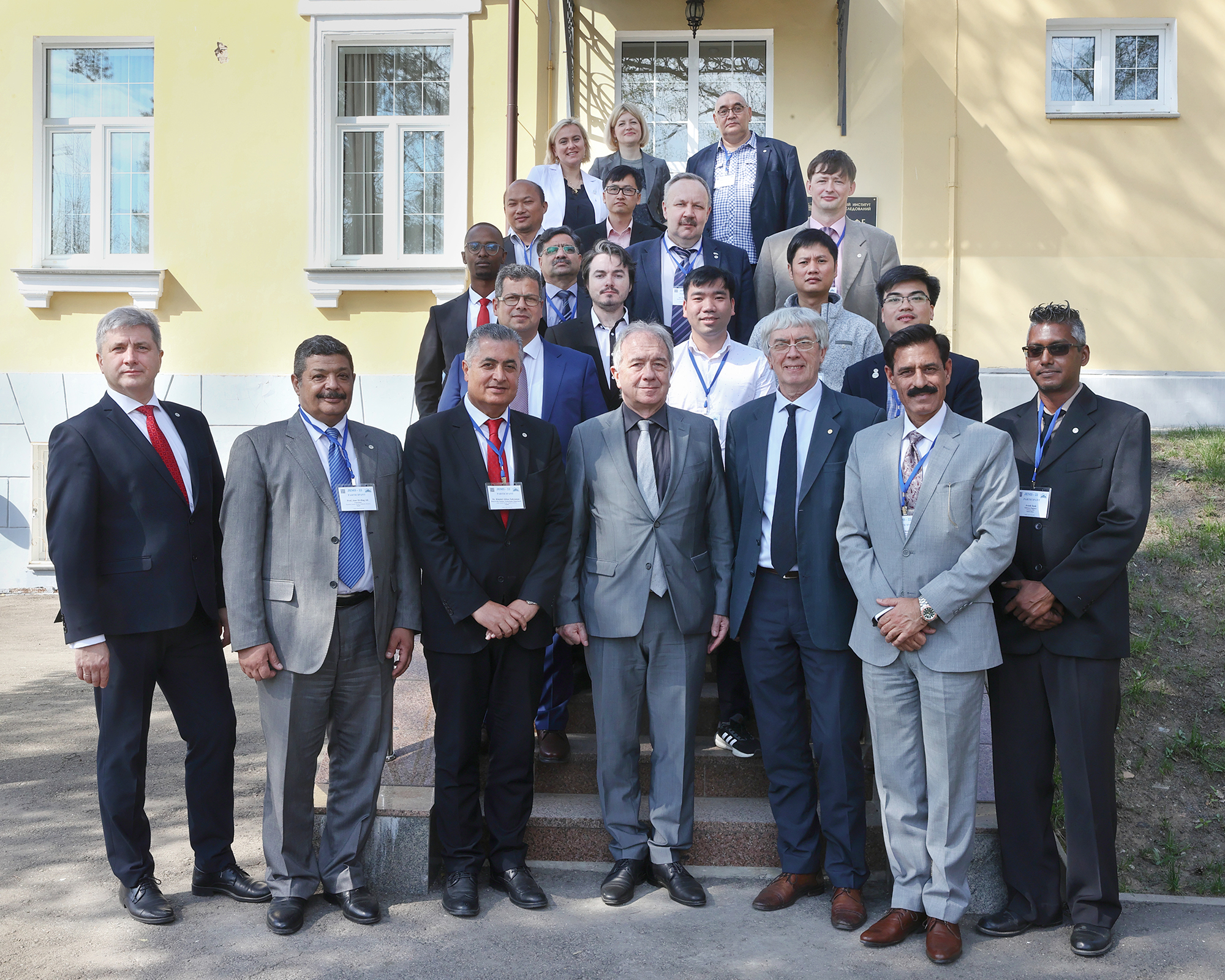 Heads of the national groups of Egypt, South Africa, and Vietnam are taking an active part in working with delegates of the training programme. They are assisting in establishing working contacts, identifying new areas of cooperation with JINR and organizations of its partner network. The working language of JEMS-22 is English.
A traditional round table with the participation of representatives of the JINR Directorate will conclude the JEMS-22 programme on Friday, 28 April. The results of the training programme will be summed up there.