"The interest of our partners is crucially important"
News, 11 January 2019
In the Preface to the Seven-Year Plan for the Development of JINR for 2017 – 2023, Director of JINR, Academician Victor Matveev noted that JINR enters a new era of its development and the scope of its ambitious tasks and projects assumes the corresponding high level of international cooperation and integration into the global and first of all the European research programmes.
On 26 December 2018, at the new year eve meeting of JINR Science and Technology Council, Head of the JINR International Cooperation Department Dmitry Kamanin made a report on the current status and prospects for international cooperation of JINR. We offer some extracts of the report published in the JINR Weekly Newspaper, #1 10 January 2019.
***
To obtain an overview of cooperation, it is enough to look through the Topical Plan. It contains information about all cooperating organizations. If we count the number of organizations, then we will see that Russia, being a country of JINR location, is the first. Then, in descending order, there will be the United States of America, Germany, France, Italy, – leading states of the world science. So, this emphasizes our involvement in the world scientific process.
It is not easy to describe international cooperation using numbers. If we analyze the number of our employees and membership fees of our Member States, we will see how they characterize our organizational structure. Short-term visits from the JINR Member States are most frequently paid by representatives of Belarus, the Czech Republic, Poland. However, Germany and France, for example, are also among frequent guests. Our staff members often visit Belarus, the Czech Republic, France, Germany, Poland, and if we limit this list by five positions, CERN deserves to be separately mentioned. It is some kind of indicator of the power of scientific contacts.
In recent times, the number of publications is the first indicator for evaluating activities of scientists. However, we try to carry out an in-depth analysis: it deals with specific publications made with JINR, various impact-factors, we consider dynamics through the years. So, there is a wide field for analysis to define trends and give recommendations. In particular, we have a large number of work conducted jointly with scientists from different countries in the frames of CERN, they should be considered separately.
If we consider countries representatives of which are members of the JINR Scientific Council, it becomes clear that there are Member States and Associate Members as well as new countries joining the Council. For example, since September 2017, representative of South Korea have been participating in the Scientific Council.
***
CERN with 50 years of joint history has a leading position in the list of international organizations cooperating with JINR. Originally, politicians supposed competition when created both centres, but as a result, it is a brilliant example of cooperation. In the last decade, there has been a difference between JINR and other organizations cooperating with CERN: the difference is that we participate in CERN projects, but CERN, in its turn, participates in our projects as well. A three-party agreement Georgia-CERN-JINR opened a new opportunity for cooperation – interaction with CERN through JINR. It is common knowledge that in 2014, we exchanged the observer status, and this highlights the level of research in our Institute and respect of the world scientific community.
We cooperate with other large international organizations as well. For example, we have constant links with IAEA: interns regularly come to JINR, there are programmes of technical cooperation, and we meet with the leaders of IAEA. Nowadays, programmes aimed at training the staff prevail. Not so long ago, IAEA Deputy Director General Dazhu Yang, who supervises the training of young employees, visited us. In 2016, a framework agreement – "Practical agreement" – was signed. The potential of such cooperation is fairly great as far as IAEA being a UN organization has a large international scope – it is a perfect contact platform.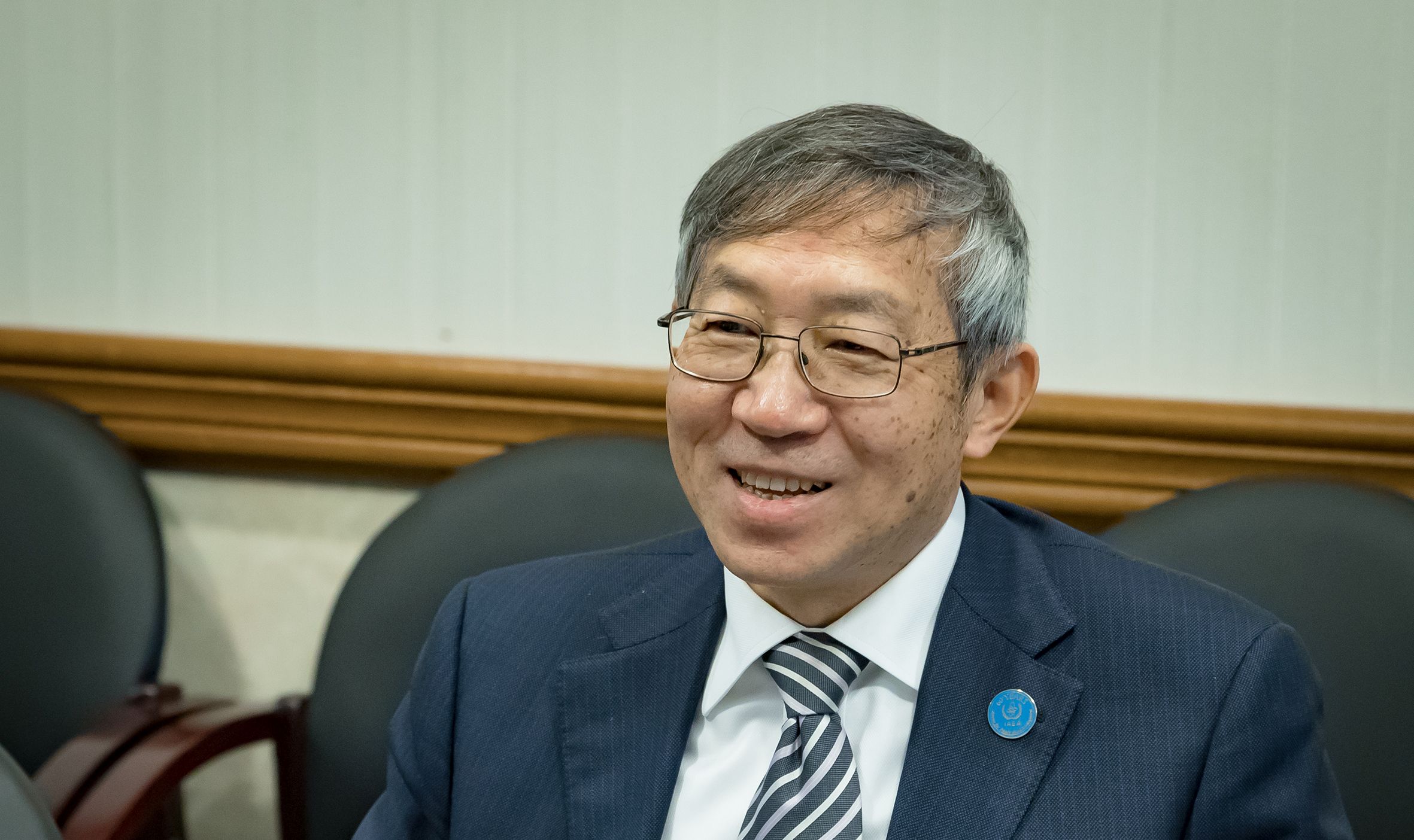 IAEA Deputy Director General Dazhu Yang during his visit to JINR, 25 October 2017
In 2016, a new agreement with UNESCO was signed (although we have been cooperating for 20 years) according to which we got scholarship holders of UNESCO. This year, 3 specialists selected in the frames of the organized competition came to JINR for the first time. At the beginning of 2018, a round table "20 years: cooperation and prospects" was held, which indicated the year of the Periodic Table (UN General Assembly proclaimed 2019 the International Year of the Periodic Table of Chemical Elements. Earlier, this initiative was proposed by Russia in the frames of UNESCO and was further affirmed at the 39th Session of the General Conference of the Organization – ed. note.).
There are relevant international organizations, for example, ILC (Internationa Linear Collider), ApPEC (Astroparticle Physics European Consortium), ICFA (International Committee for Future Accelerators), ACFA (Asian Committee for Future Accelerators). JINR leaders take part in these organizations as constant experts. JINR is represented in European organizations: NuPECC (Nuclear Physics European Collaboration), ESFRI, EPS (European Physical Society). Moreover, large international conferences such as "International conference on high energy physics" and "Strangeness in Quark Matter" uniting more than thousands of people are, in fact, also international organizations. And JINR leaders are members of their organizing committees.
***
New history of international cooperation of JINR started 25 years ago, it was caused by dramatic changes at the Eurasian space. Nevertheless, the Institute as a leading scientific organization overcame all difficulties. The high-level international conference "JINR: 25 years of a new era" was dedicated to this period of time. As a result, the number of Member States and Associate Members was increased. At the same time, 25 years ago, JINR contacts in other fields were established thanks to which new Associate Members joined JINR in the past 10 years.
JINR Director V.A. Matveev welcomes participants of the conference "JINR: 25 years of a new era", 26 March 2018
The Republic of South Africa. The first link took place in 1993. These contacts led to signing of the memorandum on mutual understanding with the government, and now the membership fee of RAS is 900,000 USD per year. We have prepared a considerable number of young scientists for RAS, a large amount of scientific work has been conducted. Involvement of the country in JINR activities is rising, and we have grounds to suppose that RAS can become a full Member State of our Institute in the nearest future. Following the example of RAS, we can say that we have experience of how management should operate in new conditions; procedures have been worked out, competitions have been held. We use this experience, this practice in work with other countries.
The Arab Republic of Egypt. The first agreement on cooperation with the Egyptian Atomic Energy Authority was signed 25 years ago when the planned joint work was launched. Egypt became an Associate Member of JINR in 2009. Recently, a roadmap was signed that implies a preparedness of Egypt to become a JINR Member State. It is being considered by the government.
The Republic of Serbia. In 1994, construction of the "Complex Tesla" accelerator was launched in Belgrade. Unfortunately, the Balkan Wars prevented it from implementation. That is why the key element of the complex – the cyclotron – is not used though being assembled. Another part of the project dealing with law energies is operated. So, it happened that specialists from Belgrade come to us for experiments, and we also visit them in our turn. Such mutually reinforcing opportunities is a great way to organize good cooperation. We work on signing of a roadmap for making Serbia a Member State of the Institute in the nearest future.
***
We have been working with the IN2P3 French Institute for more than 40 years. By the way, France is in the top five according to all our indicators of international cooperation. It gave the grounds to offer France to sign an agreement with JINR at the governmental level. On 15 February 2018, "JINR days in France" were held in Paris for the first time at which a letter of intent was signed that declared that a draft memorandum of understanding would be prepared until 1 October 2018. It was actually prepared, we work on agreement of terms and conditions.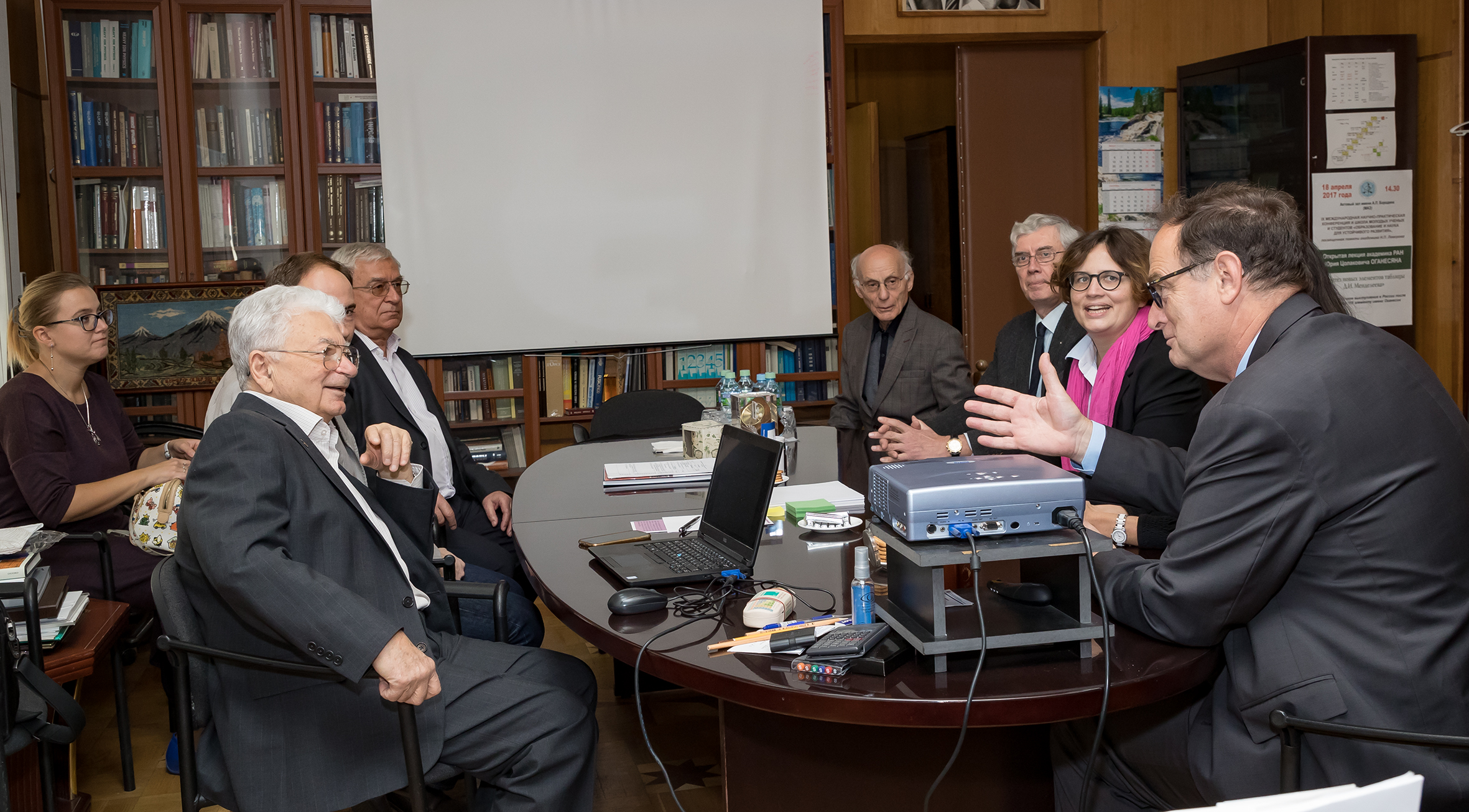 French delegation during its visit to the Flerov Laboratory of Nuclar Reactions JINR, 16 October 2018
South Korea. Cooperation has a rich history; there are a lot of links. Last year, the Russian-Korean day of science and technologies was held in Moscow for the first time. JINR was also represented at the event, a new promising call for a high-level partnership emerged. The end of 2018 was marked by the visit of representatives of the Korean Ministry of Science, ICT and Future Planning to Dubna. There are reasons to expect further development of official contacts.
Latin-American countries. Thanks to cooperation with Cuba, in 2014, an interesting event took place in JINR: 11 Ambassadors of Latin American countries gathered at the meeting with JINR Director to discuss possible prospects. Thus, for example, official contacts were launched with Brasilia. In the expired year, Ambassador of Chile and then Argentinian Ambassador visited the Institute. Chile has already serious intentions; they are already involved, for example, in the NICA project.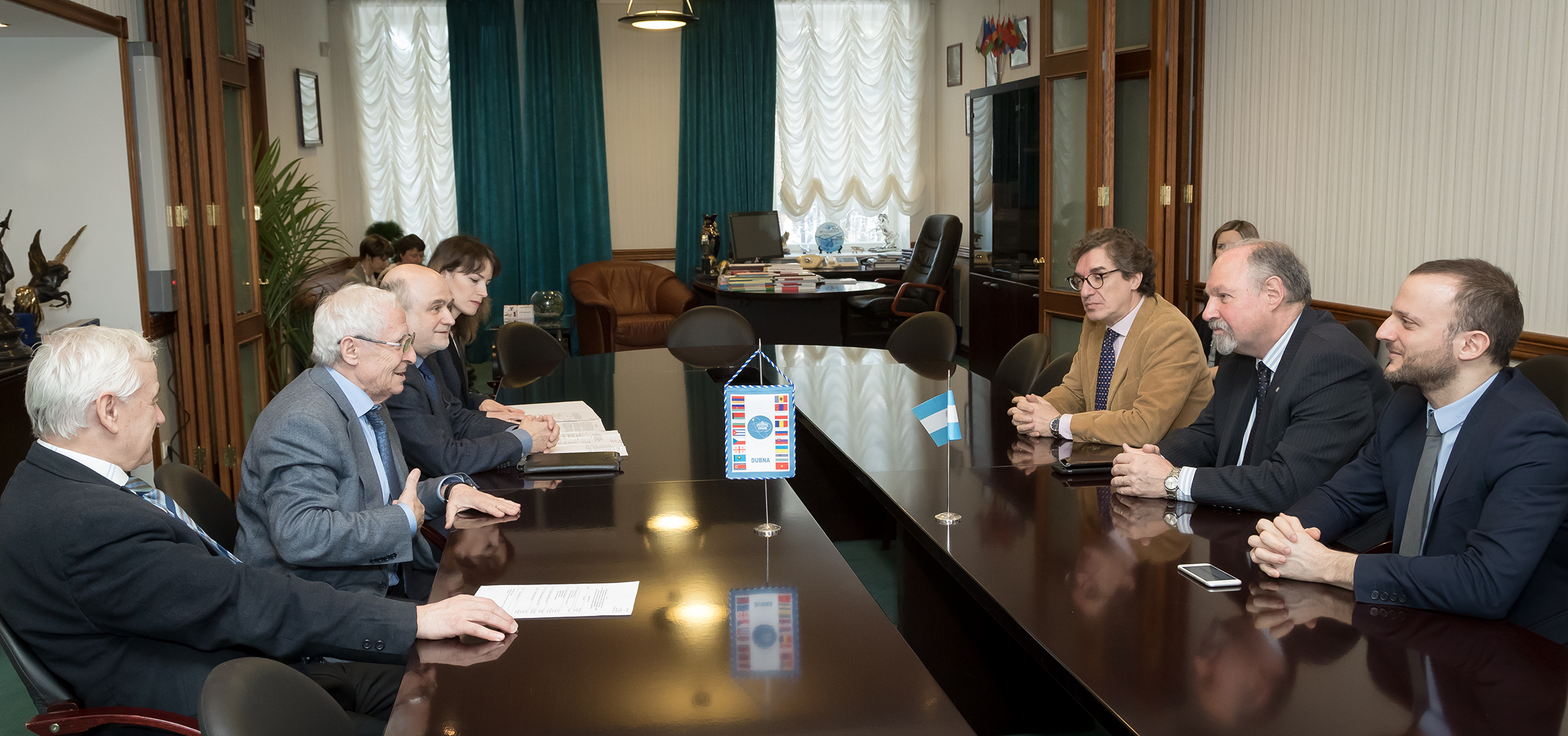 Ambassador of Argentina in RF Ricardo Ernesto Lagorio at the meeting in the JINR Directorate, 27 February 2018
Arab countries. The Arab League has its own Atomic Energy Agency with headquarters in Tunisia. We signed an agreement with this organization two years ago, made up a road map, the Agency's leaders were trained at JINR. The results were summed up at the end of last year at the meeting of the Coordination Committee held within the framework of the 14th Arab conference on the peaceful use of atomic energy. Cooperation with the Agency is developing; new ideas appear. Of course, visits of young talented scientists to JINR are of great importance, and this requires some organizational efforts.
***
One of the main instruments of development of scientific cooperation of JINR is a special week-long training programme for administrative and scientific personnel JEMS that was launched at the beginning of 2017. 9 such training programmes have been held, representatives of some countries visited Dubna, among whom there were organizers of various levels not only from the JINR Member States. For example, Deputy Director General of the RSA National Research Foundation, Plenipotentiary Representative of Vietnam, Director of the ATOMKI Institute in Debrecen, Vice-Chancellor of the new international university in Botswana had this training in JINR. In total, there were more than 100 participants from 20 countries. JEMS was used also as a platform for organization of visits. For example, the visit of Director General of the Hungarian Atomic Energy Authority, Director of the Institute of Nuclear Physics in Legnaro were organized in the frames of JEMS.
Recently, we have opened the first JINR Information Centre: the North Ossetian University undertook a commitment and risk to see how this new centre works. In fact, it is the center for coordination of JINR regional cooperation with the Caucasian region of Russia. Such centers are planned to be opened in Egypt, South Africa. We hope that they will also be established in the Member States and will contribute to the promotion of information about the Institute, the involvement of scientific youth, and will become a primary link for new international contacts.
Nowadays, a strategic long-term plan of the JINR development is being drafted, and the development of international cooperation will be one of its chapters. Of course, the interest of our partners participating in JINR scientific projects are crucial for international cooperation. So, the aim of the international service of the Institute is to contribute to this.
Galina Myalkovskaya
Photos by Igor Lapenko, Elena Puzynina